6 Super Common Eye Makeup Mistakes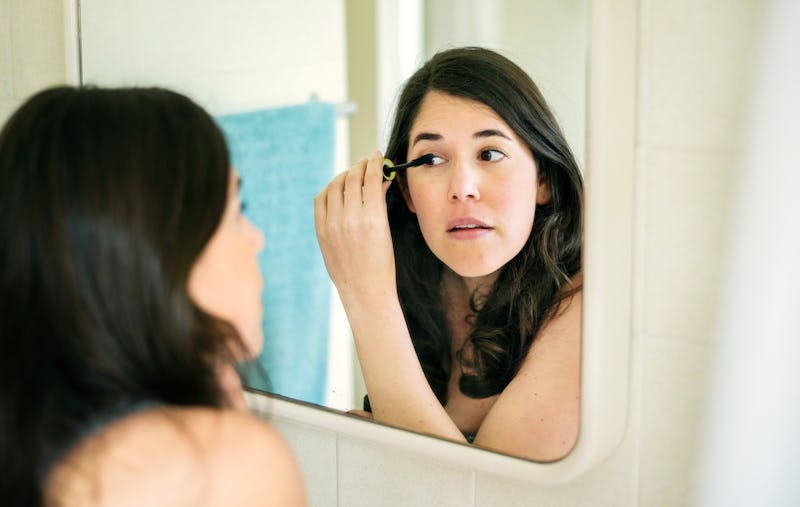 NickyLloyd/E+/Getty Images
Over the years I've had a love/hate relationship with eye makeup, as I'm guessing we all have. Because for all the loveliness that is winged eyeliner and the perfect smokey eye, it all leaves so much room for dreaded, but very common eye makeup mistakes. And oh the mistakes I have made.
Let me take you back to elementary school in the '90s, where it all started for me. That's when I fell in love with eye makeup — namely glittery gel. You know, the kind with the spiky stars and moons? I'd smear it on my general eye area, half blinding myself in the process, and then assume I was ready for whatever mixer dance was thrown my way.
Then came middle school, when Britney Spears reigned supreme. I'm not proud to say it (or am I?) but I copied that white, smokey eye à la the "Oops!... I Did It Again" video. I remember dusting on the powdery, and sometimes weirdly sticky, eye shadow from the drugstore, and feeling oh so very pretty.
Sigh, my lids have seen it all. And luckily for them, the '90s and mid-2000s are behind us. But even today, it's still possible to horrifically mess up your eye makeup. I'd like to think I've made great strides since my middle school days, but I still stab myself with mascara, mess up my winged liner beyond repair, and occasionally dabble in questionable shadow shades. It's all in the name of experimentation, so I say have it, and do whatever you want to your face.
But if you want it to look good, then you might be interested in those aforementioned eye makeup mistakes. If so, then here are some common problems to avoid, lest you look back in ten years and laugh.
1. You're Going Overboard With Eyeliner
Of course everyone is going for a different look when doing their makeup. Like I said, do you and smear on eyeliner to your heart's content. But if you want that subtle pop that makes your eyes look brighter and bigger, then "less is more" is definitely the way to go.
And that means not going overboard with your liner, especially on the bottom lashes. As Natalie Gontcharova noted on GoodHousekeeping.com, "Heavily lining your lower lid — especially with a very dark color — can make your eyes look smaller ... Plus, you're more likely to end up with under-eye smudges. If you want to define your lower eyelid, use a light pencil or, for an even more subtle look, a light brown or taupe eye shadow." It'll give you that perfect, lined look you're going for.
Try: Maybelline Lasting Drama Waterproof Gel Pencil in Soft Nude, $6.99, Amazon
2. You Aren't Blending Properly
I definitely got in the habit of making three stripes on my eyelids when trying to create a smoky eye. I think it was the three-color palette I used to have that did to me. I'd swipe the shades on as directed (well, more precisely, not as directed) and consider it done. But, turns out, blending is where it's at if you want your eyeshadow to look halfway decent.
As Michelle Villett noted on BeautyEditor.ca, "Blending is the most important thing. Often, what separates a rather amateur-looking eyeshadow application from a jaw-droppingly gorgeous, professional-looking one simply comes down to blending. Or not blending, as the case may be." So use that eyeshadow brush — they give it to you for a reason.
Try: Sigma Beauty E25 Blending Brush, $14, Amazon
3. You're Going Out Of Order
If you are applying liner and mascara before eyeshadow, apparently you're doing it wrong. As Jaclyn Sciara noted on StyleCaster.com, "By applying shadow last, you're just making it difficult to blend out the eyeshadows to achieve the color blend you want. Instead, use shadow and blend, then think of liner and mascara as the frosting and sprinkles."
4. You Curl After Mascara
This one can seem like it makes sense... you apply mascara and then curl your lashes while they're still wet, right? Well, turns out it's wrong. According to Sciara, "Unless you want to end up with mega clumped lashes and a clogged eyelash curler, we suggest you curl your beautiful lashes before applying mascara to give them the foundation they need." Hm, that actually makes a lot of sense.
Try: Shu Uemura Eyelash Curler, $17, Amazon
5. You Are Putting On Too Much Shadow
When it comes to putting on eyeshadow, we all easily run the risk of applying too much. When this happens, the lids literally can't handle it, and thus creases and smears abound. According to Villett, "Eyeshadow is definitely one of those areas where people tend go overboard. Smoky eye addiction is a problem. Darker complexions are better at pulling off stronger, more intense looks, which tend to be overwhelming on light skin. But in general, my mantra is 'less is more.'"
6. You Aren't Priming Your Lids
Before putting on any makeup, it's best to start with a primer. As Angelica Di Guglielmo noted on StyleCaster.com, "Not only does it make your eyeshadow go on smooth and vibrant, it also helps it last all day and prevents it from ruining your look by pooling into the creases of your eyes." You can use it on your lids, under your eyes, and even on your brows to ensure that creative handywork stays put all day.
Try: Elizabeth Mott Thank Me Later Eyeshadow Primer, $15, Amazon
It seems that eye makeup mistakes of the 2010s come down to technical application, and not so much to glitter and stars and what have you. That's good news for us! It means there is no wrong answer when it comes to eye makeup (just some possibly wrong ways to slap it on). So have fun.
Images: NickyLloyd/E+/Getty Images; Giphy