Ben Affleck's Solo Batman Film May Have A Title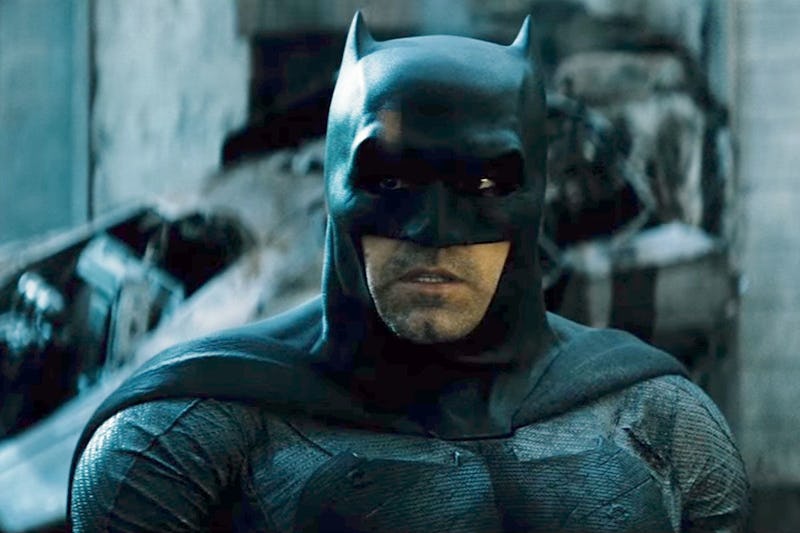 After the release of Batman V Superman: Dawn Of Justice, Ben Affleck got to take the future of his character into his own names. The actor is writing and directing his own solo Batman movie, this despite all of the other various projects he has on his plate. But in case you worried that The Accountant and Justice League were taking up all of his attention, allow me to reassure you. During a recent interview with The Associated Press, the actor revealed one of the film's most coveted questions since his solo project was announced: the next Batman movie's title. Affleck's solo Batman film is titled, The Batman .
It's short, it's sweet, and it certainly doesn't sound like Batfleck is sad about the role (or where it's going) any longer. "At least that's what we're going with now," he said about the title. "I might change it." He then continued, "We're working on the script. The script is going well. I'm really excited about it. And I assure you when there's anything that develops, you'll hear about it."
Honestly, The Batman is good enough for me right now as well. After all, the more time that goes into the script, the better the film will ultimately be overall.
Batman movie titles of the past include Christian Bale's Batman Begins, The Dark Knight, and The Dark Knight Rises, Batman & Robin starring George Clooney, the Michael Keaton starring film, Batman Returns, Val Kilmer's Batman Forever, and Adam West's Batman: The Movie. Now Ben Affleck is adding his own project to the line-up and claiming to have the ultimate Batman with a title as finite and demanding as The Batman.
However, before you get all up-in-arms with your opinion on his performance so far and who your favorite Batman is, there's a reason why this title makes perfect sense pre-plot. At the time of Affleck's film, Bruce Wayne is already well-established in his superhero identity. The actor assured fans during his preparation for Batman V Superman that his Batman was, in fact "an older and wiser version," of the hero. That's what really makes The Batman the perfect title. He's the Batman, you guys, and everyone in universe knows it.
Audiences have set the bar high for Affleck's Batman story sans Zack Snyder, but, whether it's what you want it to be or not, The Batman is headed our way within the next couple of years. Hopefully, this solo Batman film will be the first of a new franchise for the dark knight.
Images: Warner Bros./DC Entertainment