The Best Ways To Make Jeans Longer Quickly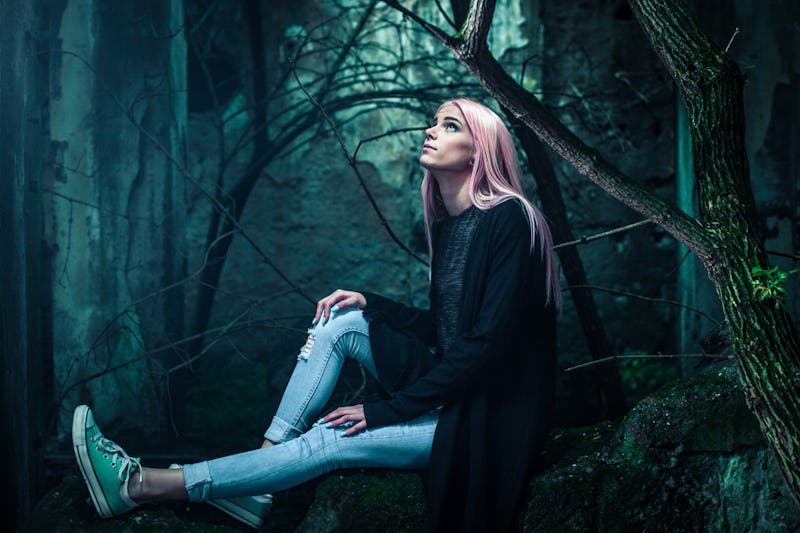 The Pumpkin Spice Latte is back, knitwear has returned to stores, and soon the Coca-Cola train will make an appearance in a town near you. Basically, fall is well and truly here, bringing with it colder temperatures, so you'll want to discover the best ways to make jeans longer quickly, because nobody wants chilly ankles. Instead of putting away your denim cut-offs, there are actually ways you can continue to wear your favorite pants, so that you don't have to retire your beloved denim just yet.
Although you might try to brave your cut-offs for as long as humanely possible, unless you live somewhere with year-round sunshine you'll have to come up with a solution soon. After all, winter is coming. Sure, winter in reality won't bring White Walkers with it — at least you'd hope not — but depending on where you live, it's probably going to bring bitterly cold winds, a touch of frost, and snow if you're super lucky. But, snow that's a couple of feet deep is definitely not the time to be parading around in cut-off jeans. Even if you're wearing wellies, you'll have to wear at least one pair of socks to stop chafing and to keep the cold from biting your ankles.
So here are some great ways to make jeans longer quickly, because it'll be nippy before you know it!
1. The Quick Method
If you're allergic to crafts, you're too lazy to get your needle and thread out, or you need longer jeans faster than you can say "bootcut," this speedy option is for you. All you'll need is a seamer and a little patience; you'll likely be left with some extra length in the time it takes to watch an episode of your favorite show! According to fashion designer Heather Klar, the downside to this method is the finish or wash may have been applied after your jeans were hemmed, so the part you're letting down may be a different color to the rest of your jeans. But, this might not be the case for your pair and besides, you might like the effect.
2. Add Some Trim
Creative crafters will love this easy DIY that involves sewing a cute trim onto the bottoms of your jeans for a cool, quirky look. FYI: It's much easier to do this with a sewing machine. You can always use your favorite material too, but you'll need to either make sure it's hemmed or hem it yourself so that it doesn't fray — this of course, will include additional work.
3. The Nifty DIY
Don't be put off by the thought of cutting up jeans, slashing seams, and sewing because the end result is so worth it. The best part about this DIY is you can utilize a couple of pairs of old jeans that might not fit anymore and make them into a fresh piece that you love. You can also get your jeans from a thrift store too — this crafty gal's jeans were just 10¢!
So there you have it, from a simple solution with no sewing to a fabulous DIY, these methods will help you transform your jeans and add some much needed length.
Image: Creative Photo Corner/Unsplash