Is There Oscar Hope For 'Birth Of A Nation'?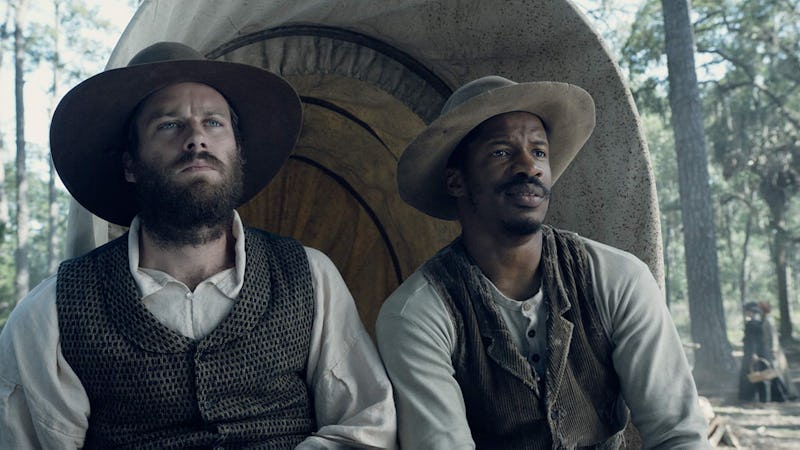 After the 2016 Oscar nominations were announced early this year, the lack of diversity in the pack was so blatant that the reactive #OscarsSoWhite hashtag carried through to the actual ceremony. Host Chris Rock made humorous reference to the controversy in his usual direct style. But by the night of this year's Oscars, movie fans and industry types hoping to see a sea change in the Academy Awards' usual demographic already had a hopeful for the 2017 telecast picked out: the Nat Turner biopic, Birth Of A Nation. Variety reported in January that the historical drama was purchased by Fox Searchlight after its Sundance screening for a record-breaking $17.5 million. Awards attention tends to shine very bright on biopics, especially when they're period. And Birth Of A Nation has the added cache of being the possible game-changer in the career of a new filmmaking talent. Add all of that contextual information to the Academy's commitment to putting forth a crop of more representative nominees, and it would stand to reason that this movie should be racking up the trophies. Will Birth Of A Nation win Oscars next year? It depends on how the events of director Nate Parker's past and his public response to them do or don't influence voters.
In 1999, Parker and Birth Of A Nation co-writer Jean McGianni Celestin had sex with the same woman at the same time in the room they shared as Penn State University students. The woman, also a student, reported the encounter as rape. She claimed to the police that she was passed out and thus unable to give her consent while the sex was happening. She also claimed that her alleged attackers harassed her after she filed the report. Parker was not convicted of any charges and maintains that the sex was consensual. Celestin was convicted, but the conviction was overturned on appeal. He also maintains that the sex was consensual. The prosecutor did not pursue a retrial, though the accuser was willing to testify again. Variety learned from her brother that Parker's accuser committed suicide in 2012 after struggling with drug addiction.
These charges were not sealed; the information has always been available. But as expectations were set for Birth Of A Nation and on Parker as a powerful new voice, these charges became a part of the conversation. The gender and racial politics that now surround the movie are a mire of hurt, fear, and pride. For people who want to see a story about a prominent black historical figure steered by black filmmakers be embraced and appreciated, it's tragic to have it marred by such a serious allegation — one that can't be ignored. For people who are tired of seeing men who've been accused of sexual violence not even stumble in their careers, it's proof that priorities are skewed.
In my opinion, I can't see the allegations not having an effect on the film's awards chances. Critically, Birth Of A Nation is holding up respectably so far. It has an 82 percent cumulative score on Rotten Tomatoes — not an unqualified masterpiece, then, but certainly above average. Where the movie seems to be stumbling most is in Parker's own response to the discussion. In an interview with Ebony, the filmmaker stressed again that he was not convicted of the rape charges leveled against him. But when pushed to define his concept of consent, then and now, things got a little dicey. Parker said,
"Back then, it felt like…I'll say this: at 19, if a woman said no, no meant no. If she didn't say anything and she was open, and she was down, it was like how far can I go?"
In a statement on his personal Facebook page, Parker tried to distance himself from the event by reminding readers that he has a wife and children and believes in God. These are facts that really have no bearing in that regard. And in a 60 Minutes segment that aired Oct. 2, Parker repeated that he'd been "falsely accused" and would not be issuing a public apology for the untimely death of his accuser, though he did call it "tragic." "I don't feel guilty," he said. "I was falsely accused. I went to court. I sat in trial. I was vindicated."
The bottom line is that many outside circumstances have affected every Oscar race. In such a subjective field, there's no way to ensure that personal bias and opinion does not come into play, and campaigning has always been a factor. How will the studio campaign for the film in a sensitive way? And how many voters will decline not just to vote for Birth Of A Nation based on the controversy? Only time will tell.
Image: Fox Searchlight