This Disney Princess Engagement Shoot Is #Goals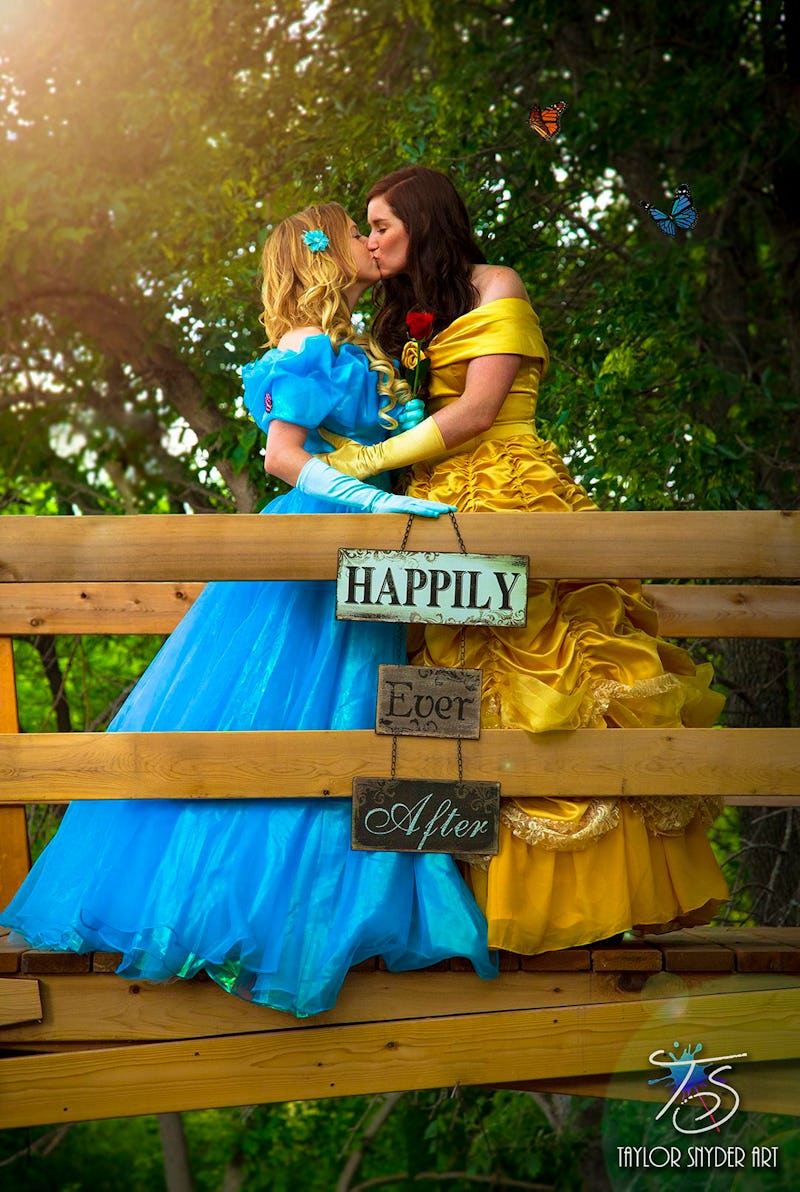 To celebrate their modern-day fairytale romance, Yalonda and Kayla Solseng made their childhood dreams a reality with a Disney princess engagement shoot. The North Dakota-based couple, who were wed on Sept. 3, dressed as their favorite princesses, Belle and Cinderella, for the enchanted pics — and the results were pure magic. Since being published on the LGBTQ Facebook page Have A Gay Day, their engagement photos have gone viral with nearly 9,000 shares and 19,000 likes. "We wanted to show others that two princesses can fall in love," the couple wrote in their Facebook post.
Yalonda and Kayla, both lifelong Disney fans, met in March of 2014 and quickly bonded over a shared "geeky" love for the show Once Upon a Time. " That show rewrites fairy tales and this was our modern day fairy tale," Kayla told The Huffington Post. The two real-life princess connected through the dating site Plenty Of Fish, and when they finally had their first date, the attraction was immediate. Love at first sight is usually something seen only in fairytales, but for Kayla and Yalonda the connection was electric.
"We honestly hung out every day for 3 weeks before we ended up officially girlfriends," Yalonda told Bustle. "I was going to ask Kayla to be my girlfriend on the scoreboard at a bowling alley but the day before that happened Kayla texted me asking to be my girlfriend." After nine months of dating Yalonda proposed to Kayla with an illustrated storybook she had made based on their relationship. "The show Once Upon A Time inspired me to propose to Kayla with a fairytale book that I wrote and illustrated myself," Yalonda said. "The ending asked, 'will you be my happily ever after?'" On New Year's Eve, Kayla said yes.
The engagement photos were snapped on June 29 by Erin Miller of Sun & Moon Photography and Taylor Snyder of Taylor Snyder Art & Photography at Romantic Moon Events Center in Glyndon, Minnesota. With a little online shopping and DIY know-how, the two sourced their flawless costumes and props. Yalonda found her Cinderella dress, and costume accessories on Amazon, while Kayla turned to eBay for her elaborate blue Belle gown.
The glass slipper was made by Yalonda, who glued crystals to a plain heel and then sprayed it with glitter. A few thoughtful after-effects added by photographer Erin Miller made the pictures sparkle and glow even more. The photoshoot was a huge success. "It felt truly amazing, almost like a dream. I had my real-life princess and true love by my side," Kayla told BuzzFeed.
The magical photos also convey an important message about the lack of representation the LGBTQ community receives in entertainment and media. "We are in shock that our photos went viral but we appreciate that it isn't just about our photos," Yalonda told Bustle. "We are passionate about fighting for equality. There needs to be more LGBT characters in children's books, movies, and shows. How are we supposed to teach the next generation that love is love when many children aren't being taught about non-heterosexual love?"
Since the popularity of their pictures took off, the couple has received praise and support, as well as a few hurtful comments here and there. Now, the industrious couple is taking on a new venture — writing children's books professionally. Their mission is to depict all kinds of families and make fairytales more inclusive. "We want to inspire and teach," Yalonda adds. "We are ignoring the negative and doing what we can to inspire others to stay strong and love." You can check out the Solseng's GoFundMe campaign here.
The couple held their fairytale-themed wedding at the same event space where the magical engagement photos were taken a few short months before. Prop swords and crowns were available for guests, and on top of their three-tier wedding cake sat a glass slipper.
And they lived happily ever after!
Images: Sun & Moon Photography, Taylor Snyder Art & Photography