Laurie Hernandez Is The 'DWTS' Frontrunner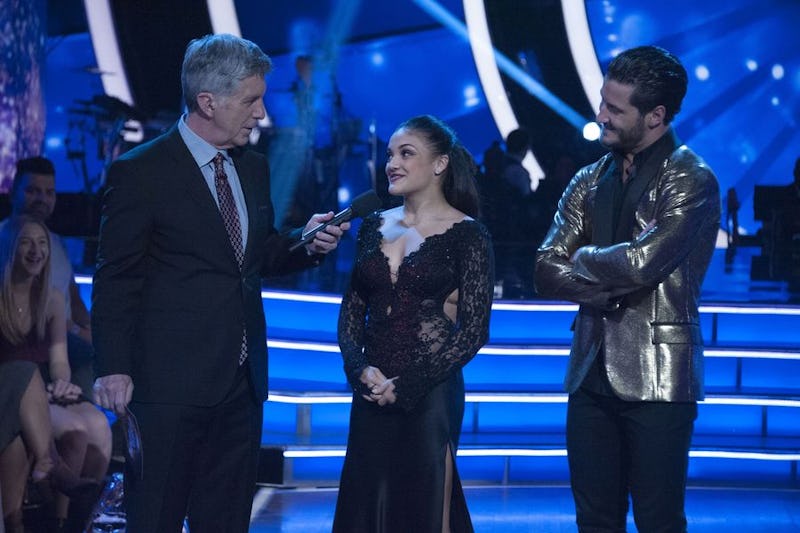 Was it really fair to the other competitors that Laurie Hernandez got to dance to Michael Jackson during Dancing with the Stars' Cirque du Soleil night on Oct. 3? Probably not. But could anyone else have done justice to Jackson's "The Way You Make Me Feel" like Hernandez did? Definitely not. The charismatic gymnast from the beloved Team USA was the star of her routine and just to make it official that she's the most dominant performer this season, Hernandez received a perfect score on Dancing with the Stars for her Jackson dance.
While a lot of celebrities need their professional dancers to take the lead to help overshadow their shortcomings, Valentin Chmerkovskiy did the exact opposite by letting Hernandez take center stage (feel free to make comparisons to the final dance in Center Stage here) all on her own. The pair was tasked with performing a jazz routine from Cirque du Soleil's Michael Jackson: One and Hernandez admitted that like any self-respecting person, she's a big fan of Jackson's music. The 16-year-old said she grew up listening to him, so she understood that interpreting his iconic music video to "The Way You Make Me Feel" was not to be taken lightly.
Despite having to learn the dance mostly remotely since she was busy in Washington, DC meeting President Obama (as you do) while Val was in Las Vegas, Hernandez simply nailed it with the right mix of attitude, sex appeal, and sharp dance moves. Of course she received a perfect score from judges Bruno Tonioli, Carrie Ann Inaba, and Julianne Hough and at this point it seems that there is no stopping this gymnast from winning the mirror ball trophy.
Although I don't mean to take away from Val channeling Jackson or anything since he did an admirable job himself, Hernandez was the real star of the performance. For that matter, she was the real star of the whole episode and perhaps even this entire season of Dancing with the Stars.
Image: Eric McCandless/ABC