'The Birth Of A Nation' Soundtrack Is So Powerful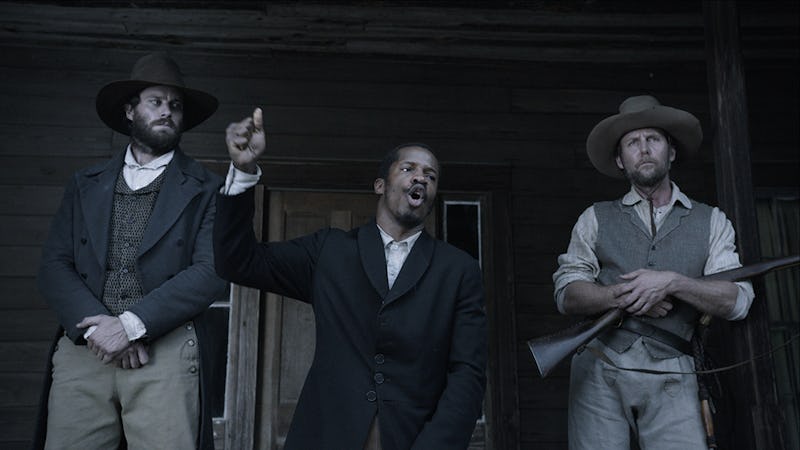 Historical dramas generally aren't known for having hip, current soundtracks. Then again, The Birth of a Nation is not your typical historical drama. The film, which reappropriates the title of one of the most infamous and racist films of all-time, tells the story of Nat Turner. Turner was an American slave and preacher who led the largest slave uprising in American history in 1831, paving the way for the dissolution of American slavery some 30 years later. So what kind of songs accompany his revolt on the Birth of a Nation soundtrack?
Nothing that would have been sung in 1831, that's for sure. The film's soundtrack is an "inspired by" album, meaning it features songs that were inspired by the film but aren't necessarily featured in the film. It's a lot of hip hop with some R&B mixed in, with most of the songs having to do with the racial issues and history that are so front and center in the film. And there are a lot of big names involved; Lil Wayne, Meek Mill, Trey Songz, The Game, K. Michelle and more all contribute tracks to the album. Here's the full track list:
1. "Go Tell 'Em" – Vic Mensa
2. "Black Moses" (feat. Priscilla Renea) – Meek Mill, Pusha T
3. "Whip & A Chain" – 2 Chainz
4. "Oh Lord" – Gucci Mane & Lil Wayne
5. "On My Own" – Lecrae and Leon Bridges
6. "Raise Hell" (feat. Killer Mike and ChuchPeople) – Sir the Baptist
7. "Bloodline" – Georgia Ku
8. "Stand" – Trey Songz
9. "Queen" – Ne-Yo
10. "Live Forever" – Wale and Anthony Hamilton
11. "The Icarus" – Kamau
12. "Sins Of Our Fathers" – The Game and Marsha Ambrosius
13. "Firebird" – Marko Penn and Janine
14. "Forward" – K. Michelle
15. "War" (feat. Raye) – Nas
16. "Couldn't Hear Nobody Pray" – Wiley College Choir
Almost all tracks are originals, and to get a better feel for them, here is a sampling of some of the standouts. Warning: Strong language.
"Stand" — Trey Songz
A moving piano ballad from a guy normally associated with dance club music.
"Forward" — K. Michelle
Although she is perhaps best known as a reality star thanks to Love & Hip Hop, K. Michelle proves she has real chops on this soaring number.
"Queen" — Ne-Yo
Like Songz, Ne-Yo also slows things down for this emotional track.
"Bloodline" — Georgia Ku
Songwriter Ku steps out from behind the scenes and takes the lead vocal on this haunting tune.
"War" — Nas (Feat. Raye)
Rap legend Nas finds common ground between racial issues of today (namely police brutality and Donald Trump's proposed policies) and what Nat Turner experienced in the Antebellum South.
With some of the biggest names in music contributing powerful, original songs, the soundtrack for The Birth of a Nation just might end up drawing even more praise than the film.
Images: Fox Searchlight Pictures