Weird Ways To Use Oatmeal In Skin & Hair Care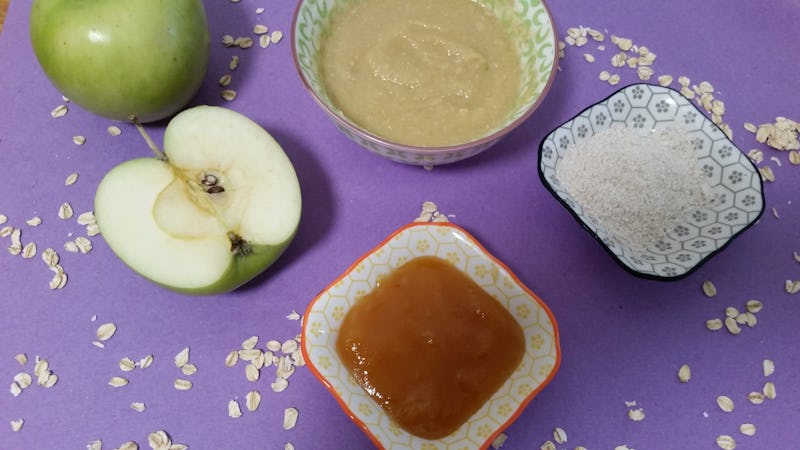 I have a slew of beauty secrets I openly boast about, but there is one not-so-secret ingredient that I especially like to remind everyone about: oatmeal, one of my favorite exfoliates. The natural vitamins and nutrients oatmeal contains are an incredible way to energize your pores, but only when used properly. While I always encourage eating oatmeal on the regular, exfoliating with the large grains of oatmeal can irritate your skin and cause dryness. Since I love the stuff so much, I set out to figure out a way to use oatmeal multiple times a week without messing up my face.
There is a reason why oatmeal has been a staple in skin care for decades: Oatmeal softens and moisturizes skin, benefiting itchy and inflamed skin, while stabilizing pH levels. According to a 2007 study published in the Journal of Drugs in Dermatology, oatmeal can protect the water content of skin, basically keeping our dermal layers full hydrated without promoting excess oil. There are also many OTC and homemade treatments with oatmeal that claim to lighten dark spots and complexion.
The anti-inflammatory, cleansing, and antioxidant properties of oatmeal makes it ideal for all skin types of all ages, so let's get cookin' on just a few ways you can make oatmeal more versatile for daily pore-consumption!
1. Purchase Raw, Organic Oats
While most blends of oatmeal have additional energy-saving ingredients and antioxidants to kick-start your day, the best way to use oatmeal for beauty treatments is to buy them raw. According to sources at Organic Authority, oats already contain oil which makes them great at nourishing, but privy to collecting mold. Purchase a GMO-free, organic, sugar-free batch of oats to use as your base. Don't worry, you can add your own ingredients later!
2. Powder Down Your Oats
While oat grains are visually appealing in scrubs and facials, keeping them whole can be too harsh on your skin. You can powder your oats down in a food processor or hefty blender that can handle seeds for a powder you can apply to a crapload of your favorite DIY recipes; in powder form, oats can make an excellent substitute for baking soda and other oil-controlling pastes.
3. Brighten Your Oats With Fruits
Once the oats are more user friendly, you can make fun masks that brighten your complexion without stripping your skin of its natural color or oils. I pureed an organic, green apple with one tablespoon of raw honey then added 2 tablespoons of oatmeal powder and mixed vigorously. This recipe is highly perishable, but you can save the leftover apples for consumption. Use your mask immediately on makeup-free skin and rinse with lukewarm water.
4. Mix Your Oats With Clay
Clay masks are a wonderful weekly treatment for all skin types, but sometimes they can feel drying no matter how great the clay is, I revved up my clay by adding my homemade oat powder and a few slices of avocado before putting it all in a blender. This made for an incredibly soothing treat that left my skin feeling hydrated and silky smooth.
5. Use Oats & Oat Powder For Scrubs
Don't worry, you can still use oats when you're using powdered oats: I like to use a blender for my body scrubs, especially when I'm adding oat powder. Then, I add a handful of raw oats and mix my ingredients together. Using both gives me the exfoliating properties of the grains while the fine powder holds my scrub together and balances my stimulating or calming ingredients I love to add into a homemade scrub.
6. Don't Forget About Your Hair
I've found clever ways to steep my oats for hair treatments, but now that I've powdered down my oats, I've added them to homemade conditioners and it's what truly made me fall in love with my oat powder. A mess free way to have my scalp drink in the hair benefits of oatmeal has me dreaming of deep conditioning... almost.
7. Oatmeal Body Cleansers
Showering used to mean I would have to immediately reach for a hefty lotion to replenish the oils I just lost by staying clean, but there are plenty of ingredients you can use on the regular that won't make you feel dry immediately. You can have your own homemade rose petal and oatmeal body wash in seconds by filling a tea bag with the combo and steeping in hot water.
Instead of weeding through all the oatmeal skin and hair items on the shelves, why not powder down your own oatmeal and the be master of your own skincare with some of these recipes? All you need is time and raw oats!
Image: Kristin Collins Jackson (8)