There's A New Masked Man In Town On 'Arrow'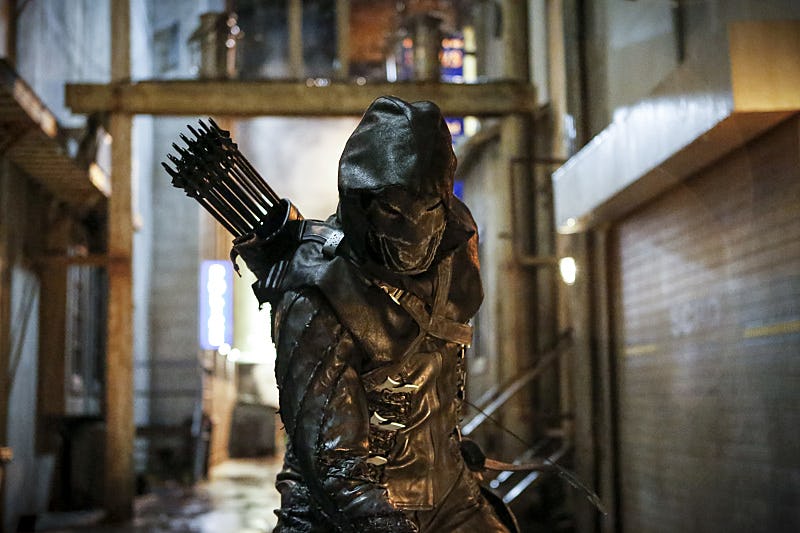 The team may currently be disbanded for the time being, but that didn't prevent the Arrow Season 5 premiere from delivering an action packed episode, introducing new villains and potential heroes alike. But the one person you're probably most curious about made his debut during the last few seconds of the episode when he viciously attacks one of Lance's new ACI cops. So who is the masked man on Arrow and what are his plans in Star City? During the assault, he assured the cop that he wasn't the Green Arrow vigilante, so who the heck is he? His name is Prometheus, not to be confused with the DC Comics character of the same. In fact, according to a recent interview Entertainment Weekly had with executive producer Marc Guggenheim, this fellow archer will share important ties to Oliver's past.
"I can really only say that Oliver bears a measure of responsibility for the creation of Prometheus," Guggenheim tells the site. And considering that Oliver's enemies are in no short supply these days, that leaves the suspect list pretty long for the time being. But odds are it'll be directly connected to his past — perhaps will even have something to do with the little black book we saw in Oliver's flashbacks during his time spent in Russia. Either way, it will definitely be interesting to see who ends up being underneath the hood. One thing is for sure though... he is not messing around.
Obviously, this is going to cause a lot of extra problems for Oliver. Prometheus' outfit has a very Arrow-like look to it and considering his weapon of choice it's only a matter of time before the Green Arrow starts getting blamed for the havoc Prometheus is bound reek. Let's just hope the city doesn't end up turning on him as a result. Because now that Team Arrow is no more, Oliver's going to need all the moral support he can get.
Image: Bettina Strauss/The CW