'Arrow' Delivered A Huge Olicity Bombshell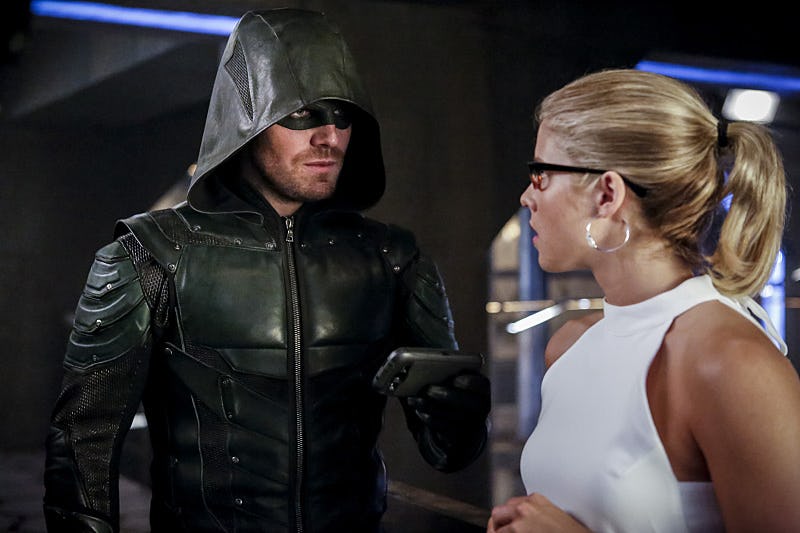 Well that turned out to be a major bummer. Not only are our main Arrow players no longer teaming up together against Star City's big bads, but it looks like Felicity has started dating someone on Arrow and unfortunately his name isn't Oliver Queen. So who is Felicity's new love interest exactly? His name is Detective Malone (played by Tyler Ritter) and he's one of the good SCPD cops that got assigned to be on Oliver's new Anti-Crime Unite. This is a huge blow for Olicity fans, who were probably hoping for some sort of reconciliation to happen between these two former lovebirds. So to see that she's already moved on felt like an arrow through our collective 'shipping hearts. But I wouldn't give up on them just yet.
Considering this is Star City we're dealing with, I've learned never to trust a new character too fast, especially ones that seem a little too good to be true. Granted, we've barely gotten to know anything about Felicity's man so far, but given her past affinity of being attracted to men with double identities (Ray Palmer as the A.T.O.M. and Oliver Queen as the Green Arrow), I wouldn't be all that surprised if there ends up being more to this guy than meets the eye. It's just a question of whether his alter ego would end up being a friend or a foe.
Some may think that it's more than a coincidence that Prometheus showed up just seconds after seeing Det. Malone in Felicity's loft. Could he be the man behind the mask? Maybe. But that may seem a little too on the nose at this point. Either way, though, I plan on keeping an eye on Ms. Smoak's new beau until we get a better idea of how pure his motives really are. Because anyone vying for Felicity's heart better be worthy or else he'll have Oliver (and us) to answer to.
Image: Bettina Strauss/The CW