15 Haruki Murakami Quotes On Love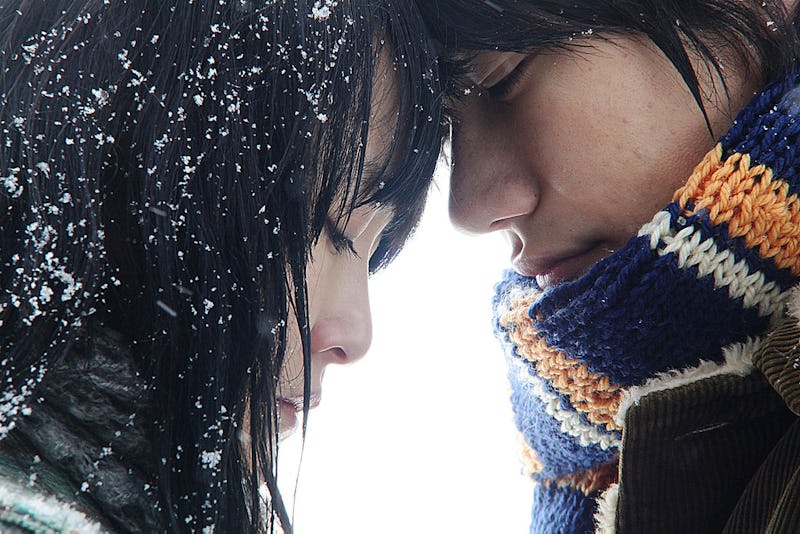 Haruki Murakami, the multiple award-winning author and praised as one of the worlds greatest living novelists is once again in the spotlight. The 2016 Nobel prize in literature is one Murakami has been nominated and even close to claiming before, but has never won. However, this year that seems to be different with predicted winning odds in his favor. As a Murakami fan myself, I couldn't be more excited, and to capture that excitement I thought I'd round up some of Murakami's quotes about love — because capturing the emotional concept of love and the loss of love is one of the things he's best at.
Murakami's books such as 1Q84, Sputnik Sweetheart, and Kafka on the Shore are easily some of his best, and include some amazingly beautiful (and often heartbreaking) quotes on love. There are many ways in which Murakami is a beautiful writer, from his surreal and complex worlds to his lonesome and melancholy characters. Reading his stories is like reading art, and if you have yet to pick up one of his masterpieces, I encourage you to do so during this book award season.
So without further ado, here are some of Haruki Murakami's best quotes on love, and all the difficulties and memories that come with it:
1. "If you can love someone with your whole heart, even one person, then there's salvation in life. Even if you can't get together with that person."
― 1Q84
2. "No mistake about it. Ice is cold; roses are red; I'm in love. And this love is about to carry me off somewhere. The current's too overpowering; I don't have any choice. It may very well be a special place, some place I've never seen before."
3. "For a long time, she held a special place in my heart. I kept this special place just for her, like a "Reserved" sign on a quiet corner table in a restaurant. Despite the fact that I was sure I'd never see her again."
― South of the Border, West of the Sun
4. "I have a million things to talk to you about. All I want in this world is you. I want to see you and talk. I want the two of us to begin everything from the beginning."
5. "What do you think? I'm not a starfish or a pepper tree. I'm a living, breathing human being. Of course I've been in love."
6. "Anyone who falls in love is searching for the missing pieces of themselves. So anyone who's in love gets sad when they think of their lover. It's like stepping back inside a room you have fond memories of, one you haven't seen in a long time."
7. "What matters is deciding in your heart to accept another person completely. When you do that, it is always the first time and the last."
— Blind Willow, Sleeping Woman
8. "Being with her I feel a pain, like a frozen knife stuck in my chest. An awful pain, but the funny thing is I'm thankful for it. It's like that frozen pain and my very existence are one. The pain is an anchor, mooring me here."
9. "I was always attracted not by some quantifiable, external beauty, but by something deep down, something absolute. Just as some people have a secret love for rainstorms, earthquakes, or blackouts, I liked that certain undefinable something directed my way by members of the opposite sex. For want of a better word, call it magnetism. Like it or not, it's a kind of power that snares people and reels them in."
― South of the Border, West of the Sun
10. "It's hard to tell the difference between sea and sky, between voyager and sea. Between reality and the workings of the heart."
11. "Sometimes when I look at you, I feel I'm gazing at a distant star. It's dazzling, but the light is from tens of thousands of years ago.Maybe the star doesn't even exist any more. Yet sometimes that light seems more real to me than anything."
― South of the Border, West of the Sun
12. "The human heart is like a night bird. Silently waiting for something, and when the time comes, it flies straight toward it."
— Colorless Tsukuru Tazaki and His Years of Pilgrimage
13. "I was always hungry for love. Just once, I wanted to know what it was like to get my fill of it -- to be fed so much love I couldn't take any more. Just once. "
14. "Memory is a funny thing. When I was in the scene, I hardly paid it any mind. I never stopped to think of it as something that would make a lasting impression, certainly never imagined that eighteen years later I would recall it in such detail. I didn't give a damn about the scenery that day. I was thinking about myself. I was thinking about the beautiful girl walking next to me. I was thinking about the two of us together, and then about myself again. It was the age, that time of life when every sight, every feeling, every thought came back, like a boomerang, to me. And worse, I was in love. Love with complications. The scenery was the last thing on my mind."
15. "Maybe it's just hiding somewhere. Or gone on a trip to come home. But falling in love is always a pretty crazy thing. It might appear out of the blue and just grab you. Who knows — maybe even tomorrow."
Images: Toho; Mayur Gala, Josh Felise, Nathan Walker, Everton Vila, Josh Felise, Stanley Dai, Toa Heftiba, Anneliese Phillips/Unsplash