Kylie's Pale Pink Smile Lip Kit Status Is TBD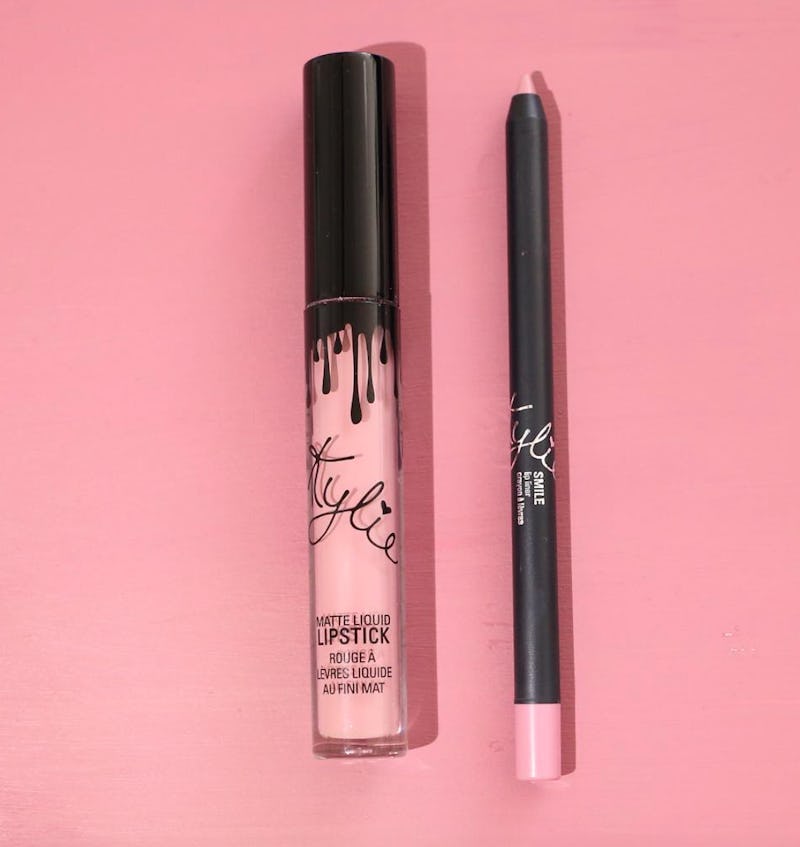 I love when makeup makes a difference. The Smile Kylie Lip Kit is important, since Kylie Jenner is donating 100 percent of the net proceeds to Smile Train, which supports cleft surgery for children globally. Fans responded, scooping up the pretty, pale pink shade, which sold out upon launch on World Smile Day. The Smile Lip Kit is restocking, so you are not out of chances to score this mega matte, which allows you to passively do good while painting your pout in cool, pink style. There seems to be some confusion, or at least a lack of clarity, about Smile's status in the Lip Kit lineup. Fans have been wondering aloud via social media. Is the Smile Kylie Lip Kit limited edition or is it a permanent addition? Or will it be a color that comes and goes, restocking intermittently?
Those are all legit questions and the shade's status is actually somewhat hazy. The Smile Lip Kit appears to be here for good and for a good cause. Jenner said in her Lip Kit livestream that she wants to raise as much money for Smile Train initiatives as long as possible and therefore the pastel pink lippie is not limited edition.
Below is the screenshot indicating such, taken from the official Kylie Jenner app.
See where it says that Smile is not limited edition? Perhaps Smile will be back on Oct. 12, when Jenner launches her four new fall Lip Kits. T to the B to the D.
However, I received an email newsletter from Kylie Cosmetics upon Smile's launch. It says "limited edition" in the screenshot above. The mystery deepens, so Bustle reached out to Kylie Cosmetics reps to inquire about Smile's official status.
UPDATE: Kylie Cosmetics reps responded via email, saying, "Sorry for the confusion. We will be restocking the Smile Lip Kit."
It's also worth mentioning that the Kylie Cosmetics site does not list Smile as "limited edition," nor does the packaging indicate that status.
There have been limited edish Lip Kits in the past — the Fourth of July shades, which were the sky blue Skylie and the denim-tinted Freedom, as well as the metallic black KyMajesty, were all available for a short time and are now gone from the site. Perhaps those will come and go, as will Smile?
A Kylie Lip Kit fan Instagram page states that while Jenner said Smile is not LE, Kylie Cosmetics customer service reps said it is, in keeping with the newsletter.
Smile looks to be sticking around, though. I hope it does. Jenner will continue to raise money for a critical cause and your pout can remain pretty in pink.
Images: Kylie Cosmetics/Instagram (2); Courtesy of Kylie Cosmetics (1)