7 Rose Gold Hair Dyes That You Can Use At Home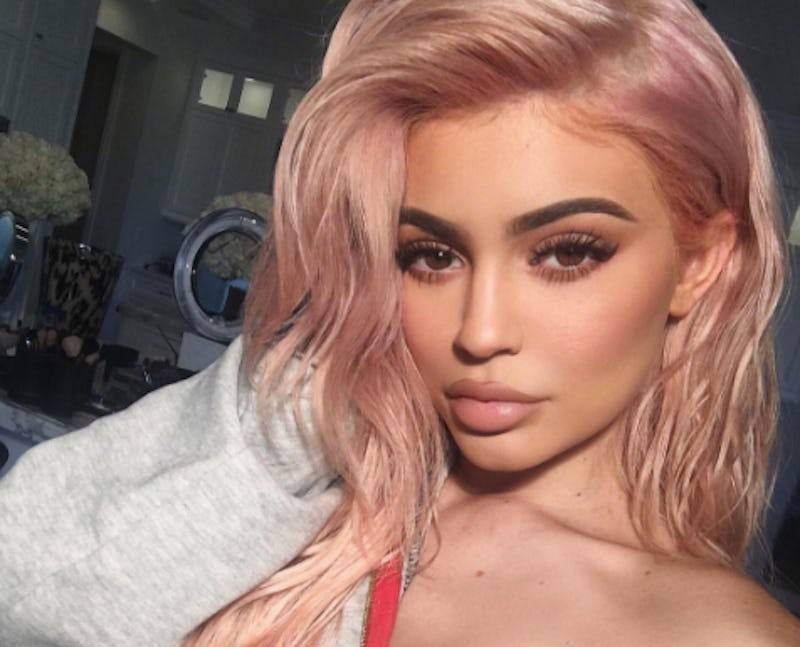 When Kylie Jenner changes her hair, the world notices. She switches it up often, and somehow nails every single color. Odds are you've probably already seen Jenner's rose gold hair. The new color is something completely different than she's done before. It turns out that it's not too hard to recreate either. There are tons of at-home rose gold hair dyes that you can use to get Jenner's new color.
You might not be able to recreate the nineteen-year-old's expensive clothing and accessories, but you can get her hair color. Jenner took to social media to show off her new rose gold locks, and her fans are completely loving the color. Actually, it might just new the new fall hair trend. Jenner has a way of creating new trends and this is time is no different.
She's rocked purple, pink, and even green hair before, but this is completely different. It's much more soft than the bright, shocking wigs that she normally wears. It's super easy to recreate too. All you need is a box of color and you can create the same exact hair look at your own home. It doesn't get much easier than that. Here's what Jenner's new 'do looks like for reference.
It's so pretty! If you're looking to get the same hair as Jenner, then you're in luck. Whether you're just looking to try out the trend for a day or make it permanent, these are some great at-home options to try.
Ion Color Brillance Rose Gold Temporary Liquid Hair Makeup, $4, Amazon
This is a great dye if you're not looking to commit. The brand also has a semi-permanent option.
Scwarzkopf Igora Royal Pearlescent Pastel Permanent Hair Color , $10, UnitedSalonSupplies.com
Not afraid of a little color? Then this permanent hair coloring is perfect.
3. Professional Brightness
Ex-Girl , $14, G ooddyeyoung
I know what you're thinking, it's a little bright. If you get the goodDYEyoung fader to go with it, you can tone it down to a more pastel pink.
COLORSMASH Rose And Shine, $12, Amazon
This is by far the easiest way to get Jenner's look. Just rub it on, spray it with hairspray, and wash it out when you're done.
Garnier Intense Wash Out Hair Color in Pink Pop, $11, Amazon
Or maybe you're looking for a bright pop of pink instead.
Redken Shade in Golden Apricot, $11, Amazon
This dye will stick around for a while.
L'Oreal Paris Feria Smokey Pastels, $7, Amazon
This one guarantees not only the color, but the shine as well.
Finally, a Jenner look that's easy to get!
Images: KylieJenner/Instagram (1), Courtesy Brands (7)