'90s Films That Are Perfect For Fall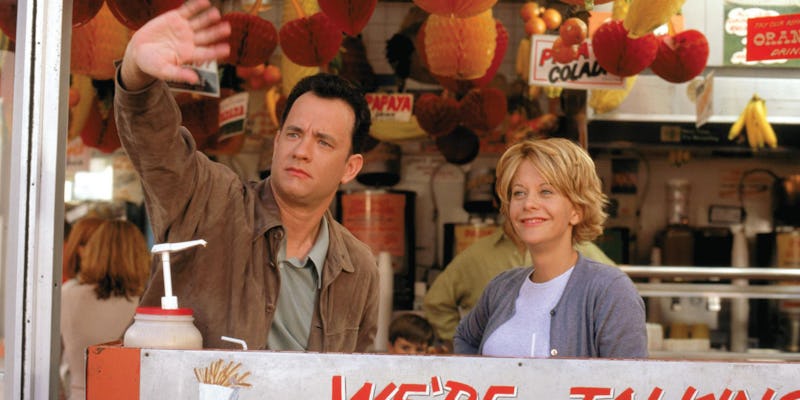 Fall comes with a certain feeling that, in short, sets it apart from all other seasons. It has its own atmosphere and whimsy about it which is completely unparalleled. Maybe it has to do with the fact that it means summer ending and the temperature dropping, but fall always compels me to want to hunt down hot, spiced drinks, apple pie, and a cozy blanket at every possible opportunity. But there's so much more to fall than that, too — Halloween makes it spooky, the slowly baring trees make it eerie, and the anticipation of both Thanksgiving and Christmas drawing closer and closer fills it with warmth and love. To celebrate this feeling, there are more than a few '90s films you should watch this fall that perfectly evoke any one of, or even all, these idiosyncratic fall qualities.
Apart from treating yourself to a tall spiced, pumpkin latté and taking a nice stroll in the crisp weather to marvel at the changing colors of the local foliage, watching a great film that in some way celebrates fall is the next best thing. So seriously, grab your favorite blanket, heat up some cookies, make yourself a spiced apple tea, and get real cozy on the couch, because these '90s films are exactly what you need to watch this fall:
1. Rushmore
One of Wes Anderson's first films (and by far my own personal favorite), Rushmore is full of dark humor, wry wit, and those back to school fall vibes that can both feel a comfort and an absolute hinderance to your very existence in high school.
2. Good Will Hunting
As if Gus Van Sant's decision to submerge the film in a stunning autumnal color scheme wasn't enough, Good Will Hunting also utilizes the astonishing beauty of Boston in the fall as it's main stage. And it's absolutely gorgeous.
3. You've Got Mail
Tom Hanks and Meg Ryan bring the warm and fuzzies in this adorable, '90s rom-com, which features a super cozy, fall beginning. Come for the sweet bouts of flirtatious banter, but stay for the hilariously outdated references to the high-tech world of email and the internet.
4. Hocus Pocus
It wouldn't feel like fall without at least one watch of this Disney classic, would it? The movie also absolutely demands to be enjoyed with warm cookies, a tall glass of milk, and your most fabulous pointy witch hat.
5. Practical Magic
What is about witches and fall that make them go so beautifully together? Practical Magic might be totally adorably corny, but it's also a whole bunch of fun with some swoon-worthy romance thrown in for good measure.
6. Rudy
From start to finish, Rudy is total heartfelt inspiration with some gorgeous fall shots that totally make me want to throw on some sweatpants and go for a crisp run in my local park. And yes, I cry every single time I watch it. I'm only human, guys.
7. Scream
Granted, you might not think of this film as being too much of a fall classic, but it definitely is. From the blatant back-to-school vibes to the Halloween party ones, Scream uses the spooky, end-of-summer vibes of the season to it's absolute advantage.
8. Edward Scissorhands
The gothic fairy tale combines the wistful feeling of fall with the eerie atmosphere that comes with bare trees and dead leaves, and it makes for pretty perfect seasonal viewing.
9. Election
Perfectly reminding you of that bleak time at the start of a new academic year, where the tumultuous cycle of school council elections would begin (and the panic of having to pick a side could become all too much). Reese Witherspoon's Tracy Flick is so horrifyingly ambitious in the film that she's pretty terrifying. Like, Halloween-costume scary, y'all.
10. The Craft
This movie absolutely makes me want to go and hang out on a cold beach with three of my most powerful female friends, light a small fire, and invoke Manon. Because that is the true spirit of fall, right there.
11. One Fine Day
If the sight of peak-era George Clooney isn't enough to fire up some warmth in your heart (or turn your cheeks an autumnal red), then the charming romance between him and polar opposite Michelle Pfieffer will. It's lush, cozy, and completely dreamy. Just what you need in fall.
12. The Nightmare Before Christmas
The ultimate film for allowing Christmas enthusiasts to celebrate the season way ahead of time, and for Halloween enthusiasts to continue celebrating their favorite time of year right through until Christmas. The Nightmare Before Christmas captures that feeling of festive anticipation and of spooky fall delights perfectly.
13. Ever After
I don't know about you, but I absolutely adore fairy tales in fall, and Ever After was one of the very best fairy-tale offerings of the '90s. It's also completely evocative of fall, delivering charm, whimsy, romance and cozy feel-good feelings that I always associate with the season.
Best season ever, am I right? All I want to do is snuggle down, drink spiced blends, and gaze lovingly at the changing colors of leaves. And also get pretty nostalgic by watching some '90s films which remind me of fall, too. Totally that.
Images: Warner Bros. Pictures