15 Last-Minute Costume Ideas For Your Squad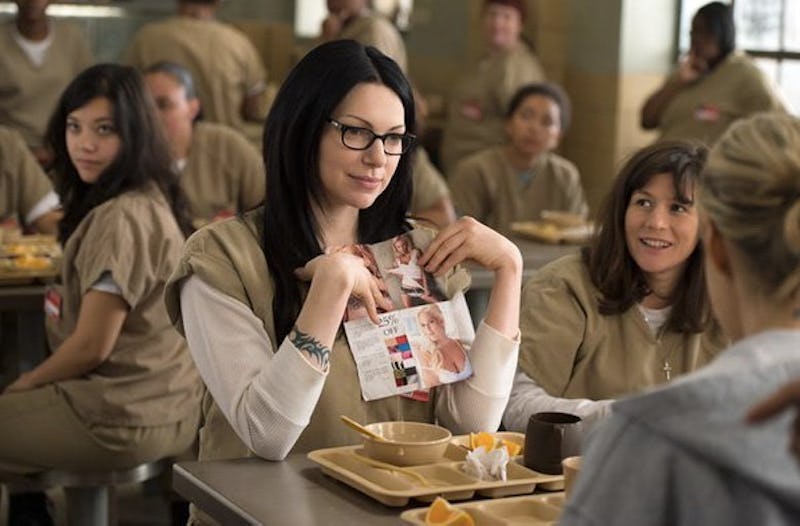 Sometimes, Halloween parties kind of spring up out of nowhere — like, all of a sudden, your buddy realizes that nothing's been planned yet, and wants to have a big party. Luckily, there's plenty of last-minute group Halloween costumes for you and your friends who, similarly, didn't prepare for the big event. Anything is better than showing up in your normal clothes — you don't want to be that person.
It's possible to find costumes that check off the boxes of being cute, clever, quick, and cheap. Granted, some of these might require a quick run to the store (or an Amazon Prime account) if you don't have a closet filled with fun and random material, but it's much better than having to deal with a month of planning, a cart full of pricey materials, and a group text that keeps you up until 11:30 p.m. on a school night. But even though this plan is definitely last minute, having your friends brainstorm with you is also a good idea — after all, it's a group costume concept, not a you costume concept. They've probably got some good ideas stirring, since they're your close friends for a reason. (Also, they've probably got a bunch of weird items at home that can help make these costumes shine.)
If you're still at a loss for ideas, here are a few great suggestions that your friends will likely love.
1. The crew from Orange Is The New Black
Tan Scrubs, $16, Amazon | Black Glasses, $7, Amazon
Pick up a prison jumpsuit and, there you go. Litchfield has so many prisoners, that everyone can choose their favorites. You should be able to find any kind of accessories you need at home — if not, you can likely Prime it. Looking for Alex's glasses? Just $7.
Of course, make sure not to make it inappropriate. (It can wreck a good night, and it's pretty humorless.)
2. "Spice" Girls
White Shirt, $6, Amazon | Oregano, $8, Amazon
Scary and Sporty need not apply. In order to be a quick, last-minute spice girl, all you need is a white shirt and some iron-ons — and a printer with some color ink, of course. In fact, this combo can probably help with a lot of last-minute Halloween ideas. You might want to make sure you have shirts and transfer paper in stock at all times.
Have each friend choose a spice (Oregano is a personal favorite), print out a picture of it on the transfer paper, iron it onto your shirt following the instructions given on the package, and voila. You are officially a spice girl.
3. Bayside Tigers
Bayside tigers T-Shirt, $20, Amazon
Quick and easy? Yes. Lame? Well, it's not the worst costume in the world, especially if you and your friends add some personal accessories to it — think '90s. Keep in mind that the Bayside colors seemed to be maroon, black, and gray. The shirt above definitely incorporates two of these, but there are other options to choose from as well. However, the shirt above is the only one available with Amazon Prime. So, consider your timing.
4. Neko Atsume cats
Cat Ears, $9, Amazon | Cat Tail, $9, Amazon | Halloween Costume Makeup, $6, Amazon
Are you still playing this addictive app? You should be, since it's adorable. It's also a good way to dress up like a cat and still be relevant to 2016. A&S Creavention Cat Ear has the set above available in both black and white, which is an amazing start.
On the left is a set of ears and a tail in a brown color — just one of the color combinations offered, and a good way to kill two birds with one stone. (And match.) Finally, a makeup kit like the one from Rubie's Costume Shop will help you achieve your catty look. It's got the perfect colors to create an assortment of different kitties.
5. Counting Sheep
Black Tights, $12, Target | White T-Shirt, $6, Amazon | White Shorts, $28, Amazon | Lamb Costume Set, $10, Amazon
This costume is guaranteed to be both easy and cute. And with the addition of tights, it's actually a pretty warm costume too. I mean, October weather is no joke. Just pick up a white t-shirt, a pair of white shorts to wear over the tights, and this accessory kit. Last, you need a Sharpie, to write your number directly on your shirt. This works well for a group of three, four, or 15. The sky's the limit.
Pro tip: Make sure you have plenty of cardboard between the front and back of your tee before writing on it — it'd stink if the marker bled through. If you can find a Sharpie that's meant for fabrics, even better.
6. Goth girls (and guys)
Black T-Shirt, $8, Amazon | Black Skirt, $20, Amazon | Fishnet Stockings, $2, Amazon | Vampire Makeup, $3, Amazon
You probably have a ton of the material at home already: if it's black, it's probably a good choice. If not, you can pick up a cheap black t-shirt, a black skirt, and some fishnet stockings. If you're more fond of pants, you can skip the last two and find a pair — as long as they're dark, they'll work. Then, of course, the makeup ($4.99, Amazon) — if it looks pale yet bold, you're doing it correctly. The best part about this costume? You can re-use the clothes afterward. Also, your group of goths can be big or small.
7. Smurfs
Long Beanie, $8, Amazon | Blue Shirt, $9, Amazon | Blue Makeup, $14, Amazon
How Smurfin' cool will you look this Halloween? As long as you have a long white beanie, a blue shirt, and blue makeup people will know exactly what you are.
8. Ghosts
White Bedsheets, $8, Walmart
Simplest costume ever? You betcha. Go old fashioned with this one. If you have a white sheet and a pair of scissors, you've got everything you need. The bedsheet ghost is a total classic. If you really don't want to ruin a bedsheet (and don't have any spares) you can pick one up at Walmart, in a set, for $20 or less.
9. Toga Party
Seriously. Same sheets, different purpose. Everyone likes a good toga. (Just make sure you're wearing at least something underneath, if your toga-construction is a little poor.)
OK, jokes aside about the versatility of a sheet — we can add a little more to this last-minute group costume. And if you have more time than, say, a night, you can make it a bit more appealing.
Gold Sandals, $43, Amazon | Gold Headband, $6, Amazon
Here's a toga that likely has a bit more support to it, a pair of cute sandals in gold, and a cute little flower headband, for a bit more pizzazz — all available on Prime, so they'll get to you super quick.
10. Loofahs
Tulle Spool, $9, Amazon | Elastic Waitband, $6, Walmart | Red Leotard, $17, Amazon | Cotton Twine, $3, Amazon
Got tulle and an elastic waistband? Then, you've got yourself a loofah costume. Using small elastic bands, or sewing the tulle into place, you'll want to connect the two, bunching them up pretty elaborately to get the fullness of a loofah. Consider wearing a leotard of the same color underneath, both for coverage and for the bands to have something to hang onto. Each friend can choose a different color. If you want to get even more crazy with it, consider adding a loop of string on the side.
11. Shark Week
Gray T-Shirt, $12, Amazon | Iron On Letters, $6, Amazon
While best in a group of seven, as long as you have Monday and Friday in the mix, you should be good to go. All you need is this (adorable) shark beanie, some gray t-shirts that'll accept iron-on prints, and of course, the iron-ons, so you can spell out which day of the week you are.
12. Cards Against Humanity
White Poster Board, $6, Michaels | Cotton Twine, $3, Amazon | Sharpie Marker, $2, Home Depot
Like playing Cards Against Humanity? Then you'll love being a member of the deck. Choose your favorite card (or make up your own) and invest in some poster board — white or black, depending on the card you're portraying. You'll also need some string to help hold the poster board to your shoulders, and of course, a Sharpie to write what you want to say. Super simple costume, with so many possibilities. And even better, it doesn't matter how big or small your group is.
13. Personalized heroes
Super Hero Capes, $50, Amazon
Forget about Batman and Superman — it's time to be your own hero. Create your own pack of superheroes with these capes and masks — and even better, the set of masks available comes with bracelets, for extra accessorizing.
14. Dalmatians
Dalmation T-Shirt, $30, Amazon | Dalmation Costume Set, $15, Amazon | Black Body Paint, $6, Amazon
You might not have 101 of them, but the amount you do get together will be good enough. It's easy to put black dots on a white shirt, but you can also buy a shirt that's pre-spotted online (prices vary) and top it with a set that includes ears and a tail. Of course, you'll want some face makeup as well, since who's heard of a dalmatian that didn't have a cute black nose?
15. Dominoes
Adult Domino Costume, $30, Buy Costume
Sometimes, there's no shame in buying your costume. And for a costume like dominoes, there's so many versions you can make for a group, so that no domino is the same. Plus, the price is so good, that it's likely less money than putting together a costume on your own. BuyCostumes often ships same day, and if you go for Premium shipping, it should arrive at your door almost immediately. Not too shabby.
Image Credits: Amazon (32), Walmart (3), Michaels, Target (3), BuyCostumes, Giphy