This 'TWD' Sneak Peek Teases Rick's Loss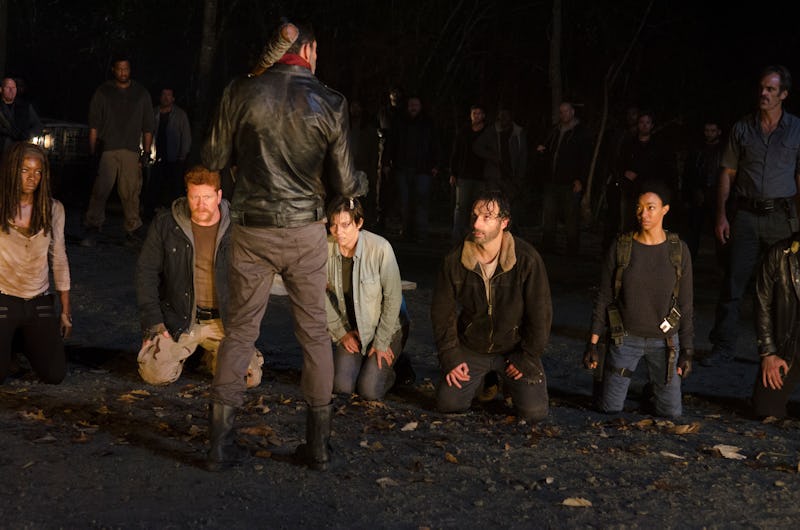 If you couldn't wait another moment for The Walking Dead Season 7 premiere, I have great news. Well, maybe I have bad news. It depends on how you feel about certain limbs that belong to Rick Grimes. See, the audience of the AMC series' New York Comic-Con panel got a sneak peek at The Walking Dead premiere and it shows the immediate aftermath of that terrifying, deadly encounter with Negan from the Season 6 finale. Now, here's where the subjective news comes in. The clip shows Negan taunting Rick while showing off a newly bloodied Lucille. That means that no, Negan did not kill Rick in the scene that cut to black (well, blood and then black) and ended last season on a horrific note. However, as you can see in the clip below, that does not mean Rick will come out of this fight unscathed.
As many fans know, in Robert Kirkman's The Walking Dead comic book series, Rick loses his right hand pretty early on in a fight with the Governor. When the TV series adapted the Governor storyline and he was killed before ever taking Rick's hand, viewers thought the show was simply skipping over this plot point. Clearly, we were wrong.
In the NYCC sneak peek, Negan comes face to face with Rick after beating one of his friends (we still don't know who) to death, and Rick promises that he's going to kill the leader of the Saviors. "Not today, not tomorrow, but I'm going to kill you," Rick says. Negan then proceeds to find out what kind of weapon Rick brought with him and after learning it's a hatchet, proceeds to talk about his right-hand man, Simon. He then taunts Rick by saying how important a right hand is, and asking if he killed Rick's own right-hand person just then. By this point, most Walking Dead viewers should know where this is going.
After some more threats and tense looks, Negan hauls a struggling Rick to an RV, hatchet tucked into his belt, and ominously shuts the door after saying that his people will beat the rest of Rick's group — well, "the ones that are left."
At this point, we all know what's going down in that trailer: Negan is going to cut off Rick's right hand, bringing that element of the comics to the TV series in a totally different way. However, we still have no idea who Negan killed with Lucille, leaving their gruesome, unidentifiable remains in front of Rick. The clip only shows Negan and Rick, and we hear a woman crying in the background, but that doesn't prove anything except that Rick and one woman survive. That still leaves the rest of these characters in jeopardy, especially since Negan doesn't seem to have plans of letting them go anytime soon. When Oct. 23 rolls around, the wait for The Walking Dead Season 7 may finally be over, but viewers should prepare for an emotional, gory, and shocking premiere.
Image: Gene Page/AMC