The Evil Queen Found A New Ally On 'OUAT'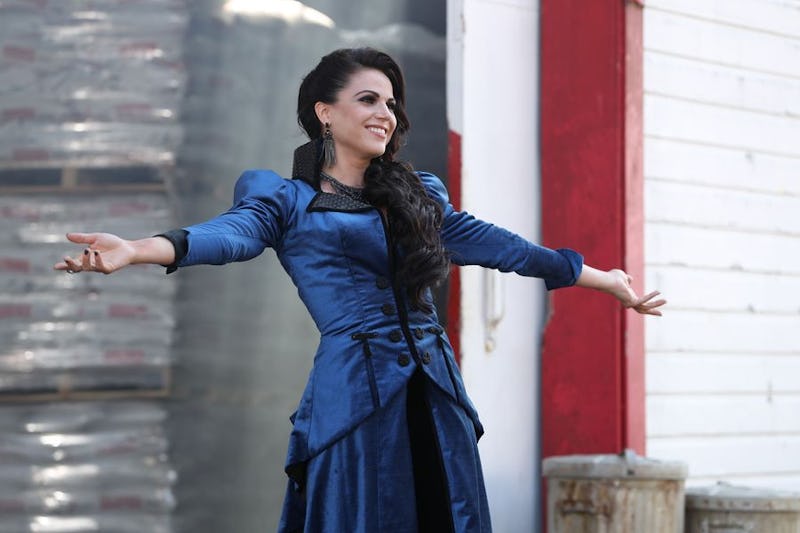 If the saying is true that two heads are better than one, then Storybrooke is in more trouble than it has ever been in before. When her attempts to take Emma down are thwarted once again, the Evil Queen decided to team up with Hyde on Once Upon a Time , releasing him from his prison cell and walking off with him arm in arm. (Is it too early to start rooting for this potential coupling because I am ALL for it!) Either way, though, this is not great news for Emma, considering Hyde seems to know an awful lot about what's going on with her tremors. If he decides to share this information with his new partner in crime, that could make the Evil Queen the Savior's biggest threat. Maybe this is even further proof that she's the one under the hood in Emma's visions.
And then there's the fact that he'll probably want something in return. Like all partnerships, information and assistance is a two-way street. So if he's able to scratch the Evil Queen's back in her plot to bring Emma and Regina down, you better believe he'll want a favor in return. Do we even know what Hyde wants right now? Because aside from bringing characters back from the Land of Untold Stories, I'm not entirely sure what his motivation is right now, but I doubt it's going to involve anything good.
Either he has a story of his own he wishes to see get played out or he just wants to watch the world burn as stories that should never be start wreaking havoc on our beloved Storybrooke residents. No matter which way you slice it, though, it's not good news. And now that he has the Evil Queen on his side, they'll have a much harder time stopping in the future. However, I'd be lying if I said I wasn't completely in love with this formidable team up. Rooting for our heroes is all well and good, but there's nothing like a good villain storyline to really set things into motion. And when it comes to evil squad goals, these two are pretty much as good as it gets. More please!
Image: Jack Rowand/ABC