Jon Bernthal Is Making 'The Punisher' His Own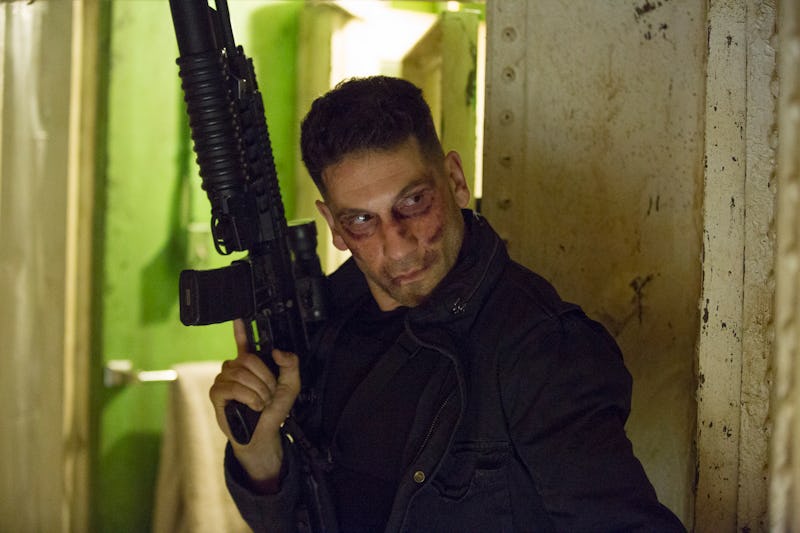 Many of the characters featured in Netflix's Marvel series haven't gotten much attention outside of the original comic books. We may all know Jessica Jones and Luke Cage's names now, but their Netflix shows marked their first on-screen adaptations. However, that is certainly not the case when it comes to the Punisher. Jon Bernthal brought the character into the Marvel Netflix world in Daredevil Season 2 and as he acknowledged at his New York Comic-Con panel on Oct. 9, he had a lot of source material to use as inspiration. And though Bernthal said that he looked to the Punisher movies and comic books to play Frank Castle, he also wanted to make the character his own.
While Bernthal couldn't reveal anything about the upcoming Punisher Netflix series, he was able to give some insight into his own approach to the character. In addition to many Marvel comics, The Punisher has previously headlined three live-action movies, so there is a long history to work with. Bernthal cited the The Punisher MAX comic series as one that he particularly liked, and surprisingly, brought up Thomas Jane's Dirty Laundry — a short film that Jane called a "love letter" to the character, according to Entertainment Weekly, and was not produced by Marvel — as a movie adaptation that he loved.
"There's so much to gain from the movies that came previously," Bernthal said at the NYCC panel, "there are so many great interpretations." However, he didn't let any of those interpretations shape his own take on Frank Castle too heavily. As he told the crowd, "once you sort of devour and eat up as much as you can, at least my way, is to make it as personal as possible, to kind of make it my own." And while the Punishers who came before him "all influence [him] in different ways," there's no single portrayal that Bernthal is trying to imitate or update.
It's clear that as he prepared to make Frank his own, Bernthal took the character seriously and gave the role the thought it deserved. When asked if thinks the Punisher is a hero or not, he said, "I don't really think about heroes and villains." He continued to say that he's not sure what other people think when they look in the mirror in the morning, if they consider whether they are good or bad, but "we all just try to do the best we can in the circumstances that are in front of us."
For Frank Castle, doing the best he can means killing criminals and anyone responsible for the deaths of his family, which is a part of him that Bernthal can relate to. "There's no way that I could even try to understand this man if I wasn't a father and a husband, to me, my children and my old lady are everything to me, so to try to imagine if someone took them from me..." he said, explaining why he doesn't judge Frank for becoming the Punisher.
As Bernthal put it at NYCC, in a line that might as well serve as the tagline for Netflix's The Punisher when it is finally released, "It's not about good or bad, it's about punishment."
Images: Patrick Harbron/Netflix (2)