15 Harry Potter Inspired Greeting Cards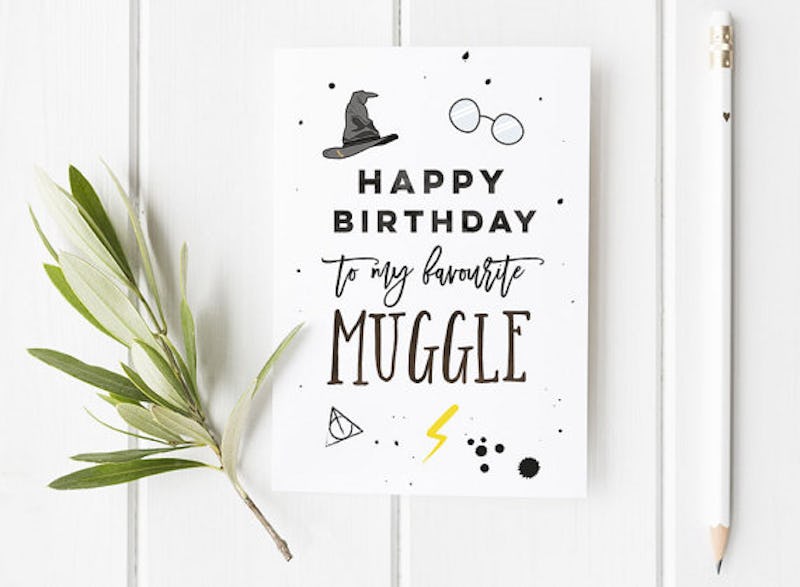 Do you have a certain special Potterhead in your life? Of course you do! Whether that Potterhead has a birthday only weeks away, or he or she is your partner and you two have a special anniversary coming up, Harry Potter birthday cards and greeting cards always say the right thing. I personally love cards and get them for all my friends and family around the holidays, and especially for birthdays. You could say I'm known for writing novels inside personalized cards with silly or nerdy designs.
So in honor of that card passion of mine, and in case you have a special day to celebrate soon, I've rounded up 15 incredibly adorable Harry Potter inspired greeting cards. For Harry Potter fans, anything Harry Potter inspired is more than likely going to be a perfect fit for them, but there's a wide range of options to choose from. When picking out a card, it's important to consider if it conveys the message you want to say, and if it will put a smile on the receivers face — because that's the most important part.
From birthday cards for your BFF to lovey-dovey cards for your partner, and even a card for that annoying but lovable sibling of yours, here are some truly sweet and fun Harry Potter greeting cards:
1. An A-Dumbledoreable Card For Any Occasion
After you stop freaking out over how cute this card is, get it for your Potterhead BFF, partner, or even family member that needs a smile.
Harry Potter Dumbledore Card, $2.30, Etsy
2. This Hogwarts Express Ticket Card Your Friends Have Been Waiting For
For the Hogwarts kid who never actually got their acceptance letter, this ticket is the perfect gift to pair with a Harry Potter inspired gift!
Hogwarts Express Card, $2.94, Etsy
3. This Cute Hapee Birthdae Card With Some Help From Hagrid
Even if you aren't a baker, this Hagrid's pink and green cake card will serve the same meaning to one lucky Harry Potter fan on his or her birthday.
Harry Potter Birthday Card, $4.50, Etsy
4. A Dumbledore Quote Card That'll Inspire
Sometimes we all need a little extra inspiration, and this Dumbledore quote always does the trick. The beautiful and simple design of this card makes it a perfect greeting for anyone in your life.
Harry Potter Quote Card, $4.50, Etsy
5. A Card To Pair With Socks
You can never run out of ways to tell your partner how much you love them, and this unique Dobby-inspired card will definitely make your partner feel all warm and fuzzy inside (especially if you also get them a new pair of geeky Harry Potter socks).
Dobby Card, $3.99, Etsy
6. The Perfect HBD Card For Your Favorite Muggle
This birthday card is simple yet lovely, and perfect for anyone in your life.
HP Inspired Birthday Card, $3.51, Etsy
7. A Card For Every Hogwarts House
These cards are wonderful options to give out around the holidays.
HP Hogwarts House Card Set, $17, Etsy
8. This Enchanting And Personalized Harry Potter Birthday Card
This card is like a scrapbooked piece of art, and I can't imagine any Potterhead not freaking out over getting this for their birthday, no matter the age.
Personalized Harry Potter Card, $4.20, Etsy
9. A Card To Remind Your Witch Or Wizard Partner How Loved They Are
Give this card to the person who brightens up your life everyday, because they deserve to know how you feel about them!
Harry Potter Lumos Card, $3.99, Etsy
10. A Howler To Send In Case Of Emergencies
Maybe your friend just got back from an incredible trip across seas and forgot to tell you about it, or your sibling you have a love/hate relationship with has a birthday coming up — a howler is one thing that'll make the receiver laugh and blush at.
Harry Potter Howler Card, $4.30, Etsy
11. This Harry Potter Card Sympathy That'll Provide Comfort
It's always hard to say the right thing when someone is grieving over a loss, so say it with this kind hearted card inspired by Harry Potter, and I'm sure it'll make whoever you send it to feel a little bit better.
Harry Potter Sympathy Card, $4.64, Etsy
12. A Hogwarts Diploma Card For The New Grad
If you know someone who just graduated high school and is headed off to college or their first real adult-job, get them the diploma they've always wanted as the best kind of congratulation.
Harry Potter Diploma Card, $4.30, Etsy
13. A Belated Birthday Card Delivered By Owl
Did you accidentally forget an important birthday? Don't worry, just blame it on the owl delivery service and there's no way the birthday gal or guy won't forgive you.
Harry Potter Belated Birthday Card, $5, Etsy
14. A Unique 3-D Harry Potter Card With A Magical Twist
How awesome are these pop-up cards?! Whether you choose to hide a cute message inside or a gift card, these 3-D Harry Potter cards have to be some of the coolest.
Harry Potter Emotibox, $13.76, Etsy
15. Give This Perfect Card To Your Perfect Catch
If you're celebrating an anniversary, birthday, or special holiday, this card says it all.
Harry Potter Snitch Greeting Card, $4.64, Etsy
Images: VeraLaLune/Etsy