How 'SNL' Made THAT Trump Cold Open Happen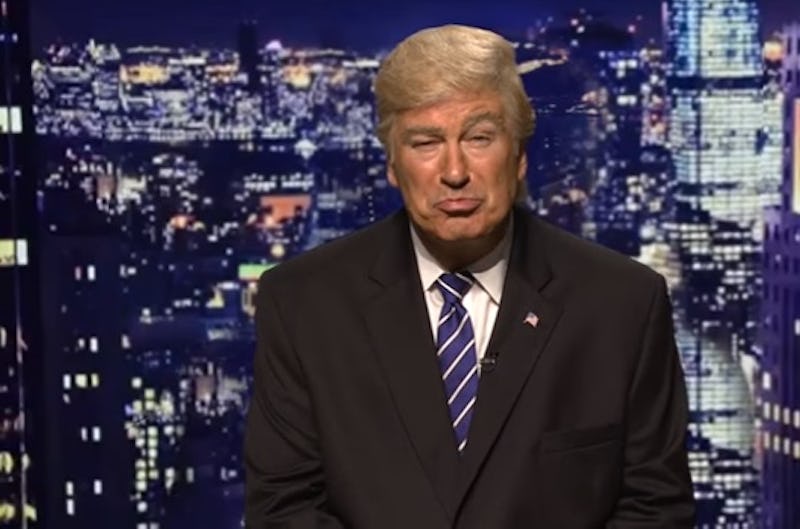 When Donald Trump news breaks, every talk and sketch show on TV wants to be the first to cover the latest scandal. This time Saturday Night Live beat everyone else to the joke with an epic nine-minute cold open featuring Alec Baldwin apple-gizing as Trump (because Trump would never apologize) for the candidate's recently leaked lewd remarks about women made on the Access Hollywood bus in 2005. The sketch was brilliant, timely, and most importantly funny, but getting it on air was no easy task, as the writers explained during their SNL panel at New York Comic-Con on Sunday.
The news of the Access Hollywood tape broke on Friday night, just hours before SNL had to go live. The show already had a Vice Presidential debate sketch written, but when Trump offered up such a headline-grabbing, potentially campaign-killing diatribe on women, the SNL team knew they had to lead with Trump's folly. At Comic-Con, the SNL writing team broke down how they made Trump's apple-gy come to life in time for Saturday's show.
"It was so cool for us to be the first [to tackle the Trump tapes since shows like Daily Show and such couldn't yet and it broke on a Friday]," SNL co-head writer Bryan Tucker said. Of course, being first meant the writers had to pull a late night to make it happen in time for the show, but it's totally worth it when the result is a sketch as on point as the one the show delivered.
SNL writer Chris Kelly said at the panel that he knew that nothing about putting the sketch together was going to be easy. He revealed the writing team kept writing and re-writing until 4 a.m. due to the steady stream of Republicans yanking their support away from Trump. "It wasn't as simple as just the leaked tape," Kelly said. The tape was just part of the story — it was the Republican party's reaction to it, including the un-endorsements from several high-profile players, that really gave the sketch its meat. The best part of the sketch may very well be Baldwin as Trump realizing that even his running mate was pulling away from him. Baldwin's hilarious about face on Mike Pence is the stuff of legend, but no one writer can take claim for the brilliance, the SNL writers explained. "It kind of turned into everyone's sketch [because everyone was pitching ideas]," Kelly said.
As horrifying as Trump's statements were, they also apparently felt like a gift to the comedy writers. Kelly admitted Trump's words were "super terrible and disgusting ... but fun" because of how well they lent themselves to parody. Some situations are so surreal, even comedy writers are shocked by them. The greatest behind the scenes secret revealed at the panel, though, has to be the one said by writer Sarah Schneider. It appears even NBC was psyched to be the first to blast Trump, because even the notoriously strict standards and practices team was on board with the sketch. "Our standards woman basically ran as fast as she could to tell us you can say 'pussy,'" Schneider revealed, proving nothing brings people together quite like a horrifying Trump quote.
Image: NBC/YouTube