Knifeliner Is The Perfect Halloween Makeup Look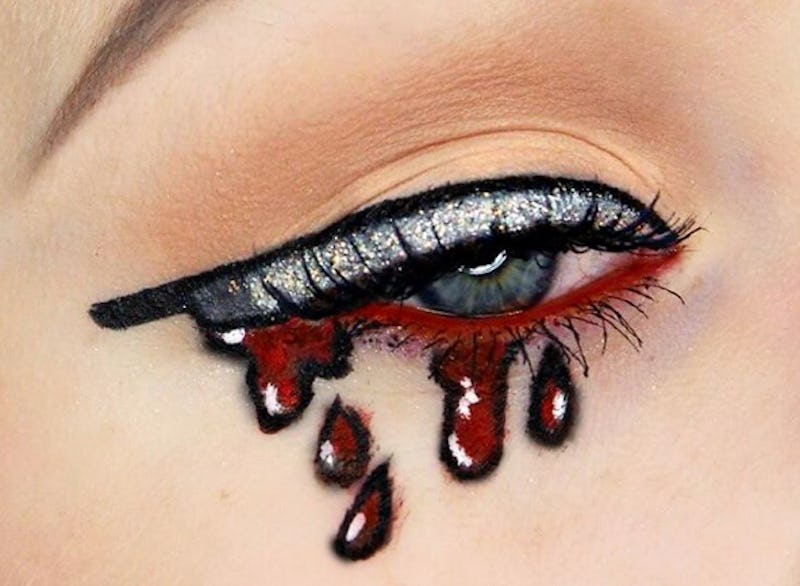 For some people, wearing a full face of green face paint just isn't an appealing way to spend a Halloween party — no shade to the full face looks, but sometimes, a person just wants a hint of Halloween. Subtle Halloween makeup like the latest knife eyeliner look circulating around Instagram is a fun, fresh way to celebrate the holiday — not only because it requires less effort, but because it's surprisingly chic.
On social media, people are calling it the "knifeliner" trend, and it appeals to the masses because it calls back to one of the most sought after liner looks in the mix: Eyeliner so sharp it could cut you. This time, it's literal, and it couldn't have come at a more perfect time. What better moment than Halloween to rock a little baby knife (and some artfully drawn in blood) in lieu of their standard winged liner?
For those of us amongst us that aren't qualified makeup artists, this trend might seem like it's too difficult to bother with. Have no fear, though: Thanks to the wonderful makeup obsessed communities found in multiple corners of social media and online, we not only have great pictures to reference for the look, but product lists and a YouTube tutorial to help achieve it.
To create the knife liner look, Copenhagen based makeup artist Ida H shared the products she used to execute it perfectly — no pun intended. Of course, if you wanted to get experimental and use your own brand favorites, feel free.
For the shadows and the knife, the Nikki Tutorials x Too Faced palette has all the colors you need,
The Power Of Makeup Palette, $56, toofaced.com
For the outlines and details of the knife and blood droplets, Kat Von D's tattoo liner works with precision.
Tattoo Liner in Trooper, $20, sephora.com
To fill in any gray details, the Lime Crime Velvetine in Cement doubles up as eye makeup as well as lippy.
Lime Crime Velvetine in Cement, $20, dollskill.com
For the gory red waterline, this MAC lip liner works perfectly to create an extra creepy effect.
Longwear Lip Pencil in Trust In Red, $21, maccosmetics.com
And for the blood details — both the red itself and the white highlights — try NYX Vivid Bright Liners.
Vivid Brights Liner in Petal and White, $7, nyxcosmetics.com
Now with all your tools in place — or your own preference of these colors and products from different brands — it may seem like more than just logic to pull it all together. Here's a handy YouTube tutorial to follow to be sure that knifeliner is sharp enough to cut through the hearts of any admirers coming you way.
Hopefully all this information and advice has got you fully prepared for hopping on the knifeliner trend. You can even use this as a basis to make the look entirely your own with different colors of glitter or a totally unique blood splatter pattern. Now go forth and chop it up with your absolutely killer makeup look.
Images: Ida H/Instagram, Courtesy Brands