Penguin & Riddler Gained Major Power On 'Gotham'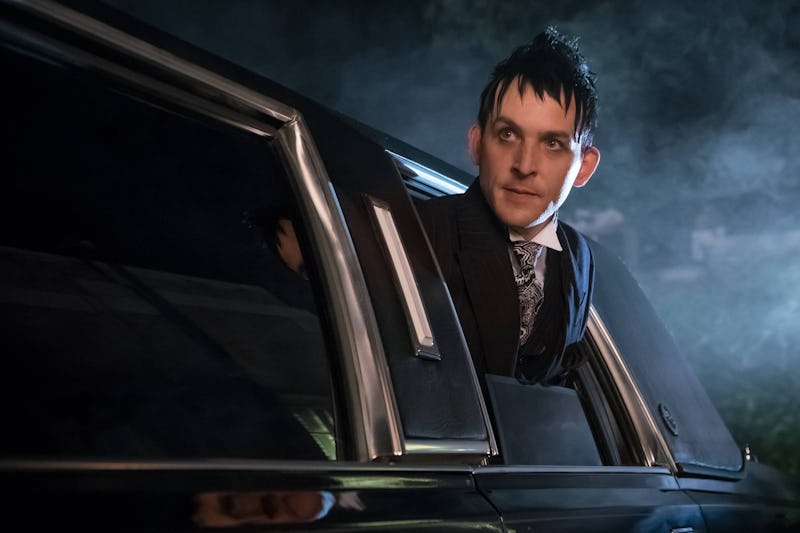 One of the most shocking revelations in this week's episode Gotham was that Penguin won the Gotham mayoral race. In the first few episodes of Season 3, it did seem like Oswald was actually capturing a bunch of the population's sentiment by saying that he would get rid of the "monsters" created by Doctor Hugo Strange. Votes were the one thing he had, unlike experience, a plan, or a clean criminal record. Still, I can't figure out where Gotham could go with this Mayor Penguin storyline, or if it is trying to make a statement on the actual election with his "Make Gotham Safe Again" tagline. But the Riddler/Penguin friendship is still surprisingly enjoyable, so when Ed convinced Penguin to go straight, it was kind of sweet to see that this criminal turned politician actually just needed to believe in himself.
Less surprising was the revelation that Butch is promising his fellow gangsters that underneath Cobblepot, there will be a new era of organized crime in the city. However, Butch may not be so right about that. Nygma impressed Penguin so much by proving that the public really loves their new mayor, he earned an instant promotion to chief of staff. I think Butch is a little upset by this — maybe his organized crime agenda will be threatened by Ed, who clearly has something more planned for Penguin's reign. Now the question is, what does Nygma want, besides getting closer to the Penguin? He was clearly displeased with the conditions at Arkham, so maybe he'll be seeking revenge on either its employees or the people who put him there.
And now that Alice's poisonous blood has infected Captain Barnes, Penguin might have to deal with a full-blown public health crisis as his first major decision. Quarantine, total shutdown, or a cover-up — whatever Mayor Penguin chooses, it will surely be a big change for Gotham in the coming weeks.
Images: Jeff Neumann, Jessica Miglio/FOX