SJP's 'Divorce' Character Is Complex & Sad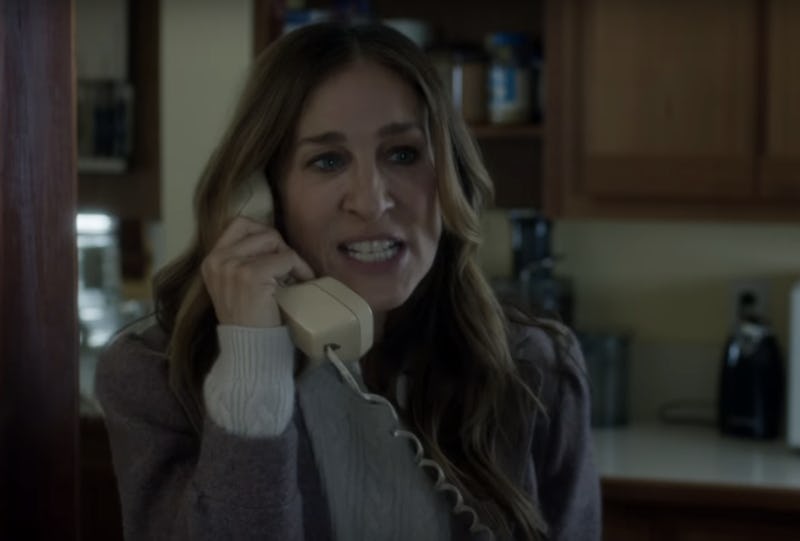 Sarah Jessica Parker's much-anticipated return to TV finally happened on Sunday night, with the premiere of her new HBO show, Divorce . Written by Sharon Horgan, the co-creator of British comedy Catastrophe, and airing on the home of Parker's hit series Sex And The City, there has been a lot of speculation as to whether the actress's new role will have anything in common with Carrie Bradshaw. Hopefully, you've had the chance to watch the show by now, and will likely have found that Divorce is a very different show from Sex And The City. So what did we learn about Sarah Jessica Parker's Divorce character in the show's premiere?
The immediate differences between Carrie Bradshaw and Divorce 's Frances have long been noted, from their strikingly different fashions, to their polar home life situations. But it was still fun to see Parker take on a new TV role, especially one that utilized her comedic sensibilities, and allowed her to explore a theme that Sex And The City was often too scared to broach — getting older. As a woman reevaluating her life, Parker played quiet desperation so well, and her subtle teetering between mid-life crisis and perfectly put-together working mother was everything you'd expect from the actress. Here are just some of the things we found about about Frances in the Divorce pilot.
1. She's Angry
While Carrie Bradshaw could get angry from time to time, Frances in Divorce seems to be constantly angry, but in the most dangerous way — silently. Her discontent is bubbling under the surface of her life pretty much constantly, and it's only a matter of time before she starts lashing out in some very real and violent ways.
2. She Takes Risks
Frances's actions in the pilot episode of Divorce were questionable at times (her illicit affair with Jemaine Clement from Flight Of The Conchords was particularly interesting). But one thing is for sure: Parker's new character isn't afraid to take risks, in a way that Carrie Bradshaw never did. She's about to start her life over again, and she doesn't seem phased in the slightest.
3. Frances Is In A Very Different Place In Her Life Than Carrie Bradshaw Ever Was
When Frances asks her husband for a divorce, she says it's because she needs to save her life while she still cares about it. While Carrie's quest to find a man often had her lonely and frustrated, we never saw the Sex And The City character in such a difficult, make-or-break situation. Frances is getting older, and figuring out what she wants for the next phase of her life.
4. She's Dealing With A Lot Of Sadness
From being locked out of her own house, to witnessing a friend shoot her own husband Frances's life is anything but fun and carefree. She's dealing with way more sadness than Carrie Bradshaw could even comprehend.
5. No Perky Narrator — Just Quiet Contemplation
Frances may muse to friends about her affair and her failing marriage, but, without Carrie's column writing, there are no cute investigations into what the innocuous details of her relationships might mean. Instead, we follow Frances around an often sparse landscape, in which she seems to be totally lost.
I can't wait to find out what happens next on Divorce, and I love the work that Parker has done so far with her new character. It's exciting to see the actress tackle a much darker comedy, and explore what it means when a marriage starts to go wrong.