'Divorce' & 'SATC' Are Worth Comparing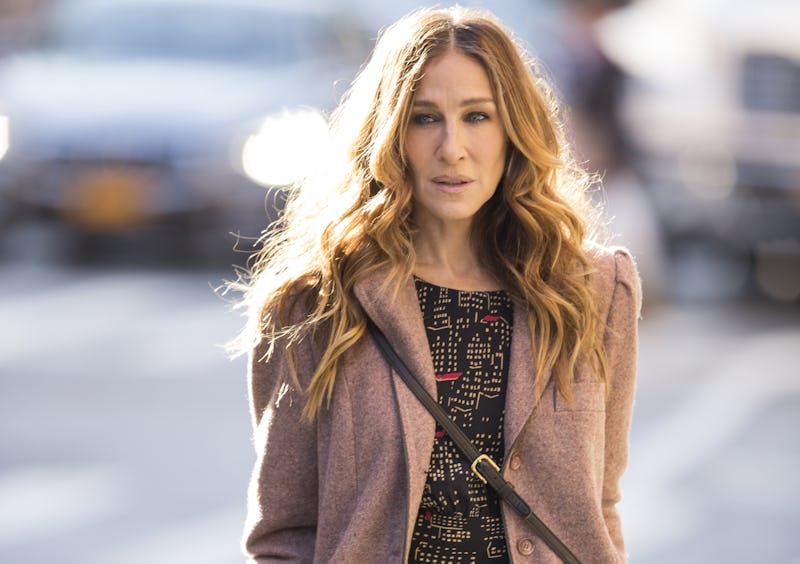 Even if you know in your Sex and the City-loving heart that it doesn't make any sense, it's difficult not to immediately think of Carrie Bradshaw when you see Sarah Jessica Parker in another HBO series. Premiering Sunday, Oct. 9, Parker stars in HBO's Divorce and the actress has understandably discussed how it's not like her older HBO show, Sex and the City. But do you really think that her statements will stop the media or fans of Carrie and her crew from comparing Parker's Divorce to Sex and the City? Absof*ckinglutely not.
When Parker promoted her new show on Good Morning America on Oct. 5, she said,
"I think it's important that she not be Carrie Bradshaw. I got to play that character for 12 sublime years written by extraordinary writers and telling a very specific story . . . I did find another woman who is equally as compelling, extremely different, complicated. Her life choices have been radically different than Carrie's and I think it's a story no less appealing though it's very different."
Divorce, written and created by Catastrophe's Sharon Horgan, has a very different premise from Parker's other HBO series since it's about how the marriage between Parker's Frances and Thomas Haden Church's Robert is unraveling. But that doesn't mean you can't analyze how Sex and the City is similar — and different — from Divorce. So, if Sex and the City reruns just aren't enough, here are all the ways Divorce is and isn't like Sex and the City.
It Stars Sarah Jessica Parker
To reiterate the obvious, Divorce features the fabulous Parker dealing with the real ups and downs of a marriage and being a parent of two kids. While Carrie was all about documenting the experience of a single woman, Frances is kind of in the exact opposite position. Either way, Parker balances comedy and drama in this new role like she did in Sex and the City — just don't expect her to be writing about it or providing any corny (but still lovable!) narration.
It Takes Place In New York
Divorce does take place in Carrie's (and Parker's) beloved New York, but Frances is in (gasp!) the suburbs of Manhattan. Frances works in New York City, but she has to take the commuter train to her job — after she drops her kids off at the bus for school. How very un-Carrie Bradshaw of her. While Parker's fashion style is still in place, you'll see Frances stumbling more in the snow in the suburbs than strutting her stuff on the city streets.
Parker's Character Has A Group Of Girlfriends
Although Miranda, Samantha, and Charlotte are missing, Frances does have two female friends in Diane (Molly Shannon) and Dallas (Talia Balsam). Both of her friends have their own issues — particularly Diane — but you won't really see their lives outside of their friendships with Frances and Robert. And sorry to say, there aren't any regularly-scheduled lunch dates with the girls.
The Characters Talk About (& Have) Sex
Parker was the only woman out of the four ladies to not get naked during her Sex and the City tenure and that stays true in Divorce with the sex not being anywhere near as graphic as it was on her previous show. Yet, there are still sex scenes and some pretty frank discussions about sex between Frances and Robert and Frances and her friends — after all, it is HBO.
The Complexities Of Relationships Are What Make The Show So Relatable & Funny
Just like some of Carrie's finest moments on Sex and the City were when she was amusingly outraged in a relationship (like when Aidan moved in), the same goes for Frances in Divorce. Frances and Robert's counseling sessions ring so true and also happen to be really funny in this dark comedy. Both of Parker's characters have a selfish streak they are somewhat oblivious to and in Divorce, it only helps to fuel the heated and hilarious exchanges between Frances and Robert (who is also pretty oblivious). You may not find yourself laughing out loud at every scene, but — just like Sex and the City — Divorce is a comedy that's very much about real-life relationships.
While you shouldn't go into Divorce expecting to see Carrie Bradshaw 2.0, Sex and the City fans may find themselves wanting to follow Parker's latest character through her romantic struggles like they did with Carrie. Just know that it does take two to divorce though, so Church's Robert will also be there with you and Parker for this bumpy ride.
Images: Craig Blankenhorn/HBO (2); Giphy (4)