John Oliver Calls Out "Hug Pimp" Billy Bush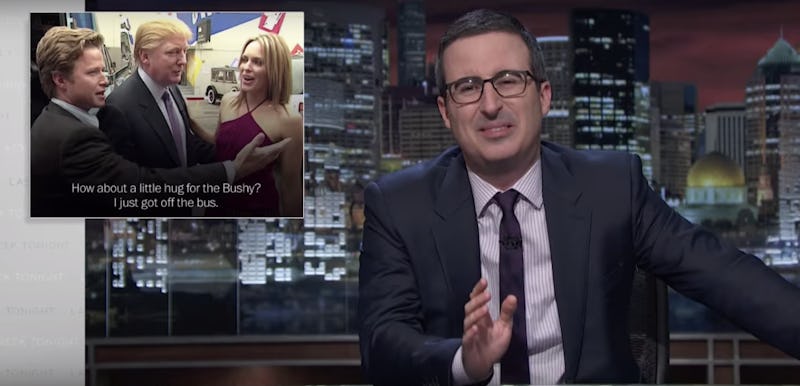 In the latest episode of Last Week Tonight, John Oliver took on the biggest scandal that (up to the segment's taping) had preoccupied the American public: the leaked recording of Donald Trump and Billy Bush's vulgar conversation about women in 2005. A particularly poignant part of Oliver's takedown came when he set his focus on Billy Bush. "And incidentally," he said, "f*ck Billy Bush. F*ck that guy! F*ck him!"
As the audience cheered, he continued, "And not just for laughing along, but for doing this once they got off the bus." A clip then plays of Billy Bush asking actress Arianne Zucker, who greeted Trump and himself on Access Hollywood's behalf, to give both men a hug. "It is gross enough that he's serving as Donald Trump's hug pimp," said Oliver, "but let's not gloss over the fact that he just said 'How about a little hug for the Bushy' — a phrase that, if it is not already, should really be a felony offense in all 50 states."
While Billy Bush has faced a lot of backlash for his actions in the video, resulting in both a decision to delete his Twitter account and a suspension from his gig at The Today Show , most of the criticism has focused on the crass language used throughout the conversation.
John Oliver, however, takes issue with the more insidious actions on Bush's part. Before Arianne Zucker appeared to greet the two men, Trump had already spoken about her on the bus. "I've got to use some Tic Tacs, just in case I start kissing her," he said. "You know, I'm automatically attracted to beautiful women — I just start kissing them. It's like a magnet. Just kiss. I don't even wait." This adds a particularly opportunistic and frat-like layer to Bush's seemingly harmless actions. While it would've been objectionable to ask Zucker for hugs even if this conversation had never taken place, it's made even worse by the fact that Bush had already heard Trump's words.
Later in the video, when Zucker is escorting the men to the show's set, Bush asks her, "Now, if you had to choose honestly between one of us. Me or the Donald?" Zucker pleads the fifth.
Bush has a lot of supporters who insist this was simply innocent flirting. They also point to Zucker's willingness to go along with it all as evidence that she was not being harassed. These arguments don't take into account the pressure in which women are expected to be friendly, accommodating, and sources of entertainment for men. If Zucker were to express disgust or annoyance at being asked to give out hugs or answer questions about which of the men around her she'd rather date, she would undoubtedly face criticism for being difficult to work with. When the fact that a camera was recording this whole episode, the pressure to follow along with a smile on her face is multiplied.
While Bush's participation in the video might not have the high stakes that are attached to Trump's behavior — he's not the one running for president, after all — his willingness to push his female co-star to coddle a man he just heard bragging about crossing the line with women shows an all-too-common disregard for women's comfort and right to personal space.
Check out John Oliver's full takedown below.