Halloween Calls For A Totally 'Strange' Costume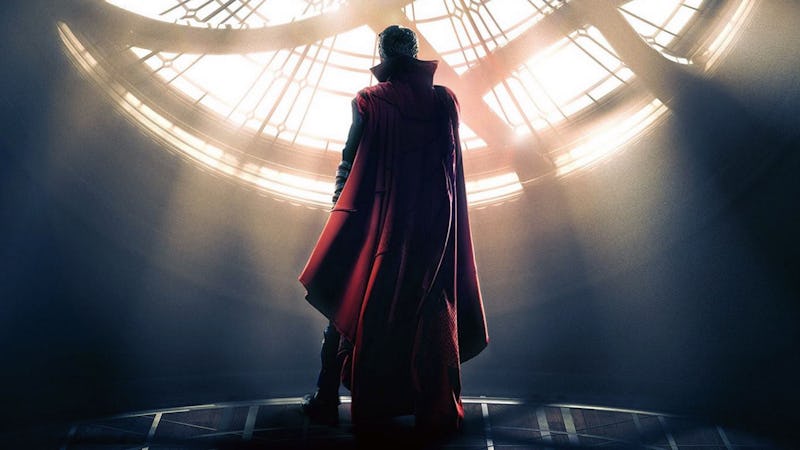 Halloween is a magical night when the impossible suddenly feels possible. So what better way to celebrate this year than by going as 2016's favorite sorcerer? True, Marvel's newest comic book epic doesn't come out in theaters until November, but that doesn't mean no one will get it if you dress up like Doctor Strange for Halloween. (Consider it a respite for your friends from an endless parade of Suicide Squad Harley Quinns.) Sure, you could shell out a few hundred bucks for a ready-to-wear screen-accurate version of the costume, but DIY is way more fun and cheap when it comes to costumes. Read on for some tips about how to put an outfit together and live your best Strange life.
As you surely know, Benedict Cumberbatch swaps his Sherlock Belstaff coat for a sweeping, mystical cloak to play the lead character in the movie. Dr. Stephen Strange is a former surgeon who is forced to give up his work when he inures his hands quite severely. So, as any ex-doctor might, he becomes a star student under The Ancient One of magic and mysticism and gets to fighting bad guys. You'll have to wait to see how Cumberbatch fares in the movie, but you can get ahead of him by rocking this costume on Oct. 31. Here's what you'll need.
A Sentient Red Cloak
Red Cloak, $10, Spirit Halloween
It's the coolest outerwear since Dumbledore gifted Harry Potter with his dad's Invisibility Cloak. I suppose if you can't find an empowered cape to swish around in, a non-sentient version like this one from Spirit Halloween will have to do.
A Blue Duster
Doctor Strange is also an expert in martial arts and wears a kimono-like garment under his cloak. Get a similar effect with a long, open cardigan like this one from Macy's.
A Wrap-Around Belt
Wrap Around Belt, $29, Etsy
After Halloween is over, you can accessorize sweater dresses and over-sized blouses with this cute leather obi belt from Etsy. The pricing is dependent on size, so make sure you check out the measurements.
A Pair Of Navy Leggings
Navy Blue Leggings, $15, Kohls
Besides the hints of pop of red and hints of gold, Strange's ensemble is all in the blue family. Grab a comfy pair of navy leggings like these from Kohl's. They'll tuck into whatever motorcycle boots or Docs are your choice for footwear.
Blue Hand Wraps
Blue Hand Wraps, $10, Modell's
These navy hand wraps from Modell's will come in handy at your boxing classes too. For Halloween, you can use them to mimic the blue fabric wound around the Doctor's wrists and forearms.
The Eye Of Agamotto Medallion
Dr. Strange Necklace, $29, Warrior Jacket
That bling worn on the chest of Stephen Strange houses the "Eye Of Agamotto," a precious and powerful gem that's important to the story. There are some great replica pieces available online at fairly decent prices. This one comes from Warrior Jackets.
Sport your Doctor Strange cosplay now, you guys. Because next year, everybody will be doing it.
Images: Walt Disney Pictures; Spirit Halloween; Macy's; Etsy; Kohl's; Modell's; Warrior Jackets