How To Spend Halloween With The Tanners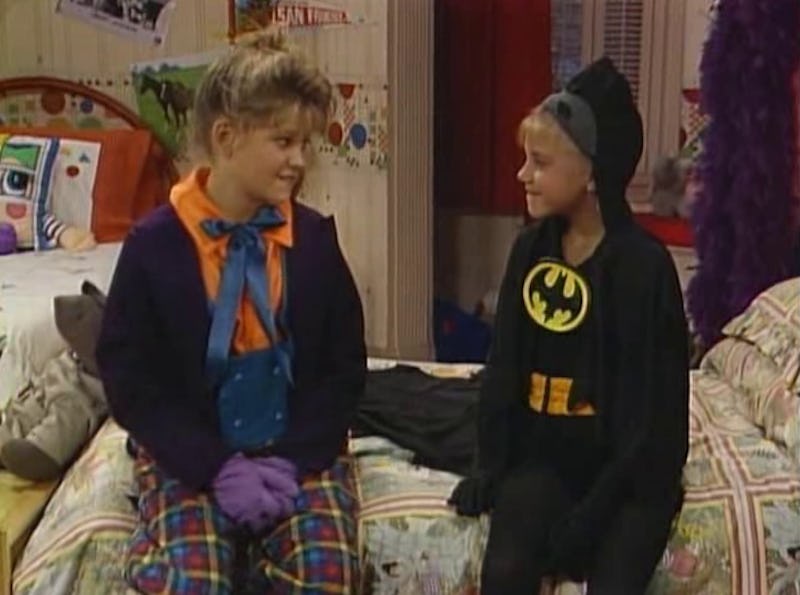 If you grew up in the '90s, it's safe to say you likely still consider the Tanners from Full House an extended part of your family. So, it only makes sense that you spend the holidays with them — from Halloween to Thanksgiving to Christmas. Luckily, over the course of Full House 's eight seasons, enough hilarious antics have ensued to make for one eventful Halloween marathon. Between the Halloween episodes themselves, the priceless costume changes, and scary life events, Full House has featured enough tricks and treats to keep any fan occupied throughout the Halloween season. Trust me: There are a lot of Full House episodes will get you into the scary holiday spirit, guaranteed.
In fact, rewatching Full House's classic moments might just make for the best way to spend your cold, fall afternoon — while simultaneously preparing you for Netflix's second season of Fuller House . And you don't even need to get overwhelmed by which episodes are Halloween-appropriate for the season, because I did the work for you. Here are the Full House episodes you must watch before Oct. 31.
1. "It's Not My Job" (Season 2, Episode 3)
It's not a Tanner Halloween without this classic Halloween-themed Full House episode. Featuring a Halloween costume contest, a snazzy new jingle from Jesse and his band, and Stephanie's fears of going to the dentist, there are tricks and treats at every turn.
2. "Divorce Court" (Season 3, Episode 8)
Sometimes, deciding on Halloween plans can split up even the tightest of families — even the Tanners. In "Divorce Court," chaos ensues when no one can seem to agree on their plans for the holiday. However, it's not all a family horror — spoiler alert, they all make up by the end.
3. "Mad Money" (Season 1, Episode 21)
Thinking of dressing up as your favorite celebrity for Halloween? Well, take your inspiration here: nobody rocks a celeb costume better than Uncle Jesse dressed as Elvis in the Full House episode "Mad Money." Between the outfit, the voice, the dance moves, and, of course, that hair, this episode will make you seriously step up your Halloween costume game.
4. "Those Better Not Be The Days" (Season 3, Episode 19)
Kids becoming the adults and adults becoming the kids. That's the kind of horror "Those Better Not Be The Days" delivers. Let the trials and tribulations of adulthood stare you in the face with a whole lot of costumes and a whole lot of laughs.
5. "Fraternity Reunion" (Season 3, Episode 23)
Costumes take a whole new turn in "Fraternity Reunion." In this episode, Danny and Uncle Joey find themselves ready to take back what's theirs for their fraternity's reunion. It makes for one hilarious (but overall sticky) situation.
6. "Aftershocks" (Season 3, Episode 11)
The Tanner family scares get even more real in "Aftershocks." With a home in San Francisco, earthquakes are an all-too-real threat — and Stephanie realizes this upon feeling the after-effects of a rumble.
7. "Terror In Tanner Town" (Season 4, Episode 10)
Having an unofficial new brother on the scene is terrifying for a family full of girls. When Danny's girlfriend, Cindy, introduces the girls to her undisciplined son, Rusty, his pranks go just a little too far. You won't want to babysit ever again after watching this one.
8. "It Was A Dark And Stormy Night" (Season 7, Episode 1)
When Steve's scary story about the supposed "Mud Man" goes too far, the Tanner sisters find themselves caught in a storm at a sleep-away camp, their imaginations running wild. With scary stories, a missing rabbit, and a power outage, you may need to bring your flashlight for this one.
9. "The Greatest Birthday On Earth" (Season 3, Episode 10)
I think it's safe to say that clowns can be terrifying. However, when it comes to planning Michelle's third birthday party, clowns aren't even the scariest part. It is, instead, when Uncle Jesse and the girls find themselves locked in a garage, and forced to find a away to make the most out of what was originally supposed to be a friendly circus birthday party.
10. "My Left And Right Foot" (Season 8, Episode 15)
With a giant foot invading the Tanner's home, this one isn't really freaky — it's just weird.
11. "Leap Of Faith" (Season 8, Episode 21)
In this episode, Uncle Jesse comes to face-to-face with his fear by trying to prevent Aunt Becky from taking one of the most major risks in her life: Bungee jumping. And while this episode isn't your regular kind of Halloween scare, it will certainly make your heart skip a beat. The tension is almost too much to handle.
Who else is ready for a marathon?