Miranda Sings Is On TV Now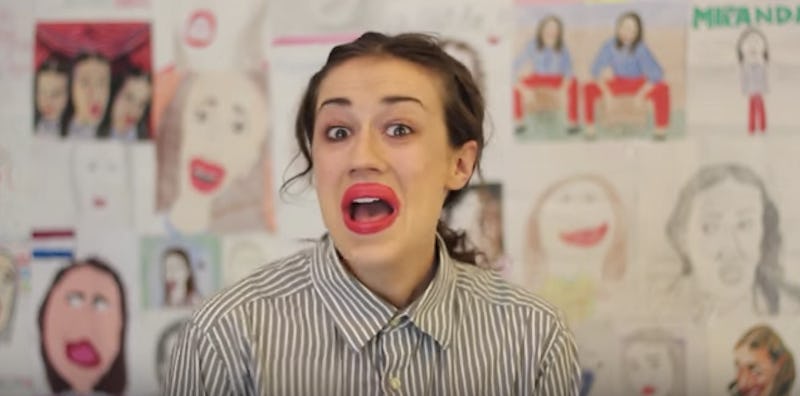 You no longer need to win a talent competition or be discovered in a high school play in order to make a name for yourself as a performer. YouTube is becoming one major way that new bands and artists are getting noticed. Have a killer voice? Recording one of your songs for a YouTube audience is one way to nab attention you might not receive in the real world. Unfortunately, the apparent ease of YouTube has made people who are less-than-fantastic singers targets for ridicule on the web. One of these much-mocked singers is YouTube star Miranda Sings — an over-lined lipstick-loving singing sensation, who is receiving her very own Netflix series titled Haters Back Off. But who is Miranda Sings really ? Colleen Ballinger may have made a name for herself by singing terribly on the web, but it turns out doing ridiculous things is part of her schtick — thankfully.
Technically, Miranda Sings doesn't exist — she's a character played by the very funny actor Colleen Ballinger, who, despite being a classically trained singer in real life, decided to post videos as the confident-yet-untalented Miranda Sings as a joke for her friends beginning in 2008. As of today, Ballinger's YouTube channel Miranda Sings has over 7 million subscribers. Ballinger's videos, which range from DIY tutorials for things like "Taco Bell popsicles" to simply calling and yelling at a 99 cent store for poor service, routinely receive hundreds of thousands of views, and Ballinger's character has opened doors for an MTV True Life special, comedy tours, and, now, a Netflix series.
And then, of course, there's the singing — you definitely won't be impressed by Miranda's rendition of tunes like Adele's "Hello." According to Ballinger's interview with Backstage, it's actually harder to sing as Miranda than as herself. She told the magazine: "Anyone can sing badly, but to sing badly on purpose and make it believable is harder. I listen for the actual melody in my head, but sing right underneath or above it out loud. It takes a lot of concentration." People may not love the sound of Miranda singing, but they definitely find it hilarious.
It's not just Miranda who is a YouTube sensation — Ballinger has become one in her own right. The actor has her own personal YouTube account called Psycho Soprano, which distinguishes Ballinger from her popular YouTube character. On this channel, Ballinger shares personal stories, goofy dance videos, and, on occasion, a Frozen duet with her alter ego:
As for the upcoming series Haters Back Off, that will focus entirely on Miranda's "rise to fame" — even if her rise is more in her mind than in any actual reality. Ballinger will play the character she created for YouTube in 2008, this time with a full cast of additional characters to flesh out Miranda's world outside of her YouTube channel.
If Miranda's videos never fail to make you laugh, you can get to know her even better on the new Netflix series. As for Ballinger? You may want to stick to YouTube for that.
Image: PsychoSoprano/YouTube