Enjoy This 'New Girl' Crossover While You Can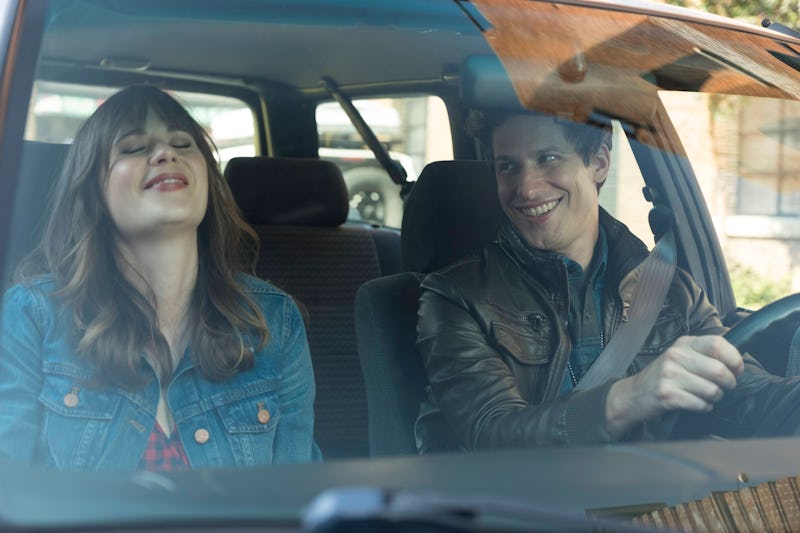 You may think you know what awesome television looks like, but Tuesday night is about to completely exceed your expectations thanks to the Brooklyn Nine-Nine and New Girl crossover that'll be taking place for a special one-hour event. Starting at 8 p.m. (ET), Jess will find herself smack dab in the middle of Jake's latest case after her trip to New York City goes awry. This plot will continue on right into New Girl's designated time slot at 8:30 p.m. (ET) as the rest of Jess' loftmates cross paths with members of the Nine-Nine crowd during their East Coast adventure. Sounds pretty great, right? So great that you may find yourselves hoping this character mash-up will continue on for weeks to come. Unfortunately, though, that will not be the case. So how long will the Brooklyn Nine-Nine and New Girl crossover last, exactly? Let's just say, you better cherish every minute of it while you can.
According to TVLine, the hour-long crossover special will only last for two back-to-back episodes — one during the Brooklyn Nine-Nine time slot titled "The Night Shift" and the other during New Girl's "Homecoming." That means this week is the only week you'll see these characters interact in the foreseeable future. And while that's certainly better than no crossover at all, it still leaves us with a little amount of time to enjoy all the laughter that's bound to ensue.
Now, of course, that doesn't necessarily mean there couldn't be another crossover opportunity sometime down the line, but the likelihood of that happening seems dismal at best. Unless you're part of the DC Comics franchises, TV shows have a habit of sticking to their own series, so this FOX shakeup is a rare exception to the rule. But if the episode descriptions are any indication, this special event is going to be well worth the effort.
Brooklyn Nine-Nine:
"Jake enlists the help of Jess Day, who's visiting New York, with her first case back at the precinct. In the meantime, Holt tries to increase office morale and Amy wants to know why Rosa is taking such long breaks."
New Girl:
"On a trip to New York, Jess helps detective Jake Peralta with a case and meets Captain Ray Holt and Gina Linetti at his precinct, while Nick and Winston attempt to impress Charles Boyle and Cece faces off with her mother-in-law."
Think of it as a melding of the comedic minds since you just know these interactions are going to be so downright hilarious that you'll be begging for more. But, unfortunately, this is all we'll be given for now. And really, that's OK. The more common crossovers become, the less special they are. So even if this is the one and only time these characters meet up, we should all just be thankful we were able to be along for the ride.
Images: John P Fleenor, Adam Taylor/FOX