Shop Kylie's Fall Lip Kits At This Time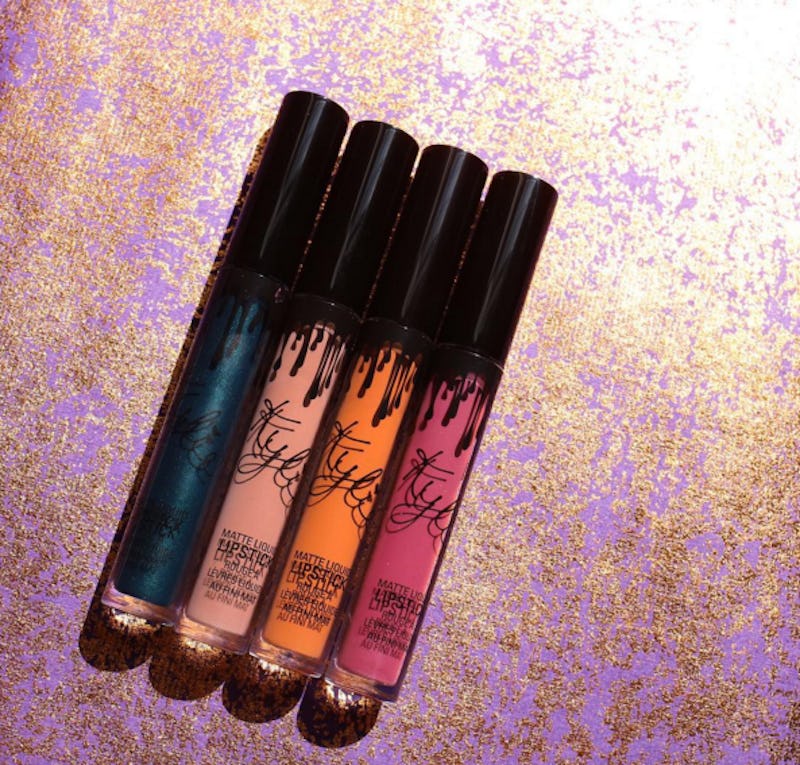 ICYMI — Kylie Jenner unveiled four brand new Lip Kits on Saturday, and they are all you need to transform your makeup routine for the season. The fall-inspired shades are arguably some of the prettiest and most unique we have seen from the brand yet, which means one thing — they're going to sell like hotcakes. This leads to one very important question — when do Kylie's fall Lip Kits go on sale? Get ready, lipstick lovers.
After weeks of teasers, the 19-year-old finally took to Snapchat for the big reveal. If you didn't get a glimpse of the colors on KJ's social media, let me break it down for you. The mini fall line includes a burnt orange fittingly named "Pumpkin," a rich cranberry hue called "Spice," a pale taupe titled "Moon," that sort of resembles "Dolce" and "Maliboo," and finally a deep emerald green called "Trick" which is probably the most intriguing Kylie Cosmetics shade ever. Not only are the actual shades perfect for Autumn, the names give a subtle nod to Halloween, and I'm totally digging it.
Jenner announced that all four lip kits will be available for purchase starting Wednesday Oct. 12, but at what time, exactly?
The fall line officially goes on sale at 3 p.m. PST/6 p.m. EST.
If you're hoping to snag one of these kits for yourself, I'd start setting my alarms now, because you know these will go fast.
These campaign photos are everything.
This shimmery green shade is my personal favorite.
T-minus 2 days — let the countdown begin!
Image: KylieCosmetics/Instagram