Glossier's Zip & Leo Aren't Sold Out Yet!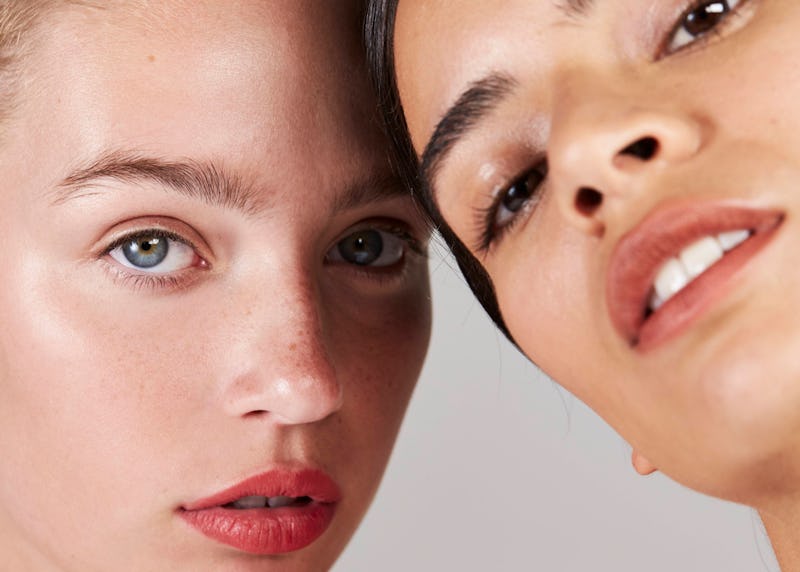 Red and brown are such legit fall lip colors. They're so emblematic of the season. That's likely why Glossier expanded its Generation G lipstick color lineup to include Zip, an orange-y red, marking the brand's first foray into red lipstick territory, along with Leo, a '90s-inspired brown that is also an "essential" nude for darker-skinned beauties. Both Zip and Leo made their debut on Oct. 10 via the Glossier site. Are the brand new Glossier Generation G lippies sold out yet, since Glossier skincare and makeup products, which are minimalist yet wholly effective, often fly off digital shelves into the hands of the brand's devotees? Good news, Glossier lovers! Zip and Leo are still available to shop via the Glossier site.
Glossier fans, go get 'em while they are still gettable. The new Generation G lipsticks are $18 a piece so scoop 'em up and swipe them on your pout! The lippies are matte yet moist, enhancing your natural lip tone with a pop of "look at me" color. Coverage and color are buildable, too! You can opt for a sheer wash of "just smooched" color or you can swipe several coats across your pucker for a more precise, defined look.
Glossier launched the Generation G lipsticks earlier this year and fans fell in lurve.
Grab a choker, a boyfriend flannel, a pair of Docs, and slick Leo on your pout. It's a quality '90s brown, since the '90s remain super in.
Zip is one of those reds that looks like it will work on all lips, no matter the shape or undertone.
Glossier has updated the Generation G lipstick range in another way. The brand has improved the formula for all shades — both the newbies and the pre-existing hues — to offer a creamy, dreamy, insanely moisturizing slick of color. The product formula now includes triple coated mica, safflower oil, and blue agave. Translation: Mega moisture! Those ingredients allow the pigment will glide across your lips like a ballerina. The lippies wear comfortably and you don't have to worry about dryness, cracking, cakey-ness, or flakiness. That's a common concern when rocking a matte lip.
You can swipe Generation G lippies onto your pucker once or twice, directly from the bullet. The result is a fresh wash of color.
Or you can apply four or more coats for a deeper, richer, and more defined, "matte and all that" look. You can use a lip brush if you so desire. Or apply the Gen G straight from the stick and use your pointer finger to dab for an unfinished, just-engaged-in-an-impromptu-makeout-sesh vibe.
Generation G Lipstick, $18, Glossier
The addition of Zip 'n' Leo increases the Generation G lipstick collection to six stain-like and sexy shades. The Gen G lineup also features Cake, a warm peachy nude; Like, a powdery pink blush; Crush, which is a hot raspberry; and Jam, which has a grape stain effect.
Welcome to the Generation G family, Zip and Leo!
Images: Courtesy of Glossier (7)