Quay's Brooklyn Sunglasses Are Getting An Update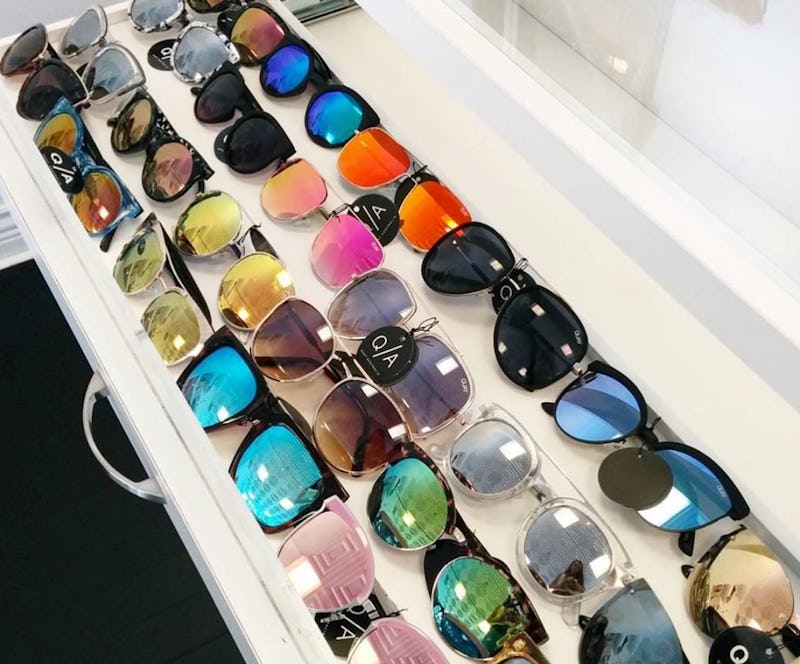 Quay can't stop. Quay won't stop. And that's just fine by me. I am not complaining. Not. Even. Close. Aussie sunglasses brand Quay has another new launch on the horizon, so the hits just keep on coming. The brand just dropped the retro cat-eye Harper shades and the new Super Girls are coming soon in four colors. Now, Quay has confirmed a new color for the Brooklyn frames.
Quay has quickly earned "favorite" status for me, since the brand offers on-trend, oversized shades at insanely affordable prices that hover in the $60-and-below range.
Now, back to Brooklyn... It's one of the coolest cities in the world, sure. It's also a pretty cool silhouette for sunnies, described by Quay as a "retro chic classic," which is the official description that I so cannot argue with. When are the new Brooklyn x Quay sunglasses available to buy?
Well, according to the brand's busy social media feeds, the new Brooklyns are on the way this week. Quay did not confirm the exact release date or the actual color for the new Brooklyns. Bustle reached out to Quay reps for further information on this sunnies drop.
While we're here, let's have a look at the shape of these shades.
I mean, who doesn't want to wear these frames on their face? Sign me up, regardless of color. This clear version, as well as a black and gold edition, are currently available on the Quay site. So the new colorway appears TBD. Whatever the case, I'm certainly excited for another shade of these shades.
Here is the clear version.
Here is the black-with-gold-accents pair. Both are $55, which is a total steal for this much style.
And finally, here are all the ways that Quay, which is pronounced like "key," slays. You can't go wrong with such cheap 'n' chic frames.
Images: Quay Australia/Instagram (1); Courtesy of Quay (2)