Quay's Super Girl Sunnies Will Be Here Soon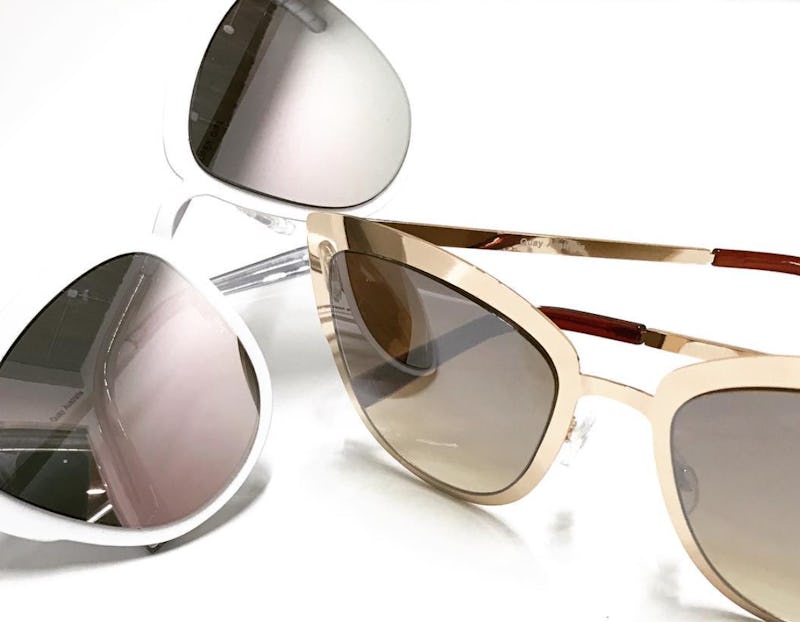 Quay, I can't with you. Seriously. Quay's new Super Girl sunglasses give off major glam vibes. The brand consistently launches new shapes and silhouettes in a variety of colors, like the extreme cat-eye Harper frames or the Quay x Desi Perkins mirrored aviators encore. Quay's Super Girl shades are coming soon. The Super Girls are metal-look, cat-eye frames, which are alternately modern and vintage. The SGs will also come in four colors — the frames will be available in white, gold, rose gold, and black. When can you buy the Quay Super Girl shades?
According to the caption of a post on the Aussie brand's official Instagram, the Super Girls will go on sale "online in two weeks." Quay, which is actually pronounced "key," posted this news on Insta on Sunday, Oct. 9. That means we can expect the Super Girl sunnies around Oct. 24 or so. Bustle reached out to Quay reps to inquire about the exact release date and price of the Super Girls.
Observe the Quay Super Girl sunglasses below. The brand always offers on-trend, super cute sunnies at crazy affordable prices. That's why Quay has quickly worked its way into my blackened heart. The shades are uncompromisingly stylish and don't send me into debt. So, yeah, they are perfection.
These gold and white pairs are absolutely fab.
Quay, you tease! The brand noted that the Super Girl frame is similar to the My Girl shape. Super Girl appears a bit more classic, to my eyes.
My Girl is actually Quay's most popular style. It's easy to see why — the original and iconic shape is oversized, cat-eye, and comes with mirrored and non-mirrored lenses. You have plenty of options and can wear them from season to season.
Quay shades are always available via the brand's site so you can expect to shop the Super Girls there.
Images: Quay Australia/Instagram (3)