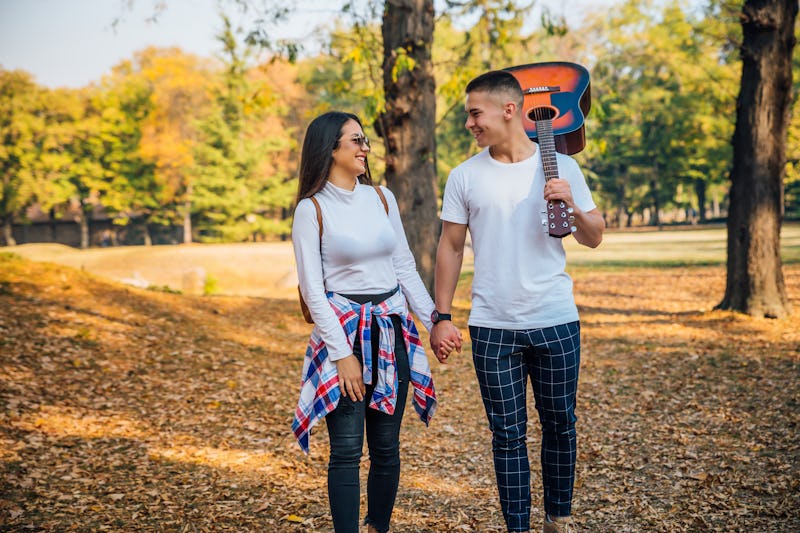 LordHenriVoton/E+/Getty Images
As a native Vermonter, fall is undeniably my favorite season. Our summers are hot and humid, our winters are cold and interminable, but our autumns are spectacular: The skies are blue and sunny, the air is crisp, the best foods are in season, and the foliage explodes in an almost psychedelic celebration of color. It's also a great time to go on dates, whether you're single or coupled, because a) cuffing season is real and, b) there are a ton of great ideas for fall dates.
Even fall fashion is great for dating. Unlike summer, you don't have to worry about how to look great while still keeping cool. Rock that oversized sweater! Break out the ankle boots! Bring on the beanies! Seriously, who doesn't look adorable in layered sweaters and scarves? No one. I'm all about it.
"Fall is a great time for dating because everyone is back from summer vacation and looking for love before the weather gets cold!" says dating coach Francesca Hogi. "Additionally, it's not too hot or too cold out, so it's one time of year where pretty much everyone can find something they can enjoy doing."
So layer up, grab your favorite hot drink, and check out these nine awesome idea for fall dates:
1. Go Shopping For Halloween Costumes
Whether you've been with someone for a long time or are still in the getting-to-know-you phase of thing, shopping for Halloween costumes is super fun. Check out your local thrift shops for great deals (and a smaller environmental impact) or hit up your local party store for the sheer ridiculousness that is Halloween season.
2. Find A Coffee Shop With The Comfiest Couch
When the weather turns cool, all I want to do is curl up on a comfy couch and sip something hot. But that, unfortunately, is not a date. However, if you find a local coffee shop with comfy couches, it's totally legit to invite your date to come curl up with you. If you're both readers, you can read side by side (adorable), but if you're not, try an activity you can do together, like a crossword or card game.
3. Leaf Peeping — Or A Walk In The Park
So those of you from basically anywhere other than the Northeast might not know this phrase, so let me explain. A "leaf peeper" is someone who comes during foliage season specifically to look at the bright leaves. They clog up the roads and bring beaucoup bucks to the local economies of small towns, like the one I'm from. However, even locals can go leaf peeping — I plan on going tomorrow, in fact. Just hop in the car, put on your favorite soundtrack, and drive to the nearest rural area to get an eyeful of the fall colors.
"What's great about fall foliage sight-seeing is that it can be a low-to-no-cost date, or it can be incorporated into another fall date idea," Demetrius Figueroa, founder of the dating blog and podcast Tao of Indifference, tells Bustle. "You can make a trip to your nearest woodsy area and make a day of that, or go to a local park and have a picnic and take in all the dynamic colors."
If you're in an urban area and don't have access to a car, Hogi recommends going leaf peeping in a city park. "A walk in the park is inherently romantic," she says. "This is a good plan for a couple or a first date. Even if your plan is to grab coffee, get it to go and take a walk together. It takes the pressure off of sitting across a table making small talk and you get to see how each other interacts in the real world."
4. Apple Picking
I feel like apple picking is the most #Insta fall date there is. There's something just so picturesque about going out to an orchard and plucking lovely, ripe, red apples from the trees."Apple picking makes for an awesome date because who doesn't like apple-picking?" Figueroa says. "More importantly, you can take the apples you picked together and make a delicious dessert to bond (and pig out) over."
5. A Harvest Festival
Harvest festivals combine all of the great things about fall — lovely weather, gourds, pumpkins, apple everything, cider doughnuts, corn mazes, hay ride — into one big event. Plus, you can usually pick up some great local produce for a delicious fall meal later! See if there are any in your area and send your partner an invite. They'll be charmed, for sure.
"Chances are that you're a lot like me, in that you didn't grow up on a farm, but the idea of a going to a farm — but not having to do farm work — sounds awesome," Figueroa says. "Harvest festivals and hay rides (especially haunted hay rides) make for great dates for a lot of reasons, one of them being that they're just simple wholesome fun."
"Going to the same bar on every date gets old quick," he continues. "What won't get old is a date you can only go on one to two months of the year, where you can maybe do a sack race, or bob for apples, or go to a pumpkin patch, or go to a petting zoo, or get tasty treats from a farm stand."
6. Pumpkin Picking And Carving
Pumpkin patches are probably one of my favorite parts of fall. I think that those big orange globes are so beautiful but also kind of silly-looking at the same time. I love wandering through the patch and picking out a perfect pumpkin to carve and it's totally something that can be done in a pair. How cute is carving pumpkins together? Probably the cutest.
7. Haunted Forests/Houses/Trail Rides
I have mixed feelings about "haunted" events because I'm a wimp and hate being scared. (No horror movies for me, thanks!) However, the potential for grabbing your new boo at one can't be overrated. Also, a lot of them aren't actually scary because they're made for kids, so even scaredy-cats like me can enjoy them.
"There's a reason why watching a scary movie makes for a great first date, and it's the same reason you should give a haunted house date a try," Figueroa says. "Fear puts you in a state of physiological arousal, which usually presents itself as sweaty palms, increased heart rate, and focused attention. That sounds a lot like what happens when you're infatuated, doesn't it? Go to a haunted house, get a couple scares, and you'll suddenly be very touchy-feely with your date."
8. Corn Maze
"I love a corn maze date because they allow for alone time with your date, but you're engaged enough where it doesn't feel like just a walk in the park," Figueroa says. "Plus simple problem solving — trying to get out of the maze — will only help to bring you closer together."
You could even say getting lost… brings you together. (Too easy.)
9. Netflix And Chill
"Set your Netflix and Chill date apart by treating it like a real movie date," says Figueroa. "Get takeout, or snacks, and select the movie you're going to watch in advance."
Bonus points: Grab some whiskey and cider, and make hot, mulled whiskey ciders! Best fall drink ever.
Images: LordHenriVoton/E+/Getty Images; Giphy