Warby Parker X Leith Clark Is Oh-So Pretty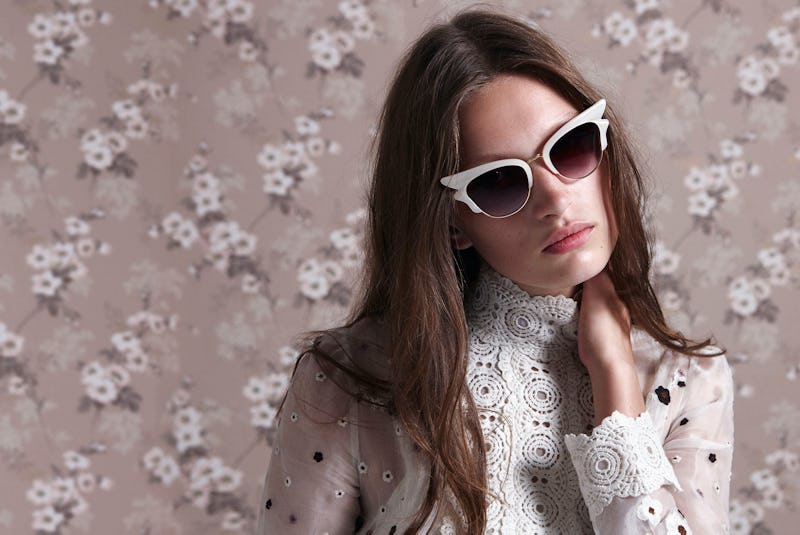 If you feel as though the words "classic" and "feminine" define your style, then you're going to love what Warby Parker and Leith Clark have created. In their second collaboration together, they're bringing you frames that will perfectly suit your ladylike style. What's in Warby Parker X Leith Clark? Whether you're looking for glasses or sunglasses, there's something you're sure to fall absolutely in love with.
The collection contains 11 different sets of glasses frames. Each one is dainty, delicate and vintage- inspired. The designs feature polished gold, rimless frames and floral etchings. There are tinted and clear lens options, and prices start at $145. But trust me, this eyewear is worth every penny.
Not only are the silhouettes unique, but the collaboration is also working to benefit a good cause. According to a press release, Warby Parker will be making a donation to Girl Up in honor of the collection. Girl Up is a United Nations Foundation that encourages females to take action and provides women all over the world with opportunities. Also, as is typical with the brand, for every pair of glasses purchased, a pair will be distrubuted to someone in need. If that wasn't enough to convince you to make a purchase, these photos surely will be.
Stylist and Editor Leith Clark and Warby Parker have perfectly combined their design aesthetics to create a lovely collection. The best part is, it's already available to shop on the Warby Parker website.
Lilia Sunglasses,$145, Warby Parker
You can see the world through rose-colored lenses when you shop these Lilia sunglasses.
Fleta Sunglasses,$145, Warby Parker
That winged browline is everything.
Wednesday Glasses,$145, Warby Paker
The golden arms give this classic silhouette an upgrade.
Zelda Glasses,$145, Warby Parker
The crystal-taupe frames are subtle, yet sophisticated.
Valda Sunglasses,$145, Warby Parker
Looking for the chicest pair of sunnies? You just found 'em!
Oriel Glasses,$145, Warby Parker
The Oriel frames are oh-so pretty and will perfectly complete each and every one of your outfits.
Shop these glasses and more on the Warby Parker website.
Images: Courtesy Warby Parker (7)