7 MAC x Selena Alternatives To Shop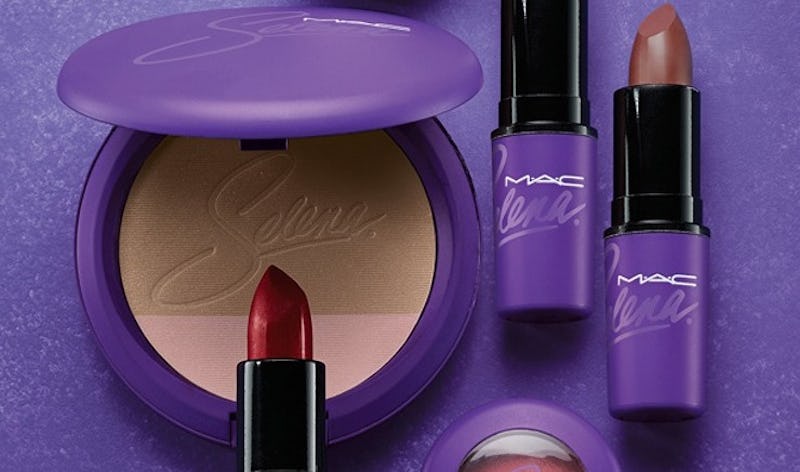 Still crying over missing out on the MAC x Selena collection? Luckily, the limited-edition collection will be restocked soon, but chances are, it will sell out again, and quick. If you can't get your hands on this Selena-inspired, iconic red during the relaunch, here's seven alternatives for MAC x Selena Dreaming Of You.
The MAC x Selena collection includes a Lipglass, five eyeshadows, a blush and bronzer compact, a makeup brush, liquid liner, a mascara, and three lipsticks named after her most famous singles. Selena Quintanilla came to fame in the late '80s and her first Billboard chart topper, "Dreaming of You," was released in 1995. It's her most memorable song (still beloved!) and red lipstick was her go-to style on stage. So it makes perfect sense to honor her with a sexy, sultry berry red shade.
A cool-toned, rich red looks great on a wide range of skin tones, and all you have to do is search #MACSelena on Insta to see how beautiful this shade looks on everyone. Whether you're a makeup enthusiast, forever a Selena fan, or both, you'll want to rock this color this season.
If you can't shop it, here's my favorite MAC x Selena Dreaming Of You dupes.
Get ready to dream of these tonight...
MAC Diva, $17, MAC Cosmetics
OK, it's not an exact dupe but it's pretty darn close.
2. Anastasia Beverly Hills' Sugar Plum
Anastasia Beverly Hills' Sugar Plum, $20, Anastasia Beverly Hills
It's a brighter take on berry red.
NARS' Fanny, $34, Sephora
Before the matte lipstick craze of the millennial era, we had creamy lipsticks. Let's bring that trend back!
Kat Von D's Wolvesmouth, $21, Sephora
Amp up the look with a metallic finish.
Smashbox's Miss Conduct, $24, Sephora
This is a great alternative for lighter skin tones. You can amp up the red with an extra layer.
Milani's Ruby Valentine, $6, Milani Cosmetics
Grab this dupe at the drugstore and rock the Selena-inspired look.
NYX's Volcano, $7, NYX Cosmetics
Play up the red or purple tones by using a lip liner underneath.
Images: Courtesy of brands