7 Ways Women With Brown Skin Can Use Red Lipstick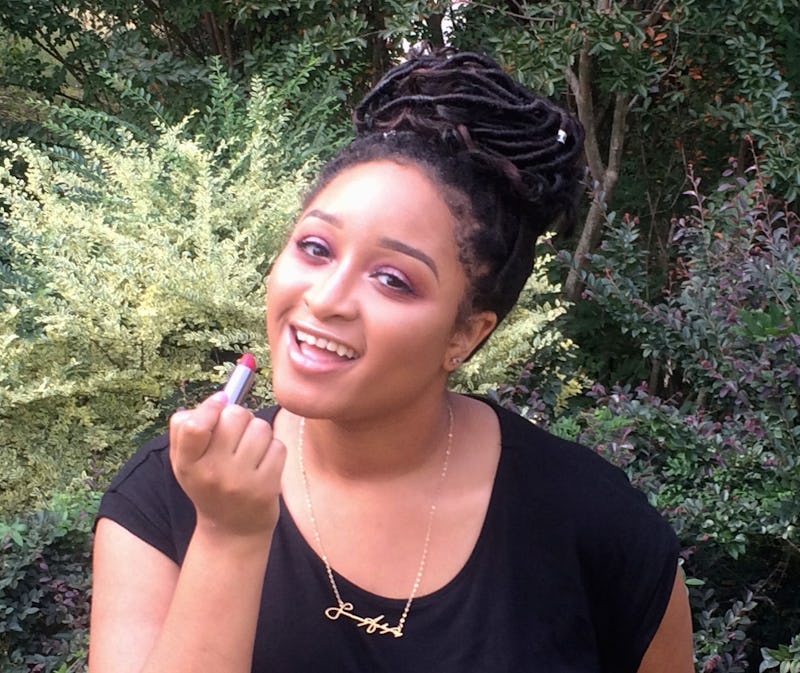 A nude gloss or volumizing mascara are staples in many makeup bags, but one classic beauty fixture stands out above the rest: Red lipstick. It's not just for your lips, either. For women with brown skin, the a single tube of red lipstick is surprisingly versatile for use all over our faces.
As a woman of color, it can be exhausting to find shades that work well with my skin. Whether it's the perfect lip color, an eyeshadow that'll actually show up, or a concealer that won't ash out my tone, it's a constant struggle to hunt down the right products. That's where red lipstick works like a charm! It's the one color that looks good on every skin tone, and its pigmented enough to be used anywhere on brown skin.
Putting my favorite true red lipstick to the test, Urban Decay's Vice Lipstick in 714, I managed to push the limits of this shade beyond my pout. Smearing red lipstick all over my face was a bit strange, but I have to admit that the results were actually pretty incredible.
If you're a WOC looking for a way to get rid of dark circles, or you just want to see a beautiful lippie in action, check out these seven ways to get the most out of your red lipstick. You won't believe how good the classic hue looks in different ways on your face. Here's the lipstick I used:
Urban Decay "714" Vice Lipstick, $17, sephora.com
And here are all the cool ways women with brown skin like me can use it.
1. Corrective Concealer
Dark, puffy underyes are such a pain to conceal. Women of color tend to have deeper red circles, so finding a corrector that's pigmented enough to take on the challenge of concealing your tiredness is easier said the done. Fortunately, red lipstick works perfectly as a corrective concealer. Layered beneath your concealer and your foundation, a red lippie hides prominent dark circles and eye bags better than most products I've tried.
2. Cream Eyeshadow
As a big fan of red and orange toned shadows on brown skin, 714 on the eyes was right up my alley. Red lipstick can act as a cream eyeshadow and it's just as easy to blend in as powder. Here, I dabbed the lipstick onto my crease and outer "V" using my fingers.
3. Blush
When it comes to blush, the deeper your skin tone, the more you can handle vibrant shades. Bold violets, reds, and oranges make for the best blush for brown skin. A true red lipstick will pop nicely for brown babes. Working it in with the fingers, it melts into the skin seamlessly like a cream blush.
4. Bold Brows
If you're ever feeling a little daring, bold brows are the way to go. With an angled brush and your favorite red lipstick, you could add just a tint of color to give your brows a wow factor.
5. Eyeliner
Using a skinny liner or angled brush, red lipstick can also function as an eyeliner. It'll be the perfect addition to a look featuring a red brow or flushed cheek.
6. Lipgloss
Okay, so red lipstick used on the lips isn't that groundbreaking. However, adding a clear gloss to a matte shade can instantly transform your red lipstick into a head turner.
8. Tattoo Cover-Up
Concealing a tattoo doesn't have to require a laser removal appointment. While lighter skin tones can use orange to hide their ink, brown skinned girls can use a deeper red for the job.
Begin by using a red lipstick as a base to mask the dark colors of your tattoo. Next, apply a translucent powder over the lipstick to set it. Going over the red with your flesh toned concealer, dab the product on and smooth it out with a flat brush. Finish by locking your work into place using a setting spray to prevent against any excess shine or oil.
If there's one must-have product women with brown skin should keep permanently stocked in their beauty stash, it'd have to be red lipstick. You'll definitely get your money's worth out of a quality red lippie as you put it to work on every inch of your face.
Images: Summer Arlexis (8)