'This Is Us' Has A Sudden Spike In Ratings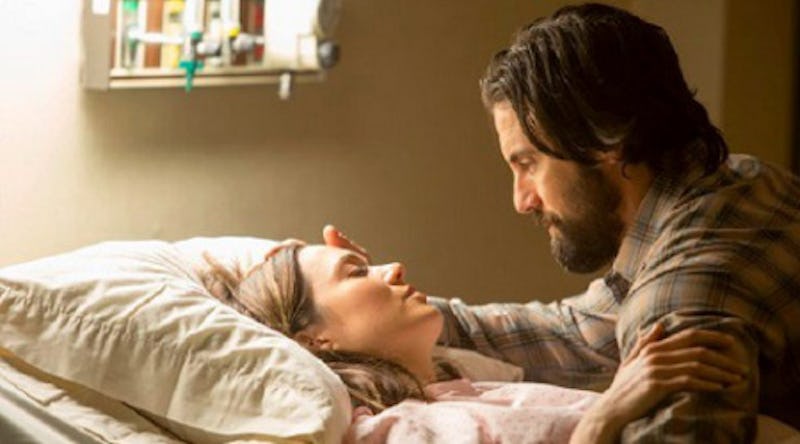 While I like to pretend that I'm strong willed and not instantly drawn in by a show that presents me with three cute babies, Jess Mariano as an older hot dad, and some staying emotional material in a quick trailer, I am not. So, it was really no surprise that I was already invested in the pilot of This Is Us before the first commercial break. And it would appear that I'm not alone in that. According to Entertainment Weekly, This Is Us experienced a ratings surge for its latest episode, an episode that even had to face the difficulties of premiering in, and adjusting to, a new time slot. Which, as EW relays in no uncertain terms, is kind of a big deal.
The publication explains the ratings situation as so,
Debuting for the first time in its new time period, the dramedy delivered 9.8 million viewers and a 2.8 adults 18-49 rating, growing from its The Voice lead-in in the demo (10.6 million, 2.5 rating)... This Is Us went head to head with another freshman drama, Bull (12.9 million, 1.6 rating), which has fairly high viewership and a softer demo number (read: skews older).
Which means that, although Bull got "higher viewership" overall, This Is Us clinched the demo, and that's what's so intriguing and confounding about this. But, rather than wax poetic, let's get into just why that is.
It Breathed Fresh Air
As per Variety's guess, "Previous episodes have followed two-hour installments of The Voice, airing at 10 p.m., which has been something of a dead zone for all networks for years, now."
Anticipation
You can't underestimate the power of a show that, in a Netlfix and DVR marathon age, that people actually wait from week to week to tune in for. As EW points out, despite the show being preempted for the Presidential Debate last week, "viewers were eager enough keep up with the scheduling changes."
People Just Totally Dig It
It's withstood the odds, and that probably has something to do with all those people like me who were sold on it from the start. The show appeals to the emotional side in all of us, and maybe that's just what we need right now with the turbulence in the world.
Milo Ventimiglia's Mustache
I mean, let's be real. That bad boy brings more and more people in every week.
More This Is Us, please. And I swear I'm not just saying that because of Jess Mariano. Well, not entirely because of Jess Mariano.
Image: NBC