I Recreated Iconic Britney Spears Hairstyles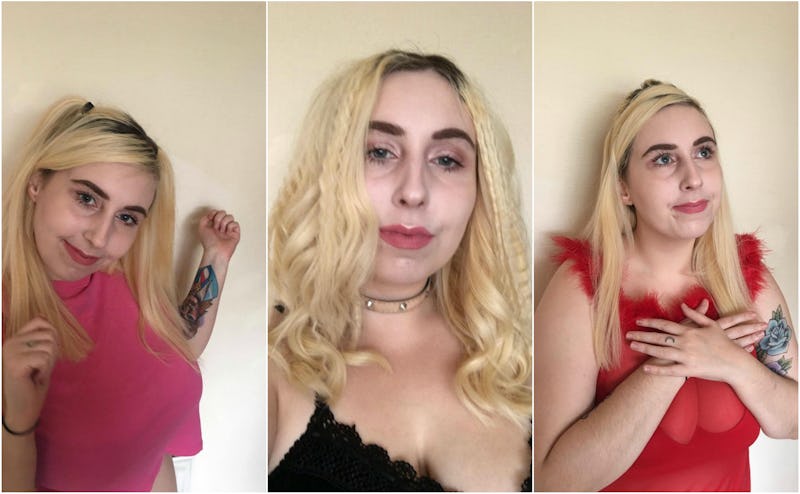 Is there anyone more iconic than Britney Spears? Short answer: No. Long answer: Definitely not — at least in my diehard fan opinion. Britney Spears' iconic hairstyles, outfits and performances helped shape me into the woman I am today — a blonde with a penchant for making waves. As much as I have been inspired by Brit, I have (unfortunately) never copied an entire look from the pop princess. Partially because I love putting my own twist on things, but mainly because the thought never occurred to me.
So when my editor calmly asked, "Do you like Britney? As in, 'It's Britney bitch' Britney?" I screamed with unbridled joy. I'm exaggerating, what I replied was some form of cuss word preceding a "YES" and so, the Britney hair experiment, in which I would try nine different iconic Britney 'dos, was born.
I had some questions at the beginning, of course. Firstly, how hard will it be to achieve some of Britney's most memorable hairstyles? Secondly, will a follicular homage to Britney Spears change anything about the way I view myself? Only time and a whole lot of blonde hair styling would tell — I was surprised to learn which one of these looks would end up being my favorite.
1. Hit Me Baby One More Time Britney
Possibly the most iconic Britney Spears hairstyle but TBH, one of my least favorites in the grand scheme of Britney styling. I'll probably only rock this look again for a Halloween party, or if any future partners have an extremely specific fantasy.
2. Oops I Did It Again Britney
Do you know how incredibly hard it is to try and do a beehive, a hair band made of your own hair and fake bangs without leaving about three strands of hair visible on your head? Brit had some serious skills.
3. Crimped Hair Britney
I haven't actually even crimped my hair since the early '00s and I regret that: Crimped hair is a great look and I'm leading the campaign to bring crimped hair back into style.
4. I'm A Slave 4 U MTV VMAs Britney
Just a classic curled 'do, which is a classic because it will never go out of style. I really felt myself with this hair style but what I liked the most was the fake face microphone accessory and I hope I can bring it into my everyday hair accessory wardrobe.
5. Spiky Straight Hair Britney
Due to the lack of layers in my contemporary hairstyle, making spikes in my straight blonde hair was much more difficult than I anticipated. That said, I'm somewhat glad that I couldn't achieve it, because it definitely would have made me look worse.
6. Hit Me One More Time Britney Take Two
These mini pigtails were actually a cute change from how I would usually wear my hair and added volume to an otherwise straight 'do. It's a nice mix up from a half bun or half ponytail hairstyle and I would thoroughly recommend this Britney look to anyone.
7. Baby Buns Britney
Baby buns always make for a cool look, no matter who you are.
8. My Prerogative Britney
I have not backcombed since being a scene kid and now, I can see why I haven't. It hurt, it looked pants and in all honesty, this look made me feel the least like Britney Spears.
9. Bonus: Wig Britney
Britney's wig phase in 2007 was a controversial one, but out of respect for what was a difficult time in her life, I'm not going to include a picture of Britney back then — the past is the past, after all. That said, the wig was my favorite of the Britney Spears looks, so I definitely had to include it. Nothing but love, Brit-Brit.
What I learned from this experience isn't anything to shock the world, but that spending an afternoon with your friends, a curling wand and inspiration from one of pop's biggest stars is always a good idea — especially if you've got Britney playing in the background the entire time.
Images: Georgina Jones, Britney Spears/YouTube, Amazon