This Starbucks Evenings Drink Is Out Of This World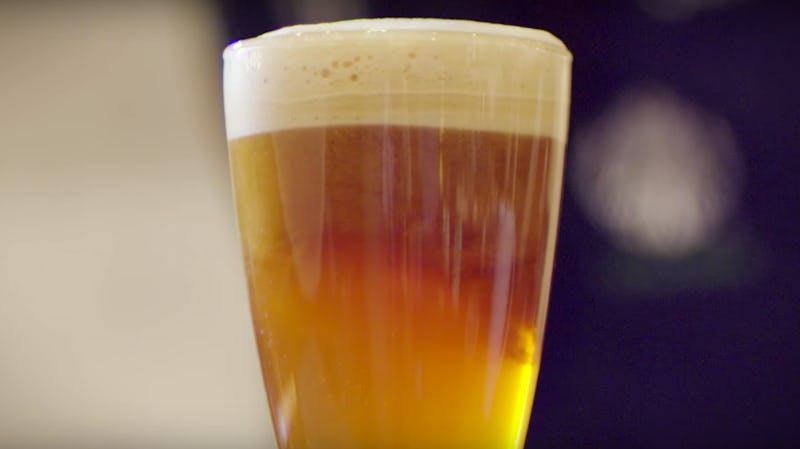 Ever the innovator, our favorite coffee giant has come out with yet another delicious creation. Starbucks has introduced the Espresso Cloud IPA to its Evenings menu as its first legit cocktail, combining espresso and craft beer. I know, I know — at first, it sounds a little unusual. But just think of all those darker brews that boast hints of coffee and espresso: They work wonderfully. So why not this?
The drink is inspired by the "shakerato," where espresso is shaken until it becomes frothy. In this case, the espresso is shaken over ice with chunks of orange and a hint of vanilla — one of the best combinations ever. The flavor-packed foam is then poured on top of the beer. What's left of the espresso, in all its sweet and citrusy goodness, is served in a shot glass alongside the frothy drink. Sbux suggests pouring the shot in your beer, thereby creating the "espresso cloud" that the drink was named for. (Seriously. Don't just down the shot, people. That defeats the whole purpose.)
The drink took a year for the Starbucks R&D team to master, led by Justin Burns-Beach, who worked as a barista in Phoenix for eight years before moving to Seattle and joining the Starbucks Reserve Roastery & Tasting Room in 2015. Creating a new drink was a longtime dream of his, and I think it's safe to say he knocked it out of the park. Burns-Beach described the Espresso Cloud IPA as "a truly interactive and unique beverage experience." Above, Burns-Beach explains the refreshing drink further.
Starbucks has once again done the impossible and perfected the art of creating a smooth, tasty, and visually stunning beverage with quality ingredients — living up to the high standard it's set for itself. Oh, and don't forget the fact that hoppy beers like IPAs are apparently good news health-wise, according to a recent study. Meanwhile, the coffee I make at home is bitter and almost always has grounds floating around in it. I guess you can't win them all.
Find the adult beverage at a Starbucks Evenings store near you, and don't forget to enjoy responsibly.
Images: Starbucks Coffee/YouTube