What To Read Next, Based On Your Fave Netflix Show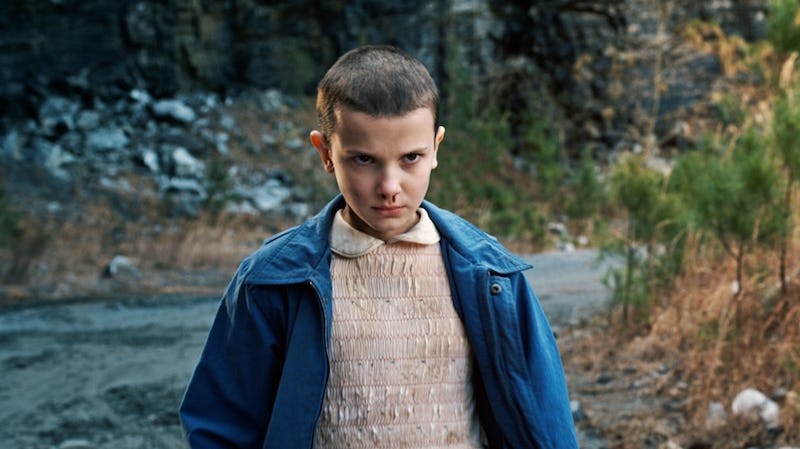 Presumably, some form of television existed before Netflix, but whatever it was is now lost to the ages. All that remains now is the comforting, red glow of Netflix. All hail. But the one tiny flaw in the beautiful binge-watching set up is that you can watch a whole season in one or two sittings. And then you just have to sit and wait a whole year for the next season. So, while you wait, why not crack open a book? Here's what you should read next, based on your favorite Netflix show.
After all, there's a Netflix Original Series out there for almost everyone. Wish you could travel back to your '80s childhood, if your childhood was full of monsters and also directed by Steven Spielberg? Try Stranger Things. Wondering what Hollywood would look like if it was inhabited by depressed talking animals? Watch BoJack Horseman. Looking for gritty superheroes who never leave their neighborhoods? Marvel's got you covered with Daredevil, Jessica Jones, and now Luke Cage (although, as a Hell's Kitchen resident, let me just tell you that we're very nearly supervillain-free these days).
Netflix seems to have the monopoly on inventive, captivating new TV series, but there are even more inventive, captivating books out there. So take a break from your bleary-eyed binge-watching, and try some binge-reading:
1. If you like Stranger Things...
Read It by Stephen King
Stranger Things is pretty much a freaky, genius comb of It and E.T. with some other Stephen King and Steven Spielberg thrown in there for good measure. If you loved watching a bunch of little kids be terrorized by an otherworldly monster, why not read about it? You'll feel like you're right back in the '80s (and you'll never sleep again).
2. If you like Unbreakable Kimmy Schmidt...
Read Hyperbole and a Half by Allie Brosh
True, cartoonist Allie Brosh has never experienced anything as traumatic as being imprisoned in an underground bunker. But her candy-colored, childlike drawings, her manic comedy, and her nuanced depiction of depression all have a very definite Kimmy Schmidt vibe. Laugh, wince, and enjoy all the bright colors.
3. If you like Orange is the New Black...
Read Out of Orange by Cleary Wolters
I'm going to go ahead and assume you've already read Orange is the New Black, Piper Kerman's bestselling memoir that inspired the TV show in the first place. But have you read Out of Orange, the memoir of the real-life inspiration for Alex Vause? Piper's ex has written a candid, insightful, and ultimately uplifting book about the world of drug trafficking, prison, and being forced into the spotlight.
4. If you like House of Cards...
Read The Talented Mr. Ripley by Patricia Highsmith
If you've already read the original book House of Cards by Michael Dobbs, then it's time to graduate to Patricia Highsmith. She's one of the mystery writing greats, and The Talented Mr. Ripley is her most famous creation. Tom Ripley is the ultimate stylish scammer: a bad boy sociopath who doesn't let anyone stand in his way (sound familiar?).
5. If you like Daredevil...
Read Vicious by V.E. Schwab
I mean, read the Daredevil comics first. You can't get much more Daredevil than that. But if you're looking for dark comic book characters in a prose novel, go read Vicious, too. It's the enthralling story of superpowers and failed friendships, set in a near-future not so different from our present.
6. If you like BoJack Horseman...
Read Hollywood by Charles Bukowski
When it comes to depressive, absurd, hard-drinking showbiz stories, you can't do much better than Charles Bukowski's Hollywood. You won't find any animal-based puns in Hollywood, but you will find a lot of self-obsessed movie-making types, and plenty of alcohol. This is definitely a book that BoJack tells everyone he's read.
7. If you like Making a Murderer...
Read The Exonerated by Jessica Blank and Erik Jensen
Can't get enough of Netflix's chilling docu-series? Check out the play The Exonerated, which explores the lives of six men and women who were found innocent after spending years on death row. This is not a read for the faint of heart, but it does dig into the hideous failures of a prison system that can condemn innocent people to death.
8. If you like Master of None...
Read Modern Romance by Aziz Ansari and Eric Klinenberg
What kind of monster wouldn't want more Aziz in their lives? Modern Romance touches on a lot of the themes of Master of None: dating, trying to date, failing to date, and pizza emojis. Plus, it's more from the thoughtful, hilarious Aziz Ansari, as he takes on the strange and ever-changing world of modern-day love.
9. If you like Sense8...
Read The Chrysalids by John Wyndham
For the people desperately waiting for their next hit of high-concept sci-fi thrills, there's The Chrysalids. In a post-apocalyptic future, a young boy discovers that he can telepathically communicate with a group of other, similarly gifted children. But in a world where anyone different is immediately seized and destroyed, they'll need to find a way to hide their abilities from the forces out to get them.
10. If you like The Get Down...
Read Can't Stop Won't Stop by Jeff Chang
If you're a hip-hop fan, nothing can possibly beat Jeff Chang's Can't Stop Won't Stop. True, it doesn't quite have the gorgeous visuals of The Get Down, but it does have an insightful history of the hip-hop generation, complete with interviews, political context, and a lot of style. A must-read for every music buff.
11. If you like Jessica Jones...
Read Alias by Brian Michael Bendis, art by David W. Mack and Michael Gaydos
Sometimes you just can't do better than the source material. The plot of Alias isn't quite the plot of the Netflix show, but it does introduce us to a tough, messed-up, super-powered private investigator named Jessica Jones. Go read it. (And then go read all the rest of Marvel comics, because in the comics Jessica Jones and Luke Cage are married and they have a baby and Squirrelgirl is their nanny.)
12. If you like Narcos...
Read Kings of Cocaine by Guy Gugliotta and Jeff Leen
Kings of Cocaine is the shocking, true story of the most successful cocaine dealers in the world (including the one and only Pablo Escobar, of course). It dives deeper into the international drug trade than the show does, with just as much at stake. It's the tense, drug-fueled true crime story you need when your supply of Narcos runs out.
13. If you like Luke Cage...
Read Mighty Avengers by Al Ewing, art by Greg Land
Look, you can read the early Luke Cage comics if you really want to... but let's just say that the Netflix series is a lot more nuanced than the original Marvel take on the character (his catchphrase was "Sweet Christmas," people). But if you're wondering what would happen if all the A-list superheroes left Earth, and poor Luke Cage had to pull together a makeshift, rag-tag new team to protect all the ordinary people they left behind... well, just read Mighty Avengers.
Images: Netflix, Giphy (11)