ColourPop's Fall Bundles Are Essential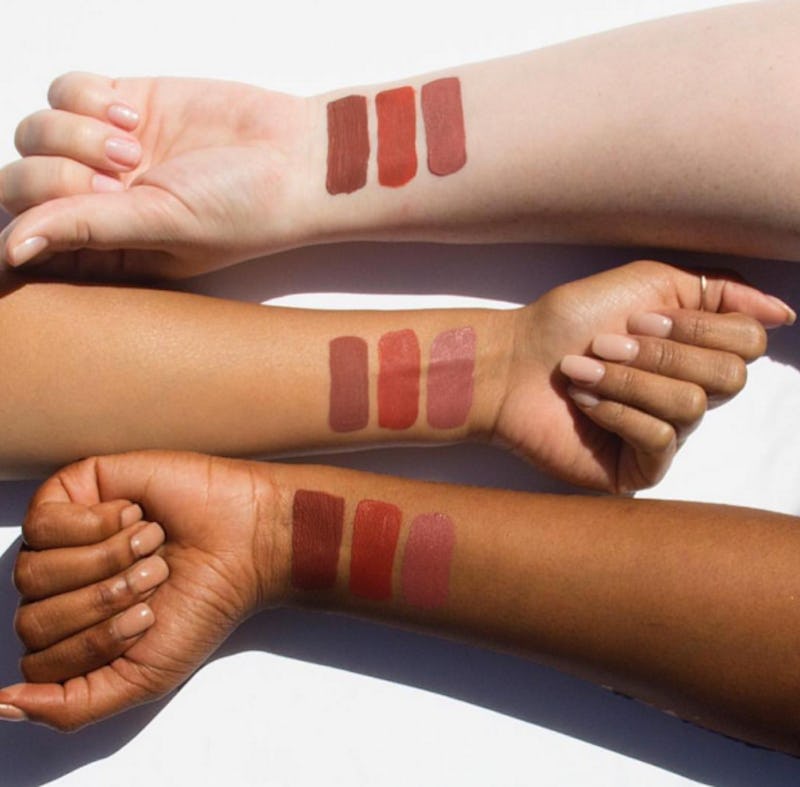 ColourPop should really be your one-stop shop for all of your fall beauty needs. Now that they've bundled the "it" colors of the season together for a discounted price, you definitely owe it to yourself to make a purchase. And these swatches of ColourPop's Fall Bundles will only prove it to you.
They've curated each set so that you get similar colors that you can keep on repeat all throughout the season. There are three bundle options to choose from, but honestly, I don't know how you could pick just one. Can You Knot features the plum shades Sookie, Hutch and Notion in a mix of gloss, satin and matte finishes. The Out and About trio has Viper, Barracuda and Times Square for all of the dusty rose feels you could ever need. There are two matte lippies and one satin lip in this bundle. Last, but certainly not least, there's Up & Away which contains Mama, Love Bug and Calypso. Same as with the dusty rose kit, this has two matte products and one satin.
If you shop just one set, you'll score three lipsticks for only $15, which is quite the steal. But, if you shop them all, you'll walk away with nine different lip options for only $45. Plus, they've got a free domestic shipping promo happening from Oct. 13- Oct. 15. Basically, what I'm saying is, there's no reason not to shop these shades!
Colourpop Fall Bundle Up and Away, $26, Amazon
The packaging is just as good as what it holds inside.
These terracotta shades are everything.
The orange-y hues look incredible on a variety of skin tones. All the more reason to shop, you know?
Colourpop Fall Bundle Out And About, $15, Colourpop
Get ready for all of the dusty rose you can handle.
Yep, the gang's all here! Whether you're going for an everyday wearable shade or a looking for a deeper glam moment, this trio has everything you need.
Colourpop Fall Bundle Can You Knot, $25, Amazon
Behold the deepest colors of the season.
There's a plum gloss, a satin, and a matte lippie here. So, there's a popular shade in every finish when you shop this set. Seriously, what more could you ask for?
The shipping promotion and the lippies go live on the ColourPop website at 1 p.m. ET/10 a.m. PT on Oct. 13. Don't miss out on seasonal products this good!
Images: colourpopcosmetics/Instagram (1); ColourPopCo/Snapchat (7)