Is A 'Sister, Sister' Reunion Happening?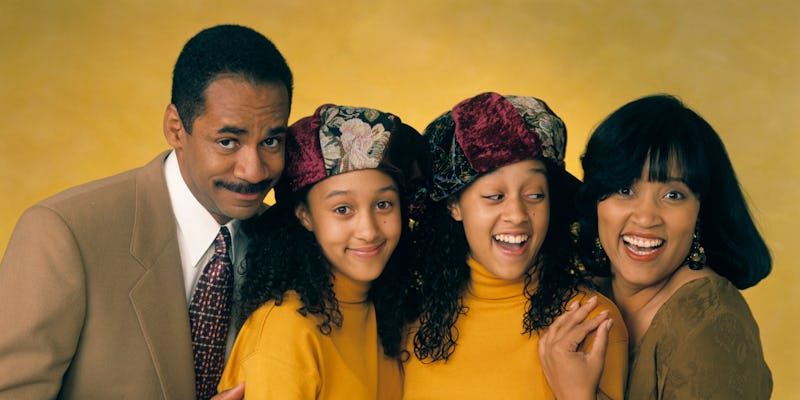 Keep those fingers crossed, Sister, Sister fans: Tamera Mowry just dropped some major news. Taking a break from her hosting gig on The Reel, Mowry spoke to HollywoodLife about the possibility of everyone's favorite '90s show, Sister, Sister, returning... and was not coy about updating fans. I know what you're wondering: Is a Sister, Sister reunion happening for real? Good-ish news: the answer could very well be… maybe.
Hey! Don't shoot the messenger for not having the exact answer that you wanted. Plus, it was Mowry herself who encouraged fans to keep their fingers crossed on the matter, because this reunion could be happening soon. In the interview with HollywoodLife, Mowry admitted that a reunion might not be far off: "We kind of have the idea. It's really cool. The entire cast is down for it," she said during the sit-down. She went on to confirm just how real this thing could be: "We're looking for a studio, then it will be 100 percent. But, we are in the process of making it happen." Whoa, did you see those words? In the process of making it happen. That means this Sister, Sister reunion could be coming into our lives much sooner than any of us had ever hoped for.
Of course, I understand why Mowry is still being selective in her word choice. Having the entire cast on board for a reunion is great and all, but that's not the only thing you need to make it happen. They would need a studio to back it first, which means it is possible that — gasp — the reunion could fall through if they don't get one. But, with reboots and revivals being all the rage in television and movies these days, I would be hard-pressed to say that such an iconic '90s television show wouldn't find the backing to come back onto the air. Shows like Full House and Gilmore Girls made major comebacks on alternative viewing companies like Netflix. There's got to be room for two of television's favorite twins, right? Or, if nothing else, can't fans of the show just Kickstart that?
I guess I know what I'm doing with my Friday night.
Image: CBS Television Distribution