20 Charming Accessories For Book Lovers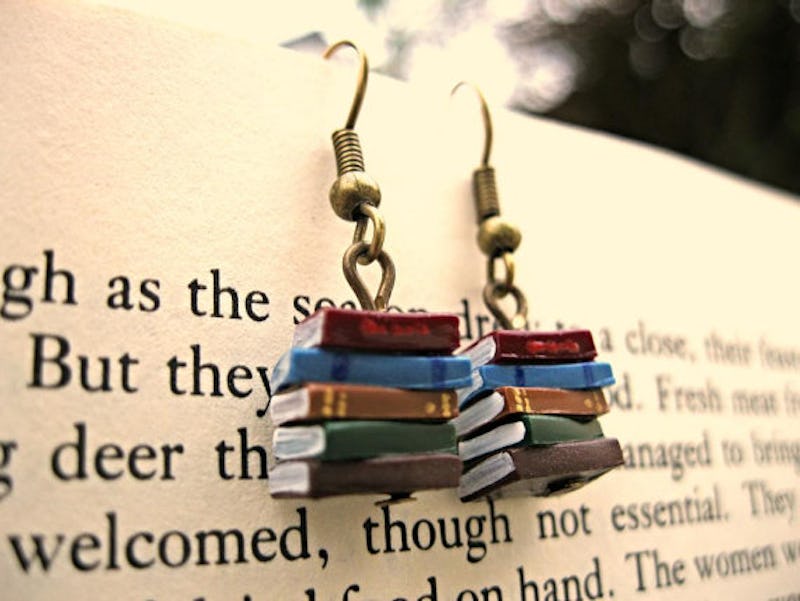 Books come in all different shapes, sizes and are full of wonderful and exciting stories, as are their readers. As a book-lover myself, I like to find new ways to show off my love for books as often as possible, and that sometimes comes through bookish accessories for my home and my wardrobe. Whether that's a necklace with my favorite book quote or a purse that's shaped like a book, I tend to get the message across one way or another.
Lucky for us, we live in a DIY era where books are glorified and turned into some of the best accessories. Even luckier for us, it all tends to be available at the click of a button. From recycled books being turned into hair accessories to miniature books being used as rings or even earrings — there's something for every book nerd out there.
If a book-lover birthday is coming up, or the holidays are inching closer and closer, I can promise that any of these book nerd accessories from Etsy are the perfect gift. And if you just want to treat yourself something bookish, but not actually a book (because we all have mile-high TBR piles to get to), then consider this an excuse to do so:
1. This Tote Bag To Help You Carry Books Around
Every book lover needs a handy-dandy tote bag, and there couldn't be a more perfect one than this.
I'd Rather Be Reading Tote Bag, $11.20, Etsy
2. A Quoted Shakespeare Cuff
For all the Shakespeare lovers, this classy and unique cuff is a great accessory to add to your collection.
Stage Play Cuff, $45, Etsy
3. These Bookish Earrings
Show off how much you adore stacks and stacks of books with these adorable earrings.
Stack of Books Earrings, $19.99, Etsy
4. A Bibliophile Charm Bracelet
Skip the BFF bracelet and go for this one instead, showing off the thing that connects you and your best friend together through thick and thin.
Bibliophile Bracelete, $28.95, Etsy
5. A Button Declaring Your Truest Desires
Add this cute pin to your backpack, favorite sweater, or even lanyard. One way or another, you'll show off your truest literary feelings with it.
Library Pin, $3.06, Etsy
6. A Banned Books Scarf For The Literary Rebel
Stand against banning books by wearing the titles of some of the best novels ever written (and unfortunately banned throughout the years) on this warm and soft scarf.
Banned Books Scarf, $42, Etsy
7. Or A Scarf Embodying Your Favorite Children's Book
Want a more colorful scarf? Go for this Little Prince artistic scarf full of color instead.
The Little Prince Scarf, $54, Etsy
8. A Classic Literary Locket
This Pride and Prejudice locket opens up so you can insert an important photo, or even a beloved book quote. There's also plenty of other book lockets to pick from in their shop.
Pride and Prejudice Locket, $38, Etsy
9. Your Favorite Book Quote As A Necklace
If you're a fan of quotes and Anne of Green Gables, or know someone who is, there couldn't be a more wonderful necklace than this.
Anne of Green Gables Quote Necklace, $9.50, Etsy
10. A Ring That Shows You're An Open Book
Cute book ring? Sign me up.
Brass Book Ring, $16, Etsy
11. This Book Purse To Store A Book In
If you've always waned a book purse, why not indulge? Treat yo self to this one!
Recycled Book Purse, $65, Etsy
12. A Book Wallet To Keep Your Book Spending Money Safe
I'm pretty sure I don't just want one of these book wallets — but I need all of them.
Book Cover Wallet, $38.50, Etsy
13. And A Bookish Clutch For The Nights When You Aren't Inside Reading
This secret book clutch is the perfect thing to bring when you inevitably have to socialize instead of stay in and read.
Book Clutch, $17.50, Etsy
15. This Simple Sylvia Plath Quote Keychain
Looking for a meaningful keychain to add to your collection? Check and mate.
Sylvia Plath Keychain, $17, Etsy
16. A Laptop Sticker Accessory That Says What You're Always Thinking
This is one phrase every book-lover will never stop thinking or saying, so we might as well all stick it on our favorite devices.
The Book Was Better Laptop Sticker, $5, Etsy
17. These Fancy Book Page Hair Pins
Do you have a big day coming up? Wedding? Graduation? One way or another, these cute book flower pins will add that final bookish touch you're striving for.
Book Page Flower Hair Pins, $24.50, Etsy
18. This Literal Literary Necklace
Copmlete any outfit, fancy or casual, with this stunning necklace.
Read Necklace, $8.98, Etsy
19. A Dapper Bow Tie For A Charming Reader
Are you a fan of bow ties, or know someone with a big important date coming up? This one is classic and lovely and it certainly makes a statement.
Script Bow Tie, $15, Etsy
20. This Adorable Tiny Book Ring
Last, but certainly not least, this mini book ring is an essential accessory for book-lovers everywhere.
Tiny Book Ring, $13.53, Etsy