17 Literary Home Accessories For Book-Lovers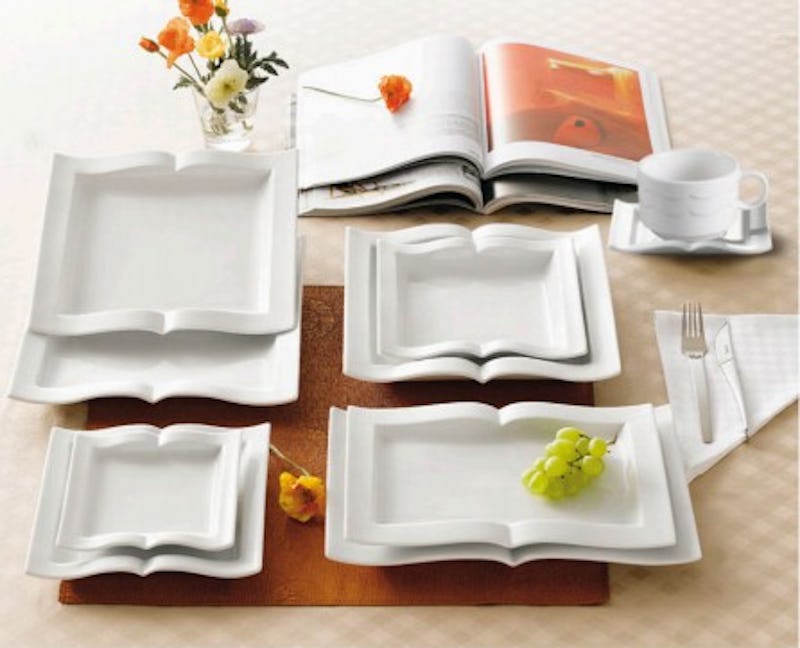 Step into the home of any true bibliophile, and you'll be amazed by the sheer volume of books they have lining their shelves, stacked on their tables, and stuffed away in surprising places. But look a little further, and you'll see that, from the front door to the back fire escape, their houses are decorated with literary home accessories.
From the entryway to the living room, the kitchen to the bedroom, and even in the bathroom, a book-lover's home will most likely showcase their true passion: books. It should have an abundance of shelves and storage spaces for their books, plenty of comfortable places to read, and, of course, perfectly lit reading lamps that are bright enough to read by but dim enough to set the mood. Beyond becoming the perfect setting to curl up with a book and relax in, a book-lover's home should have book-themed decorations and accessories that proudly advertise their love for reading.
If you've ever been to a true bibliophile's home, then you know exactly what I mean. And in case you are thinking about sprucing up your own place, here are 17 home accessories every book-lover should have. Get ready, because your home is about to get a lot nerdier (in a good way).
1. Floating Book Shelf
Book-lovers need plenty of shelves in their home, from traditional bookcases to unique shelves, like these floating ones. Easily customized to match your decor and easy to assemble, they're a unique way to showcase your favorite titles and decorate your home.
Floating Book Shelf, $14, Gone Reading
2. Latin Dictionary Coasters
Adulting means serving drinks on coasters, and for book-lovers, it means serving drinks on these cute and nerdy dictionary ones. Made from recycled pages of a Latin dictionary, they are the simple touch you need to make your home bar — a.k.a. your coffee table — perfectly bookish.
Latin Dictionary Coasters, $5, Etsy
3. Folding Nightlight Booklight
Whether you're reading in bed or by the couch after dark, you're going to need a lamp to light your pages. Why not get one that's book shaped itself?
LED Wooden Folding Booklight , $36, Amazon
4. Library Candle
No home is complete without a warm scented candle to read next to. Enter author-themed candles, with scents like Jane Austen, Ralph Waldo Emerson, Mark Twain, and John Steinbeck.
Jane Austen Library Candle , $19, Amazon
5. Initial Book
As long as you can deal with a destroyed book, books carved into the shape of letters is a necessity in every book-lovers home. Get your initials, spell out a word — like with reading itself, you have endless options.
Book Letter Initial Book, $12, Etsy
6. Library Book Shelves Throw Blanket
If you're going to curl up and read a good book, you're going to need a blanket to do it with. A blanket with books on it? Well that's just too perfect.
Library Book Shelves Throw Blanket , $49, Society6
7. Silk Bookshelf Pillow
To go with your book-printed blanket, you're going to need this beautiful silky throw pillow, ideal for propping, leaning, and lounging on, novel in hand.
Silk Bookshelf Pillow, $54, Kate Spade
8. Book Shaped Plate
Whether you're serving guests or just making a solo dish of food to eat while you read, everything tastes (and looks) better on a book shaped plate.
Book Shaped Plate, $10, Gone Reading
9. Home Dictionary Diversion Book Safe
Everyone has secrets at home, even book nerds. The only difference is, book-lovers have clever hiding places, like this safe disguised as a dictionary. No one will be able to find it hidden in the midst of your overflowing bookshelves.
Trademark Home Dictionary Diversion Book Safe , $14, Amazon
10. Lit Wit Deck
Add a stack of literary trivia cards to the top of your coffee table books. Whether you're having book club at your place or just hanging with some friends, bookish fun will never be far out of reach.
Lit Wit Deck: Trivia Card to Boost Your Book Smarts , $6, Amazon
11. Bookshelves Wallpaper
If the actual bookshelves you have lining your house still aren't enough for you, it might be time to switch to this bookshelf wallpaper. The paper, complete with beautiful black and white illustrations of book spines and other decorative accessories, will transform your walls from bland and boring into a bookish work of art.
Bookshelves Wallpaper, $40, Chasing Paper
12. Books Shower Curtain
A true book-lover doesn't let any room of their house go untouched by bookish decorations, including the bathroom. Instead of just sticking some reading material in the restroom, spruce the place up a bit with a book-themed shower curtain. Simple and adorable, it will go great with whatever book on tape you listen to in the bathroom.
Books Shower Curtain , $68, Society6
13. Book End Bookends
Bookish decorations can be clever, right?
Book End Bookends, $22, Dormify
14. Books & Cats Rug
Is there anything else you need in life? Well, other than this rug of course.
Books & Cats Rug , $28, Society6
15. William Shakespeare's Magnetic Dress-Up Set
For all those take out menus, save the dates, and library schedules, get a set of refrigerator magnets to hold them that are as unabashedly nerdy as you are. Fun and adorable, these Shakespeare ones will do the trick.
William Shakespeare's Magnetic Dress-Up Set , $15, Amazon
16. The Walk By Scrabble Board
Who needs Words With Friends when you have this walk by Scrabble board to play every day? Perfect for a house full of book-lovers, this is a message board you won't mind checking.
The Walk By Scrabble Board , $30, Amazon
17. Personal Library Kit
Since most of your house guest come over to visit and borrow a book from you, you should probably invest in a personal library kit. Complete with checkout cards, date stamps, and ink, keeping track of your books will be a cinch.
Knock Knock Personal Library Kit , $11, Amazon
Image: Gone Reading