'The Joneses' Soundtrack Is All Over The Place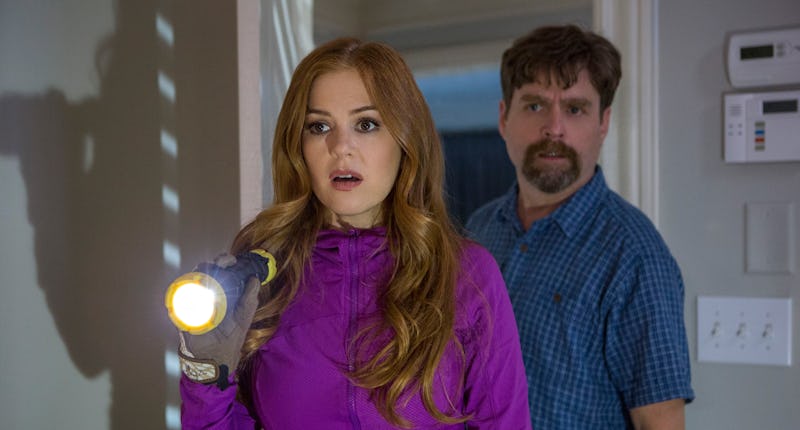 The phrase "keeping up with the Joneses" usually means a passive competition between neighbors over things like cars, lawns, and other markers of a comfortable lifestyle. In the new suburban spy comedy Keeping Up With the Joneses, that colloquialism takes on a different connotation. Isla Fisher and Zach Galifianakis star as Jeff and Karen Gaffney, a normal (if a little bored) couple trying and failing to catch some alone time between work and raising their kids. Their neighborhood gets a jolt of glamour and danger when the Joneses move in. Jon Hamm and Gal Gadot are Tim and Natalie — at least, those are the names the secret spies are currently using — and somehow the Gaffneys get caught up in their current mission. Keeping Up With The Joneses comes out Oct. 21, and the movie features an eclectic music mix with several genres representing. The Keeping Up With The Joneses soundtrack is the perfect mixtape for any suburbanites dabbling in espionage.
Neither Amazon or iTunes have a physical Keeping Up With The Joneses soundtrack scheduled for release, so you won't be able to buy it with one click. But IMDB lists all the songs that appear in the movie; helpful if you want to create your own Keeping Up With The Joneses mixtape. Here are a couple of the movie's musical highlights.
"Can You Do This" By Aloe Blacc
The soul/R&B singer had his breakthrough single with "I'm The Man," but this particular track is proving popular in the movies. Note the starry cast of this video, including Kevin Hart, Josh Gad, and Kaley Cuoco. "Can You Do This" can also be heard in the 2015 comedy The Wedding Ringer.
"My Wish" By Rascal Flatts
From groovy soul to heartfelt country, Rascal Flatts is going to slow things down for a bit. "My Wish" is one of those ooey-gooey inspirational tracks, not unlike the Adult Contemporary radio crossover smash, Lee Ann Womack's "I Hope You Dance."
"Am I Wrong" By Anderson Paak
This chill, futuristic jam wouldn't be out of place at a hip cocktail lounge or invite-only after-party. Throw it on your next dinner party playlist and everyone will feel at least 50% fancier and cooler than they did before.
"All Across This Land" By Blitzen Trapper
The country influences come back in this single from Portland-based folk/country/pop band, Blitzen Trapper. Since the Gaffneys are meant to be an Average American Couple, it makes sense that they're represented musically through Americana music traditions.
"That's How I Got To Memphis" By Tom T. Hall
Which brings me to one of the soundtrack's dips into the vintage country canon. "That's How I Got To Memphis" was released by singer-songwriter Tom T. Hall in 1970 and then got a pop culture boost in 2014 when Jeff Daniels played and sang it in character as Will McAvoy on the series finale of HBO drama The Newsroom.
Other tracks featured in Keeping Up With The Joneses include songs by Sharon Jones, Tycho, DJ Krush, Buck Owens, and Mozart. (Hey, I said it was eclectic.)
Image: 20th Century Fox