This Is The Scariest Halloween Movie On Netflix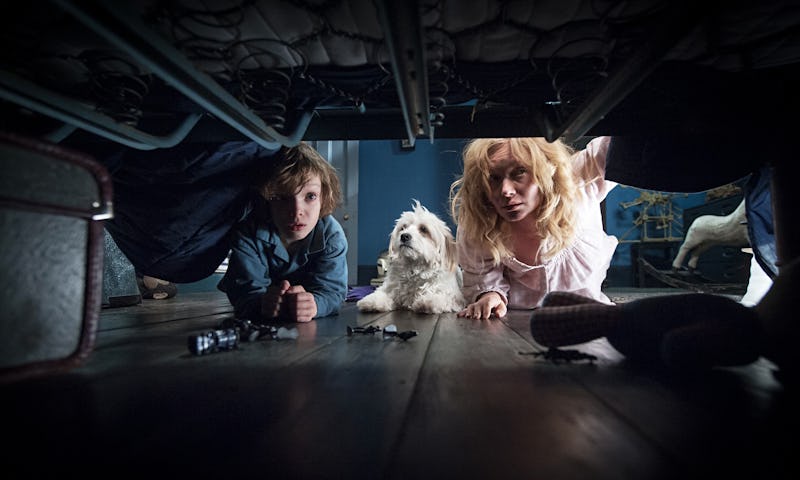 Hocus Pocus is a modern masterpiece, but sometimes the Halloween spirit calls for something other than a heartwarming family comedy. Netflix has you covered in that area, since the streaming service is currently boasting a rich horror collection. Your options right now include Wes Craven's New Nightmare, Re-Animator, Hellraiser, and A Girl Walks Home Alone At Night. But if you're in the market to jazz up your October with the most scares-per-minute movie available, I have another suggestion. The scariest Halloween movie on Netflix is The Babadook. Seriously, I get goosebumps just typing out the title.
In addition to the fact that the 2014 film is bone-chilling, there's another compelling reason to support The Babadook. The directorial debut of Jennifer Kent, The Babadook is a recent entry into the canon of horror directed by women. Women are nailing it in this genre, and female-driven films like The Invitation (also on Netflix), the aforementioned A Girl Walks Home Alone At Night, and TIFF 2016 sensation Raw have dazzled critics and terrified audiences. The Babadook won the New York Film Critics Circle Award for Best First Feature, and inspired many deep critical dives into its exploration of fears that every mother, woman, and human carries around with them. Here are a few reasons not only why The Babadook is so scary but also why it stays with you long after it's over.
There's A Creepy Kid
Six-year-old Samuel Vanek's (Noah Wiseman) father died in a car accident the night that he was born. Since then, it's just been him and his mother Amelia (Essie Davis). Amelia begins to worry when Samuel becomes fixated on a picture book that somehow ended up in their house. It's the story of the Babadook, and Samuel begins to make and stash "weapons" to defend his family against the monster.
Nothing against kids in general, but one haunted child can take a horror movie from zero to 100 with one bat of their gigantic eyes. You worry for Samuel when you watch The Babadook, but you fear him too.
The Trauma Is Real
Amelia has never processed the terrible death of her husband. She doesn't even like his name spoken around her. Some interpret that the Babadook monster is meant to represent grief. It's ever-present, looming, and the harder you try to ignore it, the harder it tries to take you over completely. The movie also digs into the frightening aspects of motherhood and of being solely responsible for another life at the risk of losing your own. Deep stuff.
The Monster Design Is So Eerie
Whether it's his form as it's seen in Samuel's book or in Samuel and Amelia's reality, the Babadook is visually terrifying. You'll never look at a top hat the same way again.
It's Beautifully Shot & Realized
The Babadook isn't a dashed-off slasher flick. It's a piece of genuine art, which makes the images and feelings that they conjure more likely to stick in your head. You'll be suitably impressed by the craft behind the movie while secretly wishing it didn't exist to haunt your dreams.
And if you can make it through The Babadook without turning on all the lights in your house, I'll be impressed. Happy Halloween!
Images: IFC Films; therewillbeddl, halloweenmagick, mistrbabadook, videodromess/Tumblr