What To Read On A Cozy Autumn Day...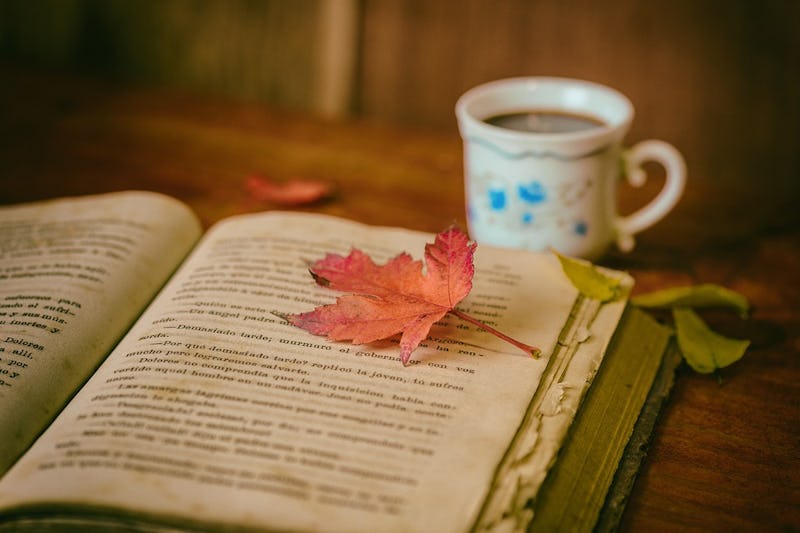 Fall is unquestionably the season for reading. Sure, summer has its beach reads, and winter has its snowed-in book marathons, and I guess people probably read in the spring sometimes too. But there's something poetic about reading in the fall. The days are growing shorter. The air is crisp. Ghost stories abound. Flavored lattes are once again socially acceptable. Denim jackets are legal to wear in public once more. So here are a few excellent books to curl up with on a cozy fall day.
Maybe it's the back-to-school vibes making everyone feel extra studious, or the fear of killer clowns in the streets driving everyone indoors, but the fall season just seems to call for armchairs and books. Any good book makes for a good fall read, of course. But on a cozy day, when the wind is starting to pick up outside and you need to occupy your time so you don't eat all of the Halloween candy you bought for trick-or-treaters, you need a cozy read. Something captivating, engrossing, but still comfortable. Perhaps something just a tad creepy, or mysterious. Something that makes you feel good about cider and crunchy leaves.
So check out these cozy, autumnal reads (best paired with a hot drink and at least one scarf):
1. Staggerwing by Alice Kaltman
Alice Kaltman's debut collection of short stories is wonderfully smart, pointed, and genuinely funny. She lovingly skewers would-be artists and bored trophy wives with her singular, all-too-real humor. The perfect assortment of honest and insightful stories for a brisk fall day. But be warned: you'll reach the end far too soon, and find yourself wishing for more.
2. The Blind Assassin by Margaret Atwood
If you're looking for three stories in one, layered one on top of the other in a puzzle-box of a novel, then pick up Margaret Atwood's The Blind Assassin. At first it's the memoir of a Toronto socialite's unhappy marriage, then it's a steamy, secretive romance, and finally it's the odd and otherworldly tale of the blind assassin himself. It's the kind of dizzying mystery that'll keep you guessing right up until the end.
3. The Complete Stories by Edgar Allan Poe
You can hardly expect to make it through October without reading a single Poe story. If your ideal cozy fall night is also dark and stormy and full of terrors, slip under the covers with a collection of Poe. He most certainly deserves his reputation for morose master of horror.
4. Jane Eyre by Charlotte Brontë
What can I say? I'm a sucker for a good Gothic romance. Yes, the attic wife is problematic in this day and age, and you really can't ignore the postcolonial implications of Mr. Rochester being such an ass. But for dark, windswept romances, you really can't do much better than Jane.
5. Seasons of Flight by Manjushree Thapa
For a transitional season, try a book that's all about transition, migration, and the butterfly population of Los Angeles. Prema has moved from Nepal to L.A. but she's still a bit adrift. She struggles to carve out a life for herself in unfamiliar territory, but it's really her passion for winged insects that gives her purpose. You have to love a book where romance takes a back seat to lepidopterology.
6. The Remains of the Day by Kazuo Ishiguro
Autumn is the time for contemplative reading. And The Remains of the Day is about as contemplative as it gets: sad, romantic, humorous, and a beautiful meditation on the nature of the human condition, all as one elderly English butler takes a nostalgic road trip through West Country.
7. At Home: A Short History of Private Life by Bill Bryson
Bill Bryson is your fun history professor, the one who brings his dog to class and dresses up for Halloween. At Home is his deeply entertaining history of private life, for everyone who wants to know the real story behind their bathroom pipes, pillows, and wallpaper. Ideal stay-at-home reading for the historically inclined.
8. And Then There Were None by Agatha Christie
Agatha Christie is the end-all, be-all of cozy mysteries (besides Sherlock and company, obviously). And Then There Were None is your classic "a bunch of people stuck in an island mansion, dying off one by one in creative ways" story, true, but it's definitely the best of its kind.
9. The Thing Around Your Neck by Chimamanda Ngozi Adichie
The twelve stories of The Thing Around Your Neck explore the ties between Nigeria and America, in everything from babysitting to death to infidelity. Adichie's writing is simply dazzling as she captures wildly different characters, each trying to find a fulfilling life somewhere in the space between two countries. A fitting book for a season caught between summer and winter.
10. St. Lucy's Home for Girls Raised by Wolves by Karen Russell
If you're not quite into spooky stories, but you like the magic tinge of fall, give Karen Russell a try. Her stories are not quite fantasy, not quite reality, but always delightful to read. Follow Russell to a sleep-away camp for sleeping disorders, a covered wagon pulled by a Minotaur, and of course, a boarding school for the unruly children of wolves.
Images: josealbafotos/pixabay