15 Modern Day Beauty Products Every '90s Kid Needs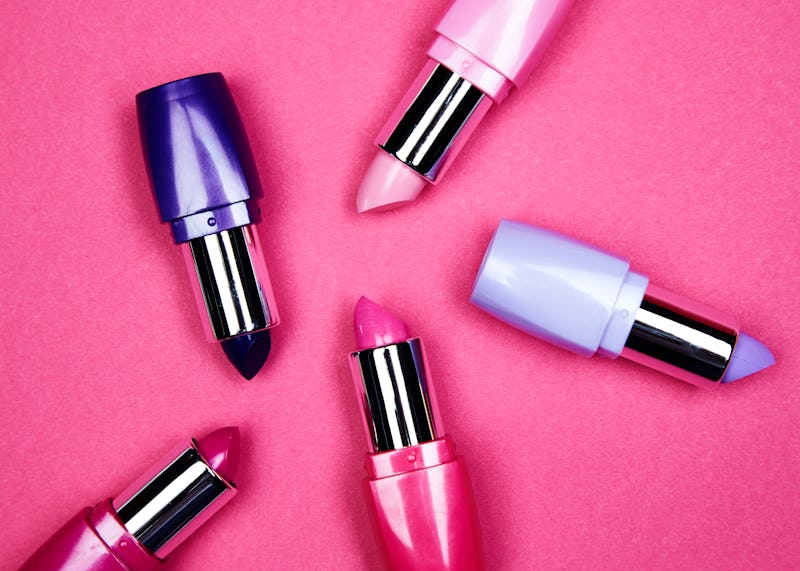 There are so many '90s struggles that kids today will never understand: Waiting for dial up, not being able to fast forward through commercial breaks, having to book flights on the phone. While a decade and a half of technology has helped make sure we'll never have to deal with those horrors again, there are a few things about the '90s that really are worth getting nostalgic about — namely, '90s beauty products.
When I think of '90s beauty, two things come to mind: The makeover scene in Clueless when they dye Ty's hair with boxed red dye, and my best friend's bathroom. She had every beauty product Urban Decay, Noxzema, and Wet and Wild ever made, and we would take turns giving each other movie-montage inspired makeovers while drawing on the walls with Bath And Body Work's Art Stuff Glitter Lotion.
While, sadly (or maybe, thankfully?), the days of at home makeovers by a fellow 9-year-old are behind me, I still seriously miss a lot of the products we used to use. Thankfully, some of them are still around today (with some majorly upgraded packaging), and most have grown up alternatives that are perfectly appropriate for 2016.
Here are 15 modern day beauty products every former 90's kid needs to add to their vanity. Feel free to play "Wannabe" while you read the list.
Super Fruit Lip Balm 4-Pack, $10, Macys
Considering I knew people who would literally eat Smacker's chapsticks, there's no arguing that those things were straight up delicious (though definitely not at all nutritious). Try out the grown-up, all natural superfood versions from Burt's Bees instead. Sadly, there is no Dr. Pepper flavor in their collection.
Glossier Soothing Face Mist, $18, Glossier
If you never experienced the hellish feeling of Sea Breeze on a freshly popped zit, you didn't get the full experience of the 90's. Now that you know better, try rose water (care of the most millennial brand we know) for clear skin.
Herbal Essences Naked Shine Shampoo, $6, Amazon
Remember when N'SYNC was the face of Herbal Essences? Even though the band has since parted ways (which, by the way, I am still not over) the shampoo lives on and is, dare I say, better than ever. The Herbal Essences "Naked" line is natural and chemical free, and using it pretty much guarantees getting "Bye, Bye, Bye" stuck in your head for the better part of a week.
4. Chain Store Perfume
Demeter Grass Perfume, $24, Amazon
Every time my sister bought one of the Gap scents, I stole it and hid it in my room so I could wear it to 2nd grade (sorry, sister). They smelled equal parts fresh and alcoholic, but to a seven year old nose they were everything.
Biore Charcoal Pore Strips, $13, Amazon
In 6th grade, throwing on a Biore pore strip and watching the TGIF lineup with my best friend constituted a wild Friday night. The upgraded charcoal version will help you get even more gross stuff out of your nose pores while you stream Friends on Netflix.
Garnier Nutrisse Multi-Lights, $18, Amazon
Sun In was never a good idea, and we all have the orange-haired first day of 7th grade pictures to prove it. To give yourself DIY blonde streaks, try lemon juice in the sun or an at home highlighting kit instead.
Neon Blossoms, $16, NCLA
If you made it through all seven periods of eighth grade with all of your fake drugstore nails in tact, you were pretty much guaranteed to be the coolest, most together girl in school. Thankfully, in the last decade and a half we've upgraded our nail game to nail wraps instead of plastic, press on nails.
Essie Jungle Nail Polish Set, $16, Jet
There was nothing more depressing than the time when Hard Candy as we used to know and love it was no more. Thankfully, its classic iteration is back and you can still get the OG shades, complete with accompanying plastic rings, on the Hard Candy website. Hard Candy was the first line to introduce non-traditional nail polish colors (fun fact: Their first polish was a light blue shade called "sky"), and thankfully plenty of other modern brands — like Essie — have followed suit.
Soap And Glory Beauty Breakfast Scrub, $17, Amazon
This candy-colored, fruit flavored body scrub shares all of its best qualities with the St. Ives body's you used to know and love. Plus, it will leave the same pink-flecked ring around your tub every time you use it, without fail. #Worthit
Dove Advanced Care Anti-Perspirant Deodorant, $4, Amazon
The cute packaging of Teen Spirit almost helped make my first deodorant buying trip less mortifying. Since we've all made it out of puberty alive, we need to upgrade to an adult-friendly, though equally adorably, body odor eliminator.
Philosophy Amazing Grace Body Spritz, $27, Amazon
Victoria's Secret's body sprays were the only thing in the store I could convince my mom to buy for me before I turned 25, and they were the ultimate middle school sports locker room scent. The Amazing Grace version happens to have antioxidants and hydrating benefits, and doesn't smell like melted vanilla candies, which make it a good grown up alternative.
Jen Atkin x Chloe And Isabel Small Crystal Pave Fan Pin Set, $24, ChloeAndIsabel.com
The fact that putting bright, glittery insects in our hair was ever socially acceptable is mildly horrifying, but at the time they were definite must-haves. The minimalist Kardashian-inspired version of the hair clip trend from Jen Atkin shows that we've come a longggg way.
Pure Color Envy Defining Eye Shadow Wet/Dry, $19, Amazon
True, the 90's blue eyeshadow trend is one we thought we'd be happy to see die, but thanks to Kylie Jenner and a handful of other celebs, blue makeup is back and officially a thing again.
NYX COSMETICS Mega Shine Lip Gloss, $7, Amazon
1998 was the year of the sticky lip gloss — it's incredible that our poor, dehydrated lips recovered from all that gooey goodness. Luckily, modern lip glosses are much more hydrating.
Grunge Lippie Stix, $15, A mazon
Even ColourPop suggests you pair this brown/red shade with a flannel — so '90s.
Images: Courtesy of brands