Ryan Lochte Embraced Latin Night On 'DWTS'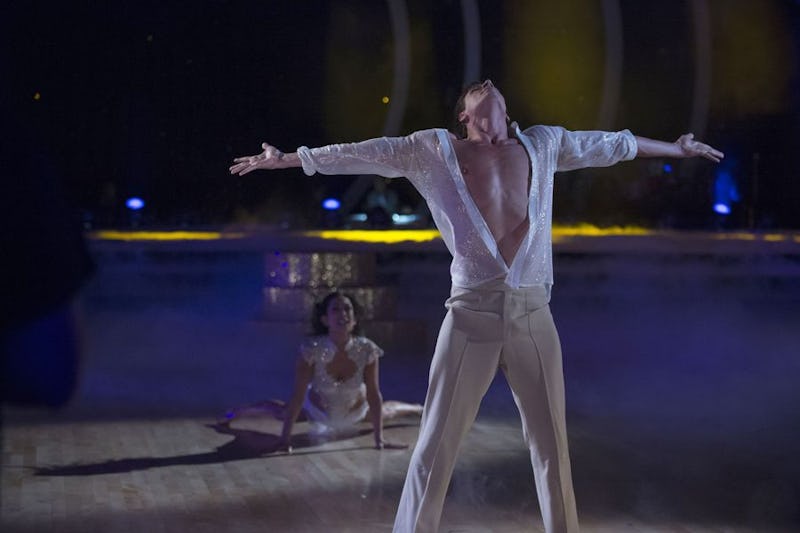 Latin Night is totally my favorite night on Dancing With The Stars, because the Latin dances — the cha cha, rumba, Argentine tango, and paso doble — are the most fun dances to watch. They're passionate and raw and real, and they definitely push a lot of the celebrity dancers out of their comfort zone. Ryan Lochte has Cuban heritage (on his mother's side), and he did his best to channel this for his cha cha with partner Cheryl Burke. He did just fine, but the judges were not impressed with Ryan Lochte's Dancing With The Stars performance.
Lochte has been a middling dance through the season — we're in Week 6 now, which is when the great people really get great, and the people who are, well, not so great drop to the bottom. Last week, Lochte and Burke got their highest scores of the season, which still landed them on the bottom of the leaderboard. Tom Bergeron announced that Lochte and Burke were safe before they started dancing, so that must have been a load off of their minds. But they may pay for it next week — the judges (minus guest Pitbull, who is excited about everything) were lukewarm about the performance, citing that Lochte lacks the musicality needed to be a dancer (they're not really wrong there). His fans will really have to vote to keep him on the show, I think.
Lochte and Burke finished with respectable sevens and eights from the judges, but at this point in the game, he needs to step it up. Laurie Hernandez is nearly running away with the Mirrorball trophy, and James Hinchcliffe is, I think, creeping up behind her. Lochte needs to up the dancing ability if he wants to stick around longer on Dancing With The Stars.
Images: Eric McCandless/ABC